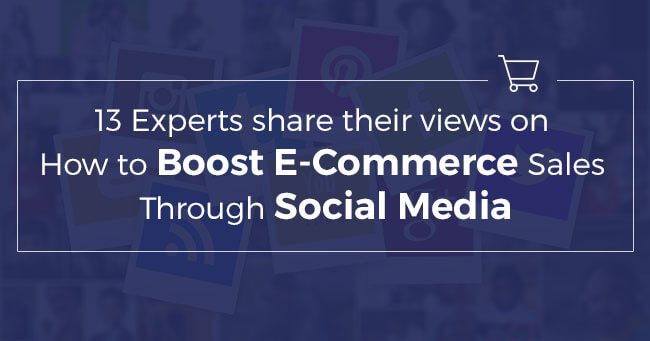 When many businesses think of online marketing, they first consider social media. It's the best way to reach customers, since it has a measurable impact on customer purchases, especially for millennial.
However, the platform seems to be most effective in building brand awareness and driving local sales. E-commerce businesses have an ongoing challenge to drive traffic to their websites, where they turn visitors into paying customers.

With the right plan, you can enhance people's social media experience and generate more sales.
According to the below 13 experts tips, here are leading takeaway tips to improve E-commerce sales through social media.
Take reviews and testimonials from your customers, and share it on your social platforms. Even you can share your happy buyer's list on your social platforms. Like, our top buyers of the day, top buyers of the week, or top buyers of the month. This will ensure a more trust in your customer, and also it will inspire your social media audience to visit your store or site to buy your product or service.
Create a buying experience for customers, not a selling experience for yourself. Provide more give away offers to your social media audience. Your give away offers will help you to increase your customer satisfaction levels.
Offer edutainment content to potential buyers and current customers through social media channels. Entertainment is the currency that buys a prospect's attention.
Provide a complete customer support through your social media channel. Sometimes due to product problems, in some circumstances they can't reach to store owner through the call, then they become really frustrated and next time they won't come again to you.
In this article, we've asked the thirteen experts to share their tips to boost your e-commerce sales using social media.
Alan See
Ron Sela
Cody Sparks
Matthew Woodward
Kath Pay
Susan Dolan
Mike Wittenstein
Nicole Reyhle
Tristan Pollock
Bryan Eisenberg
Derric Haynie
Marek Molicki
Shep Hyken
Alan See
People simply are not subject to the rigorous laws of logic or measurable with the precision that data-driven marketers would like. In fact, most purchase decisions are made emotionally and then justified, rather than the other way around. That means it's critical for organizations to create customer relationships through emotional bonds. Here are eight ways your organization can help create emotional bonds that build deep customer relationships:
1. Brand: You need to start with a strong brand identity that your customers can identify with. Your brand must communicate a message, but also inform, motivate and deliver as promised. The better your brand is at keeping its promises, the better your brand is at being trusted.
2. Learning Relationships: Organizations that implement learning relationships are better able to understand and anticipate a customer's unique needs. Learning organizations understand that great customer experiences start with listening to the customer to learn instead of talking to the customer to sell. Customers in a learning relationship experience a heightened sense of vendor awareness and are more likely to be loyal because their vendor understands their needs.
3. Use Technology to Connect In Positive and Collaborative Ways: Customer connections that engender loyalty deliver a seamless experience across channels and touch points while demonstrating integrity and interest.
4. Empower: Ensure high-quality customer interactions that demonstrate a caring attitude by empowering your employees to resolve problems. If you want your people to act like it's their business, make it their business. Empowerment leads to never losing a customer over a stupid rule.
5. Great Service: Almost every customer has a service support need at some point. Use support incidents as an opportunity to solidify relationships. Providing excellent service and quick resolution can build customer trust.
6. One View Of The Company: Despite the desires of corporate managers, the customer ultimately controls the relationship. If the customer is in control, don't they need a 360-degree view of the company? Great customer experiences start when you make it easy for the customer to do business across your entire organization.
7. Layers: Customers have layers, and relationship layers are built on trust and dialog over time. Customer loyalty requires the care and commitment to take the time, invest the money, and have the patience to grow the relationship.
8. Dynamic Real-Time Processes: Building relationships take time; however, instant gratification has been a feature of our everyday lives for a long time. Give your customers their rewards now, and keep your promises on time.
Ron Sela
In the digital age, social media and online sales go hand in hand. Firstly, social media is a goldmine for customer research, allowing companies to find their audience, learn about their pain points, interests and buying motivations.
Secondly, people are more open to conversation on social media than through cold contact methods. Companies can tailor their marketing efforts, ensuring a greater ROI and an increased level of customer satisfaction.
Here are three ways to boost your bottom line through social media:
1. Curate User-Generated Content
In 2018, visual content counts for a lot and offers social commerce companies the power to move their audience, invoking emotions and reactions. UGC images featuring company products are vastly superior to professional stock images. Studies show that people gravitate towards such content, with Instagram images being favored 77% of the time.
2. Leverage Social Proof
Research indicates that 90% of marketers claim social media has helped generate greater exposure for their business. By teaming up with social media influencers, you can breed trust and brand loyalty, acquiring valuable social proof from figures that your customers know and respect.Leveraging social proof will help you build a following on social media, which in turn translates to more site traffic and customers.
3. Targeted Ads
Facebook is no longer just about keeping in touch with old friends. It is a fully-fledged marketing machine, and many businesses are now taking advantage.By using paid ads, e-commerce companies can use the data insights and tools provided to target specific audiences with personalized marketing campaigns. Facebook Ads can be used at various touch points in the buyer's journey, making them a powerful asset in any online marketing campaign.
Cody Sparks
To increase your sales through social media you need to have an effective marketing strategy. A lot of social marketing falls in line with your content creation. Finding the right messaging and wording is half the battle. Most people believe if you post any content, people will come, which isn't true.
One tip is to try to narrow down your target market. Try to only post topics, banner ads, and promotions to those who are following you. For instance, if you have a fitness store, you don't want to advertise people eating chocolate cake. It would be better to show inspirational achievements that relate to your users.
Don't be afraid to put some money towards social media marketing. I know most people that are starting out don't want to spend money. But there are huge opportunities at low costs. Most major social platforms will let you only advertise to your potential customers based on their interests, age, gender, and geographical area. Use the same strategy as above and monitor the results.
Engage with your users. You want your customers to know that you are a real person and not a bot. Answer their questions, give advice, and always help with customer support. More and more online shoppers are expecting to get help on social media.
Don't constantly share your own promotions, mix it up and post other useful information, even if it isn't yours. No one wants to come and watch a rotating billboard. Give them something they want to read. If you have a blog, help guides, or tutorials, post those over your next big sale.
By giving your customers a more soft approach to sales, your company will start to earn trust and become an authoritative source of information in the industry. This will start to convert into sales at a higher conversion rate than other marketing channels. Once you initiate the first sale through social channels, you can start a more direct strategy in other media like retargeting and email marketing.
Matthew Woodward
A lot of ecommerce sites go about social media the wrong way.
And if you are one of those sites that have social share buttons on your product pages – you are one of them.
Instead, it is much better to engage customers with a social media call to action at the point of sale while they are "hot".
There are a number of ways you can do this but the easiest and most effective is on the receipt page.
All you have to do is say something "We love to put names to faces, please introduce yourself on".
This will ensure you are building a highly engaged buyer audience that will, in turn, become advocates for your site by sharing their experiences with friends.
Over time your social reach will grow which will also have a huge impact on.
Kath Pay
My best tip is to consistently and regularly promote your email signup within your social channels. Social is a fabulous channel to engage, inspire and educate – but as it's a pull channel, you're only successful if the individual happens to see your post at the time they check their social account.
By using social media to drive email signups, not only have you now permission to market to them, but you can start to build up an individual profile of this unique person and then email them your offers. You can then also use this information to re-target them on Social Media.
As email is a push channel, it isn't reliant upon the individual to seek out the brand or check their social media accounts – as a brand, you're now in their inbox. Even if they delete their email, the email has achieved brand awareness, as the company and subject line would have been read and these elements together, plant a seed in their mind for when they're ready to buy a service or product.
Susan Dolan
I would recommend primarily building a community with trust and engage with your audience on a regular basis. I personally could never 'sell water in a desert, I would be more likely to give it away!" but with media becoming social, I generally like people who have worked wonders on social media, especially Twitter. For a person who is great at marketing but terrible at sales, I highly recommend Twitter.
In fact, the majority of my customers now come through Twitter rather than Google and tend to attract the creatives or people looking to raise their own profile. Perhaps not the best e-commerce answer but it certainly is a driver for the sales funnel. Be friendly, helpful, informative and up to date in your industry, you will soon attract the right people!
Mike Wittenstein
Make your offer simple and compelling. Make your offer in terms of outcomes, customers want—not in terms of what you want. Make your offer part of a story (for example, with the hero was able to reach their objective. Remember to create a buying experience for customers not a selling experience for yourself).
Nicole Reyhle
Social media is no longer just a way for consumers to engage with brands but rather purchase from brands, as well. To help strengthen e-commerce sales through social media, online sellers need to be proactive in driving clicks – to connect the purchase process with seamless direction from social media.
Consumers are quick to lose patience and attention alike, so the fewer clicks it takes to capture transaction details, the better.
Tristan Pollock
Photography! Beautiful, recent and authentic photos of your product being used in the real world will make a big difference. Remember the 80/20: people remember 80% of what they see and 20% of what they read.
In fact, tweets with images get 18% more click-through. Overall, posts on any platform with visual elements like video or photography get 3X more engagements than individual written posts. Start snapping!
Bryan Eisenberg
Entertainment is the currency that buys a prospect's attention. People will give you their time when you offer them entertainment but they will give you their money when you offer them hope. We advise our clients to provide edutainment to potential buyers and current customers through social media channels.
Derric Haynie
You need to invest in something amazing, something creative. Most specifically, a captivating 1-minute video can be structured for virility, while driving product/service/business awareness across the board. It's a tough battle, but it can be done. Look at the Dollar shave club, chat books, and Ricoh Theta, which is great examples.
Marek Molicki
The most important thing you have to do before thinking about selling through online channels (not even generalizing it to social media) it's to gain the trust of the potential clients.
The second step is when they are convinced enough to visit your e-shop you should do as much as possible to learn about their interests and expectations and show them the offer personalized to their needs. This is the simple ploy that always works.
Shep Hyken
Sometimes customers are frustrated when they can't reach an agent if they have questions about the items they are browsing through on an e-commerce site.
The best online retailers make their contact information easy to find on every page. The customers know they are only a quick phone call away from getting help or having a question answered.
---
Apart from our 13 Experts tips, if you have any suggestion or tips to Boost Ecommerce Sales Through Social Media then feel free to e-mail us.