Chatbots have been the talk of the technological world for a long time now. They are automated systems that operate on a chat platform. They have become an essential part of technology just as the web was decades ago. Experts believe that chatbots will rule the world in the coming future.
As per a recent survey, around 60 percent of online users have enjoyed their interaction with chatbots on social media platforms. This has encouraged the chatbot development to a greater extent. The presence of social media somehow impacts the marketing world. Previously, marketers considered social media marketing strategy as their primary marketing tool.
However, with time chatbots have taken over the pool of marketing tools. Chatbots have the efficiency to increase website traffic and provoke sales. This provides opportunities to engage new customers and offers the users with a unique customer service experience.
The marketing mix is all about the right balance of the four key elements – Product, Place, Price, and Promotion to meet the customer's needs. Now, let us understand what are the best ways we can utilize bots.
Best Ways to Utilize Bots
1.

Sell Your Products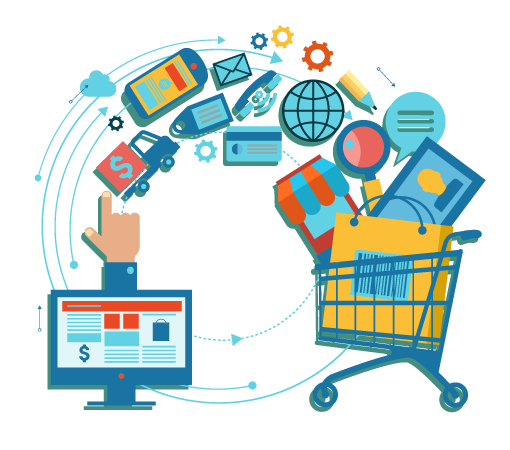 The best thing about bots is that they can sell products independently without any human intervention. They can help the customers to find the right product and For instance, Google Now helps the customers to buy products from various websites. It even allows the customers to check out from the bot interface. The clothing brand H&M uses a chatbot to sell their items on Kik, a messaging service.
2.

Personalize the User Experience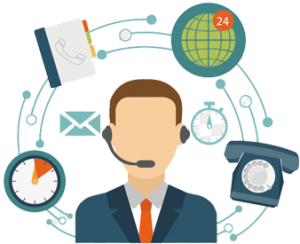 71% of customers prefer personalized ads. Bots can bring a personalized user experience. They bring the results based on what the customers choose to see on their feed. For instance, Google Now provides the customers with a customized feed as per their preferences. Chatbots provides a great user experience. They can select to choose from news, sports, entertainment, etc.
Once done, the bot will provide the feed and alerts based on your choices. Bots help you to get what you want and prioritize your feed as per your wish. Thus, they promise to give you a rich user experience at all stages.
Example: CNN's bot sends customized news feeds to users. That is one of the reasons it is a newsbot that's gotten a great deal of attention. It goes to prove that personalization can go a long way. This concept applies to all kinds of bots.
3.

Communicate With Website Visitors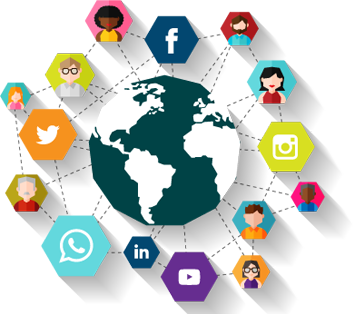 This is the most popular and useful bot actions. Businesses and websites can enjoy many of the benefits these bots offer. When visitors come to your website, they will always want to know about your offerings and services. If your customer support or sales team are unavailable to serve the customers, they might never wish to visit again.
Bots can set up live chats and interact with your customers. They can resolve the customer's queries and provide prompt responses. These all-time available bots can save a lot of time and serve all your customers. This helps in keeping the customers as a priority.
Example: Bots from My.LiveChatInc.com, are set up to do precisely that. It may come as a surprise that clients really appreciate messaging. Econsultancy discovered that 57 percent of customers prefer to live chat
4.

Bots Integrated With Messaging Platform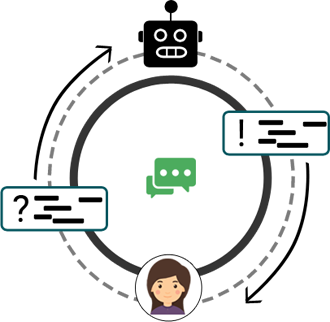 Chatbots have been the most popular with messaging platforms. This is where the bots work like magic. The Messenger bot from Facebook is indeed a very popular one. It does all the work for the users just at one click. The users can interact with the bot and get information about the upcoming movies, movie reviews, watch your favorite sports, shop online and a lot more.
Messengers bots are a smart platform for eCommerce stores. The businesses can sell their products with the help of these smart bots. Customers can select their products at a single touch and check out from the bot interface.
Example: Slack provides pages of bots that will assist you to make surveys, examine statistics, send emails, and a great deal more.
Top Chatbots Development Platforms for Best Chatbots for Your Business
The customer experience (CX) is one of the major small business distinction, and also chatbot integration is among the several methods that pave the way to accomplish and keep it with perfection. Consequently, if you would like to keep up with the times, then you have to put money into chatbot development.
Wondering how to start with that? Here's a listing of the top seven chatbot platforms which are equipped with basic and innovative resources to construct a chatbot.
Chatfuel: Chatfuel is an easy tool to create your own AI bot on Facebook and Telegram. No coding knowledge is required to use chatfuel. You can easily add and edit the content. The best part is it is easy to create, install and use. You can create an event assistant, sports team, personal avatar, news and a lot more with this easy-to-use and easy-to-integrate chatbot tool. It works with all leading platforms and services such as Google, Bing, YouTube, Instagram, etc. You can create, integrate and test the bots to serve all the industry verticals.
Facebook Messenger Platform: With Facebook Messenger bot, users can initiate and build customer relations with conversations. You can enable secured transactions, get game info and live scores, book salon appointment or even a test drive for your dream car. Today, almost 90% of the youth uses facebook and messenger.

As per reports, Businesses can scale their sales and reach their customers with these smart bots. They can find their customers, provide customer value and satisfaction. Moreover, bots can help businesses with constant support. Developers can read the documentation, forums and case studies to develop smarter messenger bots.

Meokay: Meokay is one of the top tools that build the chatbots to upgrade the email marketing platform. Both skilled technicians and non-developers can create chatbots with this smart tool. Within no time, you can create the conversational scenarios that can be further customized for the user experience. Once done, you can link this tool with your services and launch it.
Botsify: Botsify is yet another Facebook chatbot platform to integrate chatbots in the system. It offers a paid subscription in four easy steps.

Login to the  botsify.com site.
Connect to your Facebook account.
Set up a webhook.
Write commands for the chatbots.

Rest will be taken care of by the Botsify. It will handle the customer services and requests for you. There is also a free service available that lets you create bots as per your imagination.

Smooch: Smooch is a great tool for building omnichannel messaging in your software. It acts as a chatbot connector that bridges all the business apps with the daily used messenger apps. It links the two apps together for smoother and automated conversations across teams. It sends the notifications from your messenger to your business apps. In the end, this provides seamless conversations and responses. These connectors allow you to create chatbots to respond to the customer queries.

ChattyPeople: Chattypeople is also the popular chatbot platform that creates an AI chatbot on Facebook. It is completely free to use. No coding skill is required to create facebook message bots. It is an integration of e-commerce and ai-commerce, giving a rich customer experience.
Its simplicity makes it an ideal platform for marketers and entrepreneurs to use. You can develop a simple chatbot that responds to the customer queries and integrate with the e-Commerce platforms such as Shopify or WooCommerce to monetize the Facebook pages.

BotKit: Botkit provides building blocks for creating smarter and innovative chatbots. It is more like a helping hand to the developers that develop bots for the platforms such as Slack, Facebook Messenger, and more. This complete toolkit for bot development helps you create smarter, conversational applications that imitate human conversations.

Thus, developing chatbots has become quite easy with such resources and tools available in the tech world. But, developing is never enough. Businesses and enterprises can get a lot many benefits with the implementation of chatbots. In order to get the most out of these chatbots, here are the most innovative ways.
Top Brands Using Bots:
Lyft: It's possible to ask for a ride in Lyft via conversation (Facebook Messenger and Slack) or voice (Amazon Echo). The Messenger bot will inform you of the present area of your driver and also reveal a photo of the license plate and car version. In Slack, it is possible to just use slash commands (e.g., /lyft house ).

Pizza Hut: Pizza Hut has always pushed the envelope when it comes to tapping into new technologies. In this example, the cheesy-dough pusher offers a chatbot on two different platforms:Facebook Messenger (because everybody is doing it) and… Twitter! Yes, Twitter can be used to socialize with Pizza Hut's chatbot, too.
What can you do while conversing with Pizza Hut's AI sales rep? For starters, you can ask about things on the restaurant's menu, along with any other questions that you may have concerning the ordering procedure. And the chatbot can helpfully inform you about any accessible bargains you have access to in your region. Of course, this chatbot just wouldn't be doing its job if you could not order from it, and fortunately, Pizza Hut's bot makes it easy.

Master Card: With credit cards, you do not really get the person-to-person encounter you might get with a bank teller. You're spending money the majority of the time, maybe not depositing money, which means you don't find many chances to ask about your balance or anything else you might want to know as you perform a good deal of activities on a website.
Mastercard is introducing a more personal touch to client financial interactions using a chatbot which uses, you guessed it, Facebook Messenger. Hop into a conversation with the Mastercard chatbot and you are able to ask for a listing of your most recent trades. But you are not confined to account-related inquiries.
Using the chatbot, you are able to make purchases from a number of Mastercard-partnered retailers, which offers a bit more variety than a few of these single-store implementations we have mentioned from other companies.

Starbucks: When you start the Starbucks mobile program, you are able to interact with the organization's chatbot in one of 2 ways — through text, as you want in a text-based chat program, or through voice. From that point, you have numerous jobs you can achieve. You may place your order in the event that you already know exactly what you would like.
You are able to be given a message in the bot as soon as your order is prepared. And since the chatbot wishes to be super useful, it will give you your purchase complete so that you understand how much to pay when you walk up to snag your beverage. You will probably find more ability added into the Starbucks chatbot since the provider dreams up new ways it could function you (and since the company introduces new products and solutions ).

The Wall Street Journal: The Wall Street Journal chatbot which makes it effortless to remain with Facebook Messenger on top of information and stock quotes. Alarms can be even customized by you. Just type in a few commands and you're able to get business data and key financial metrics, compare companies and get live stock quotes.
5 Ways To Get The Most Out of Your Chat Bots
Implement Your Chatbot Across All Leading Platforms: Everything started with the Facebook Messenger chatbots. But the tech world is so amused with the progress of chatbots that they have started integrating it on all the possible platforms. Now, the chatbot development platforms have started allowing the companies to develop chatbots that can be implemented on various platforms.
Twitter, Slack, Instagram, Google Reply have already been flooded with chatbots. Various chatbot development platforms provide customer support bot that can help boost your business by:

Taking orders from facebook
Offering push notifications and promotions to the customers
Working seamlessly with the social messaging apps

Go Beyond Facebook: Undoubtedly, Facebook is the most popular social media platform. In 2016, it announced the messenger app for third-party chatbots. Later, businesses, enterprises, and brands have leveraged chatbots to build strong marketing strategies and boost customer outreach post-sales. Today, almost 80% of the enterprises on Facebook utilize chatbot services to serve their customers.
So chances are that you are interacting with bots rather than the sale executives. But it's not only Facebook, nowadays, Google, Twitter, Skype, Telegram also allow seamless integration of bots. The famous pizza brand- Domino's also uses a chatbot for improving its customer support and marketing strategies on various platforms. It offers services through its website and help-lines.

Use Chatbots as an Analytical Tool: Like most of the digital marketing platforms, chatbots work with surplus data. Marketers and analysts keep a close eye on the metrics provided by chatbots. The reason is they give insightful information about the customer's behavior and responses.
Chatbot analytics is still a newbie to the market in terms of metrics and analysis. But it is more beyond that. By analyzing and testing the variations from different messages, you will be able to select the most effective conversations. This can help you create the bots and optimize your client-oriented bots.

Publish Your Content Directly to Your Audience: Chatbots is an effective way of marketing your brand and businesses. They deliver the content and personalized messages to the audience. They work as per the preferences and interests of the customers and their needs.
Chatbots are a smarter way of organizing and distributing your content across the multiple channels. This helps to drive more traffic and boost sales on your websites. Thus, if chatbots are implemented properly, they can prove beneficial in increasing the conversion rates and boost the business trade.

Intelligent Social Media Assistance: The buzz that social media has created is undeniably more powerful than old marketing strategies. Social media is one of the easiest communication channels that are accessible everywhere. The integration of AI, social media and chatbots has created a hype in the tech world. It is essential to initiate and provide smarter and intelligent conversations with your customers.
This encourages customer engagement and rise in chatbot development. Customers demand smarter and quicker responses, and thus it is important to develop AI-powered bots. These help you with better communication and increase customer engagement in this social media obsessed world.
Chatbots As a Part of Marketing Strategy
Chatbots allow seamless integration of the bots operating on various platforms and different messaging apps. Thus, they can respond to every user query without human intervention. They are based on the next-gen technology i.e. Artificial Intelligence. They are built with language assistance to imitate human conversations.
The technology has an intelligent interface that allows the chatbots to interpret and understand what the user asks and responds accordingly. And the best part is these chatbots respond not only through text-based chats but also through audio, video and GIFs.Chatbots have been ruling the social media platform.
They save time and give a friendly touch to the conversation. They have the potential to respond to most of the user queries, thus helping in strong customer engagement and relations. Due to this more customers can leverage the prompt replies. Moreover, businesses can serve their customers more efficiently and also save on the high overheads on staffs. This has improved the real-time user engagement over the past years.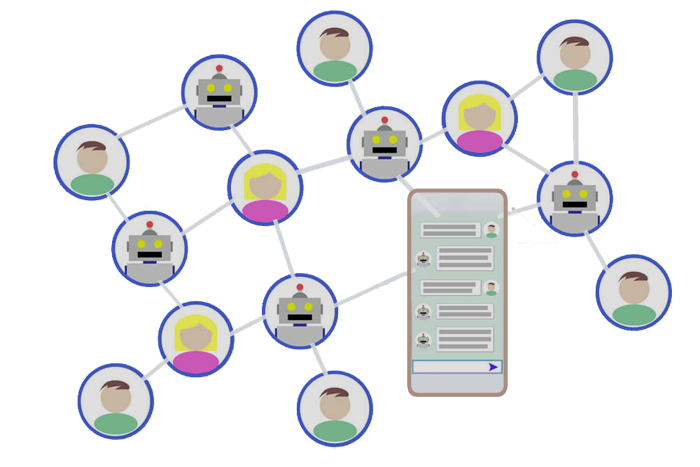 There have been so many popular chatbots integrated with social media. For instance, the Facebook Messenger bot is a popular chatbot that engages users giving an ultimate experience with all these responses. Users can get reminders for events, webinars, play games, etc.
They can also Even the popular brand Tommy Hilfiger has its chatbot named TMY.GRL, a fashionista that will take you on a fashion tour and guide you with your queries. The popular messaging app Skype also uses chatbots to respond to movies, music, news, etc. Thus, to complement the social media marketing mix the use of chatbots has become essential in the tech world.
Chatbots, when integrated with social media marketing strategies can help your business soar heights. They have multiple benefits that give customers the best experience. They provide the flexibility to automate the tasks and also assist in providing the data. They are becoming a vital way to enhance the user experience for the purpose of better customer service and growing engagement. They help businesses to deliver the services within the app.
Chatbots and E-commerce Platforms
Chatbots have been a great assistance in the e-Commerce world. They provide management, security, monitoring and most importantly, customer engagement. Thus, they are a complete package required to the e-Commerce businesses.
Let us see how chatbots are the perfect choice for e-Commerce platforms.
Highly Automated: Chatbots use AI assistance tools that are interactive and automated. They offer automated updates about weather, traffic and much more.
Cost and Time-Saving: Bots help you save both time and cost and reduce the cost of hiring staff.
Easy Integration: Bots are easy to install, integrate and easier to use.
Convenient and Contextual: Bots are both engaging and contextual.
Customer Reach: The chatbots are continuously upgrading and day-by-day they are helping businesses to engage more customers around the world.
Thus, chatbots are becoming an integral part of eCommerce businesses.
How has Messenger Chatbot Revolutionized Marketing?
Facebook rules the world of social media. In this era, it has created a revolution with the successful launch of Facebook messenger chatbots. These bots allow all kinds of businesses to provide deliverable content, interactive user experience and automate the customer service. Like Facebook, Messenger has reached a billion users and it also promotes the enterprise ideas through the integration of interactive chatbots. Thus, businesses and marketers consider it an integral part to benefit their strategies.
Facebook allows customers to get in touch with the brands in the easiest way. The advent of messenger bots has led to a new era in the world of brand marketing. This helps the people to connect directly with the businesses and get automated responses. Today, there are more than thousands of chatbots that promote the businesses on messenger. This promotes the businesses and aids in the marketing strategies by the marketers.
In recent years, the rise in the popularity of chatbots has resulted in the extensive development of chatbots in the tech world. This has also increased the demand for development tools for AI and chatbots. With such exponential growth, there is no denying that chatbots will extensively rule every marketing platform in the near future.
If you need more assistant about chatbots, feel free to write to us at info@zestard.com. We would be more happy to assist you.