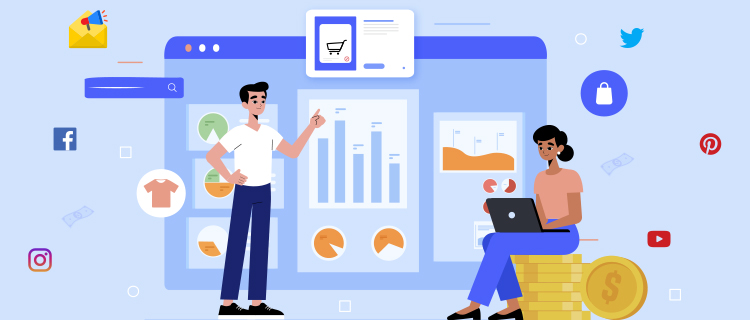 The eCommerce ecosystem is growing at an accelerated rate. Only those that can keep up with the ever-changing trends and needs will prosper. And the only way to capitalize on various ripe opportunities is through analyzing the changing customer behavior through various data and statistics.
Whether you own an eCommerce store or plan on starting one, we have a good mix list of actionable eCommerce statistics for you.
eCommerce Platforms Statistics
1. Shopify
Shopify has been simplifying the process of setting up an eCommerce store from scratch since 2004. It offers a reliable hosted platform with built-in CDN, unlimited bandwidth, and easy payment handling and much more with all subscription plans. Getting started with Shopify is as easy as setting up your account, selecting a theme, and adding products.
Here are some eye-opening statistics about Shopify:
2. Magento
Magento offers a powerful and open-source eCommerce platform to build fully customized stores.
Following are some Magento facts and figures worth noting:
3. WooCommerce
WooCommerce is one of the most popular eCommerce platforms. It is, in fact, a plugin that converts a WordPress website into a fully-functional eCommerce counterpart. WordPress users can seamlessly adapt to the WooCommerce environment as the admin dashboard and a lot of other functionalities remain the same.
Following are some WooCommerce facts and figures worth noting:
Email Marketing Statistics
Among all the marketing and outreach techniques, email marketing continues to reign supreme in affordability and efficacy.
From building long-term relationships with your client to notifying them about flash sales and deals, email marketing can make it happen.
Following are some Email Marketing Statistics worth noting:
Social Commerce Statistics
Social media is gradually opening up more avenues for eCommerce stores to connect with their potential customers. In addition to boosting brand awareness and expanding outreach, social media platforms are also acting as conduits to diversify sales channels.
Following are some Social Commerce Statistics worth noting:
Video Marketing Statistics
Video marketing has emerged as a highly effective end-to-end strategy that could help at every stage – from lead generation to post-sales service. Furthermore, smartphones can now capture high-quality video content, negating the need for expensive equipment and massive budgets for video production. As a result, regardless of their domains, eCommerce industries can tap into the advantages offered by video marketing.
Following are some Video Marketing Statistics worth noting:
Conversion Rate Optimization (CRO) Statistics
While the concept of CRO is relatively new, it has started to gain traction as it addresses the primary business pain point – conversion. A higher conversion rate translates to greater revenue, which is essentially what any business wants!
Following are some Conversion Rate Optimization Statistics worth noting:
Conclusion
It may seem daunting, but keeping up with the latest eCommerce trends will reward you in proportion to the effort. It lets you stay up to speed and adapt to any disruptions that may rock the eCommerce world. Use the statistics cited above to stay relevant and ensure that your store is always a step ahead of the rest!