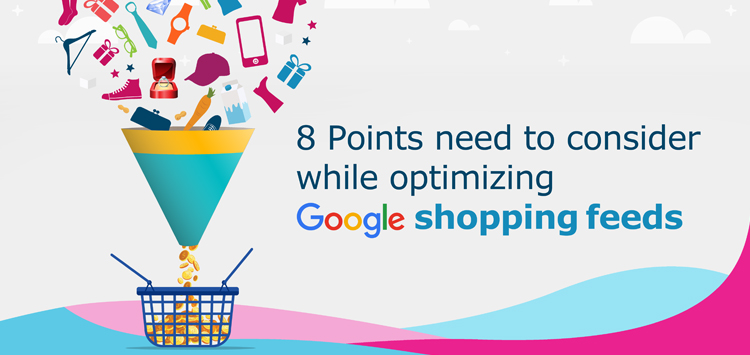 Product Listing Advertisements (PLA) by Google is a popular advertising platform that fetches product data from Google Merchant Center and displays it systematically for increased clicks. For running a streamlined PLA campaign, one needs to setup a seamless shopping campaign in Google Adwords with proper planning and management. To boost conversion ratio and sales from the shopping campaign, you need an optimized Google Merchant Account and Data Feed that should adhere to your campaign goals and objectives.
Here are 8 points to consider while optimizing your Google Merchant Account:
1. Data Feed Should be Approved Without any Error
One needs to create a relevant data feed and submit the same in their Google merchant account. To upload data feed, use Google Sheets to directly incorporate data into the account or manually upload from local files, through FTP, or cloud storage. One can even set up an upload schedule for fetching data from a data feed hosted on their site with a proper schedule or use automatic import option from a compatible e-commerce platform. One can also make use of content APIs to make uploads possible.
After uploading data feed, it should be reviewed for errors. The Google Merchant Center add-on can be used for feed validation and upload. One can view errors by exploring custom data feed's Diagnostics and make sure that the uploads are error-free. You can also identify the impact of the errors, if any on the process, right there.
2. Optimize Product Title
Product Title plays a critical role in optimization of Google shopping feeds. The first aspect of every Product Listing Ad is the Image and connected title. If products titles are optimized, the click-through rate and conversion are impacted positively. One can optimize product title, with respect to its attributes including its font size, color, and font style too. The above attributes help in avoiding wrong clicks and users can actually click on something they need to know about.
3. Divided Product into Categories
After a shopping campaign is set up, it's time to display products that are performing well. But for that to happen, one needs to segregate products into various product categories. The categories will help assess the right performance measure of each batch of products. Without product division, every product added to the campaign would include the maximum cost-per-click bid level.
The entire Google Shopping account will calculate average performance that does not result in product optimization. Increase or Decrease bid of specific products would help to market as necessary. Analyze the performance of each of the products and then create the data feed, under each product group so that they are assessed as per their results in shopping campaign and not the average.
4. Use Special Offers for Attracting Audience
The Google Shopping Campaign also consists of the Special Offer page that helps one to create specific offers for every product, attracting the intended audience for better sales and conversion ratio. To use Special offers feature, one has to fill a form and let the Google team review the application. After the request is approved, one can create special offers using the Promotions tool. if your promotion is product specific, map the promotion_id to the Product feed and set the time zone too. One would have to adjust redemption start and end times on a manual basis.
Using a Promotions feed is perfect when one has the higher volume of promotions to send to a single feed in a spreadsheet. The promotions feed includes core information about the promotion in a .txt file or.xml file
5. Follow Product Data Specification and Select Right Category
When submitting data feed in Google Merchant account, follow product data specifications including the title, description, hyperlink, image link, and mobile link as required. The price and availability need to be listed in the specification along with its expiration date and changing sale prices. One can attach loyalty points to each product type, along with its condition. The Google Spping Category, for instance, will define where the PLA will be displayed. Choose the relevant category and mention the attributes of the product for better segregation.
6. Bid Strategy and Budgeting
In a Google Shopping campaign, one can control the overall budget not specific to keywords budget. Setting a proper budget impacts conversion and clicks directly. One should think about expanding on the budget if products perform well and sales reach good limits, when you got more volume of traffic than you can handle or when special offers are in play since there is marked a rise in traffic and sales when lucrative offers are introduced.
7. Assessment of Better Platform
One needs to assess the best platform for shopping advertising campaign – mobile or desktop! One should check on the right conversion rates and the better amount of clicks derived from a stipulated budget. If the campaign has more clicks and a better conversion rate from a mobile platform, it would be feasible for you to create separate mobile ads and then even increase the bid for the same too.
8. Improve Account Health Score
Google has recently introduced account health score analysis to Adwords through which you can see the results of the campaign being run, the health score and useful recommendations for improving it. Check the recommendations and then implement the suggestions to boost the account health score.