Delivering high performing shopping experience and marketing solutions is what most online businesses look for nowadays. We at Zestard Technologies are experts in helping clients achieve their ROI through increased conversions, repeat business, and online visibility on search engines.
Are you in need of a web presence, an information hub, an e-commerce site, or all of it? Our company is here to provide a wide spectrum of solutions and frameworks to fill your needs.
We have designed and developed over 300 e-commerce sites. Our team of professional developers and digital marketers always delivers high-quality and high traffic backlinks through content marketing, outreaching techniques, and broad knowledge of advanced technologies.
We're excited to announce that we can be found on Clutch's list of top Indian e-commerce developers for 2021. Clutch is a ratings and reviews platform for a variety of B2B providers. Every month, more than half a million buyers and sellers of services use their platform. Our company is extremely happy with the recognition we got from Clutch!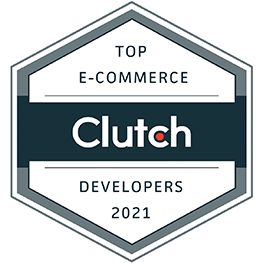 Several clients have left their honest feedback on our Clutch Profile. Take a look at some of their reviews below:
"We stumbled across them while researching someone to do a little bit of development work on our website. I was really happy with the work Zestard Technologies did then, so we built a relationship from there and eventually increased their services to the SEO work that they are doing now." – Shabana Kauser, Company Director, Door Merchant
"We tried Zestard out with a small project, which they delivered very well. I was happy with the service they provided. They analyzed our needs, and the whole process ran smoothly. I was satisfied with their work and decided to hire them." – Vishal Shah, CEO, Renav Limited
"Zestard developed our website for marketing products through the ecommerce platform leveraging WooCommerce. They helped us choose a great template and provided the required features without any hassle. They ensured that the payment gateway was seamless and every product image and details got enough importance as we wanted." – Brendon Buthello, Director, Antiqor Artefacts
If you are planning to move your business online or are unhappy with the performance of your existing ecommerce store, we can help you!
Talk to us today and see how Zestard Technologies can help you grow your business.