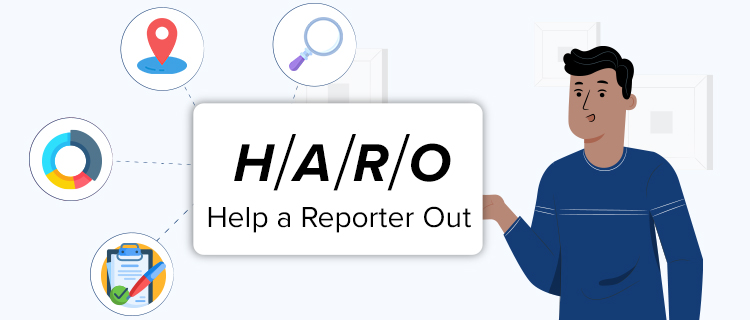 We analyzed 2500 HARO queries to generate insights for digital marketers.
We did the analysis to learn:
What percentage of queries get published.
Number of publications linking back to the source & nature of these links.
DR & Organic Traffic of these websites.
Popular & Unpopular HARO niches.
Our study aims to help marketers decide if HARO is the right platform for Link Building & PR.
Our Key Findings
Published Queries Vs Non-Published Queries
Only 35% of the queries submitted by journalists were published, while 65% queries were not published on the mentioned publication site.
I.e. 3 in every 10 query get published.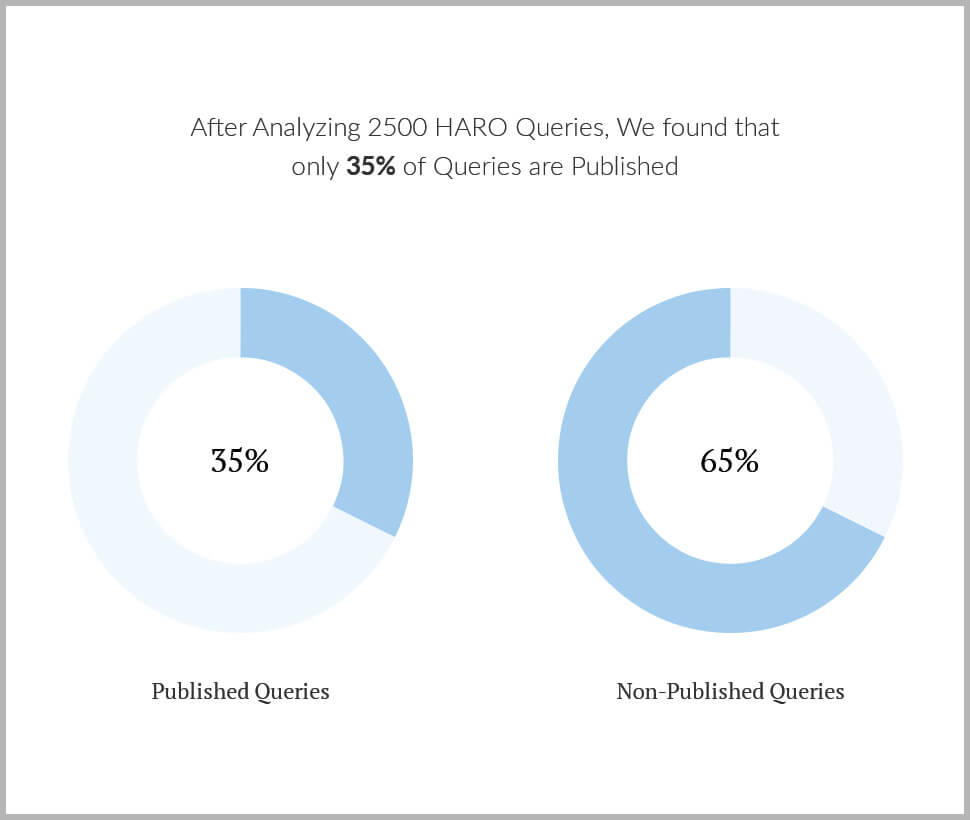 We also found that the majority of sites on which queries are published had high DR, which means that every backlink carries enormous potential & has a huge scope for positive results.
Category with the Highest & Lowest Number of Queries
Understanding how many queries different industries receive will help businesses and marketers predict HARO's potential for their particular brand.
General Category received the highest number of queries while sports category received the lowest number of queries.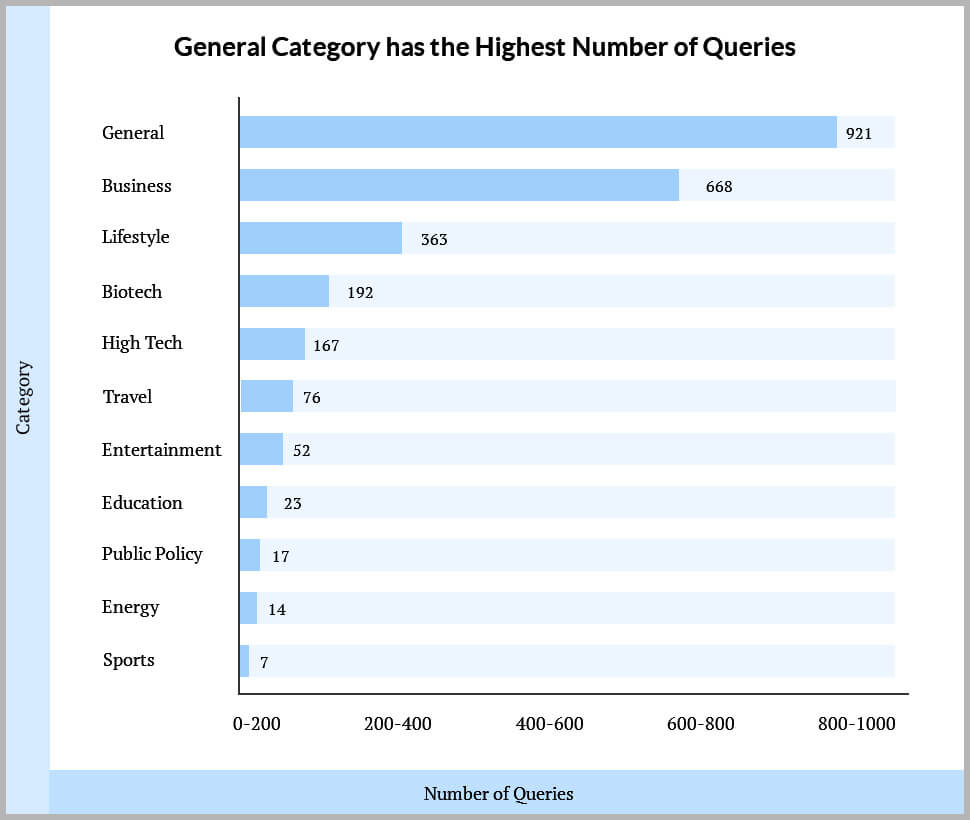 Top 5 categories (along with their subcategories) that received the highest queries were:
General:
Gift, Home Decor, Adventure, Art, DIY, Gadget, Books, and School & College
Business and Finance:
Accounting, Investment, Offline & Online Marketing, Entrepreneurship, Frugal Living, Human Resources, Business Ideas & Tips.
Lifestyle and Fitness:
Personal Health, Fashion, Life Hacks, Personal Development, Relationship, Parenting, Nutrition.
Biotech and Health:
Mental Health, Medicine, Drugs, Nursing, and Medical Professional
High Tech:
Cyber Security, DevOps, Networking, Security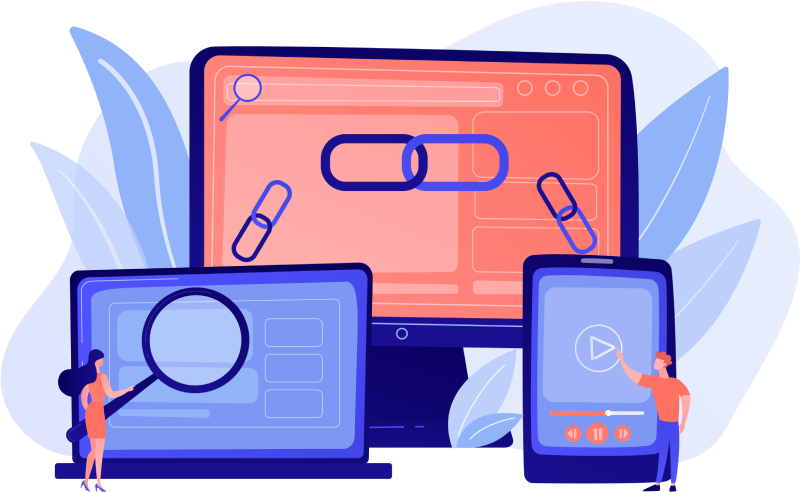 Do you need help with Link Building?
Contact us today! We offer a variety of link building services that can help improve your website's ranking on search engines.
Queries with 70+ Domain Ratings
Domain Rating, or DR, is a critical metric of Ahrefs that is measured from 1 to 100 and assigned to every website. It indicates the website's authority as viewed by Ahref.
Ideally, a website with DR 70 and above is deemed highly authoritative by search engines, and a backlink from such website is highly useful for SEO.
And to give marketers a sense of quality sites, we analysed the DR of all the submitted websites/publications and recorded the DR of those websites that published the journalist queries.
53% of all 2500 queries had a DR of 70 and above.
74% of all 867 published queries had a DR of 70 and above: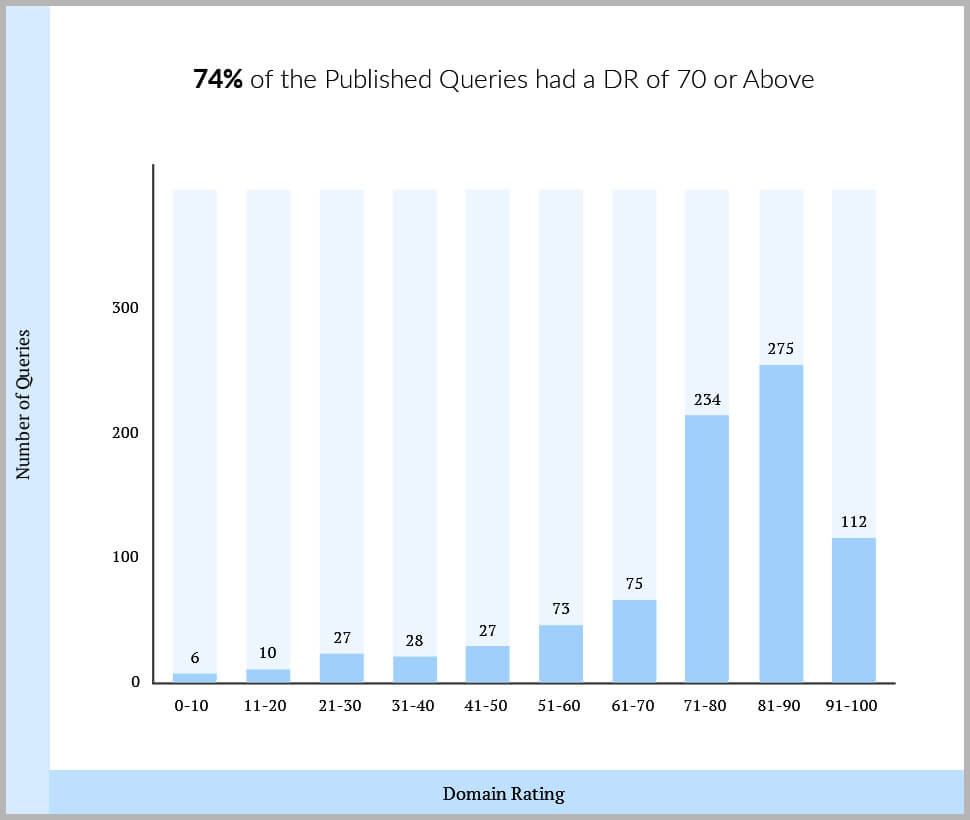 This indicates that HARO is an excellent resource for receiving highly authoritative backlinks.
Queries with 10K+ Organic Traffic
The primary purpose of backlinks is to earn trust, build authority & generate referral traffic.
We used Ahrefs to extract the monthly traffic of these websites and mapped them for better understanding.
Out of 2500 queries,57% of queries received 10K organic visitors every month.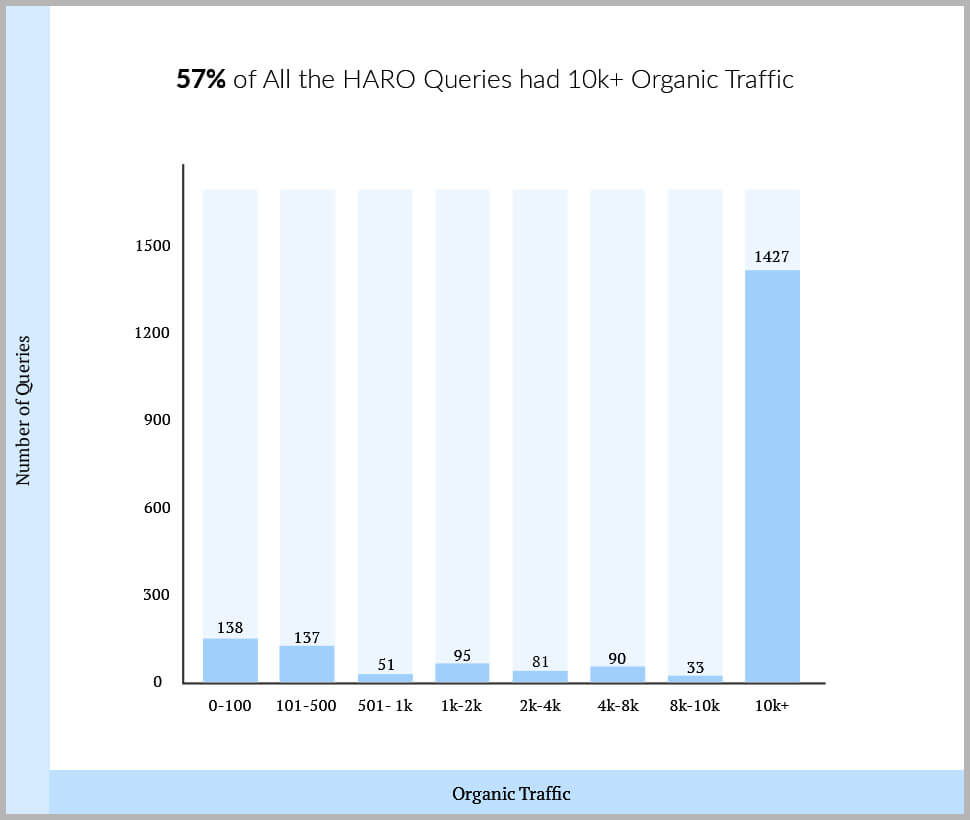 From the Published Queries, 78% of the websites had 10K+ organic traffic per month.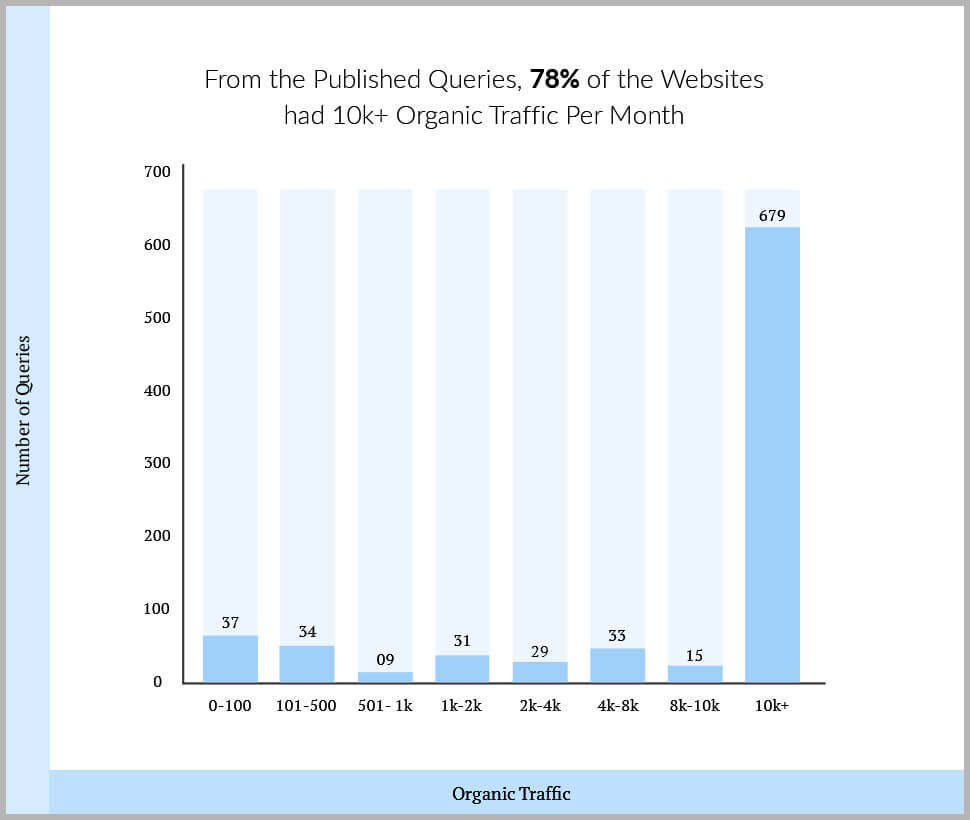 Thus, HARO is an incredible source for brand visibility, impressions, and traffic!
Articles with Do-Follow Links Vs No-Follow Links
Lastly, we analyzed the type of links each publication provided to their source.
We found the breakup as follows:
56.40% of all published articles had a do-follow link.
11.18% of all published articles had a no-follow link.
18.80% of all published articles mentioned the source by name with no link.
13.61% of all published articles did not mention the source at all.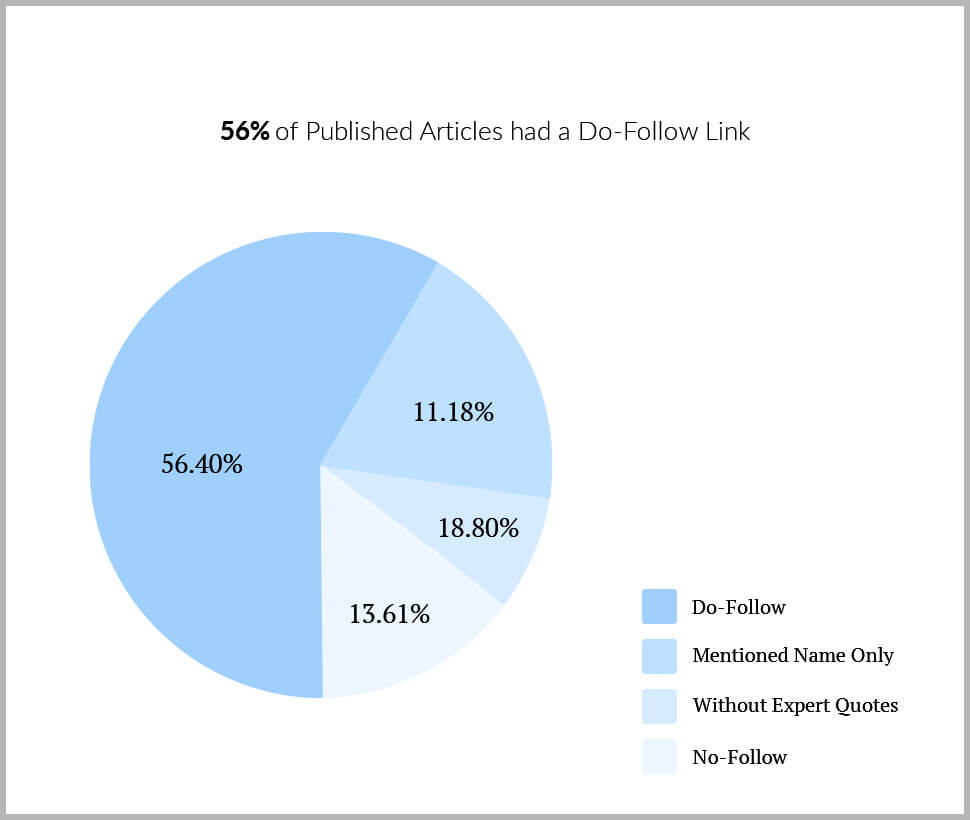 Although 32% of articles did not link back, mentioning the source by name still creates brand visibility.
This demonstrates that nearly 68% of published articles add value to their source, making HARO a beneficial platform for backlinks and impressions.
Our Methodology
We collated 2,500 journalist queries made on HARO during January 2020.
All data from these queries – Author Name, Publication, Query Title, Query Description, and Industry was scraped and documented.
We analyzed the publication site mentioned for each query (except anonymous ones) with the post title to find which queries were published, whether there was a link back to the source, and the tag associated with the link. We documented this data.
Using Ahrefs, we analyzed the domain rating and visitor traffic for sites that had published queries and later documented this data.
All documented data was then analyzed and mapped to deduce the results and create usable metrics.
Our Conclusion
Businesses and digital marketers have been using HARO for backlinks for a long time, but no study has put HARO's potential into perspective.
While some succeed in HARO, the majority of them find their efforts going to waste.
Our research explains why it happens, and you can use it to know how much useful HARO is for your business. Armed with this information, you can now ascertain whether HARO is indeed the right platform for your SEO efforts.
Further Reading: