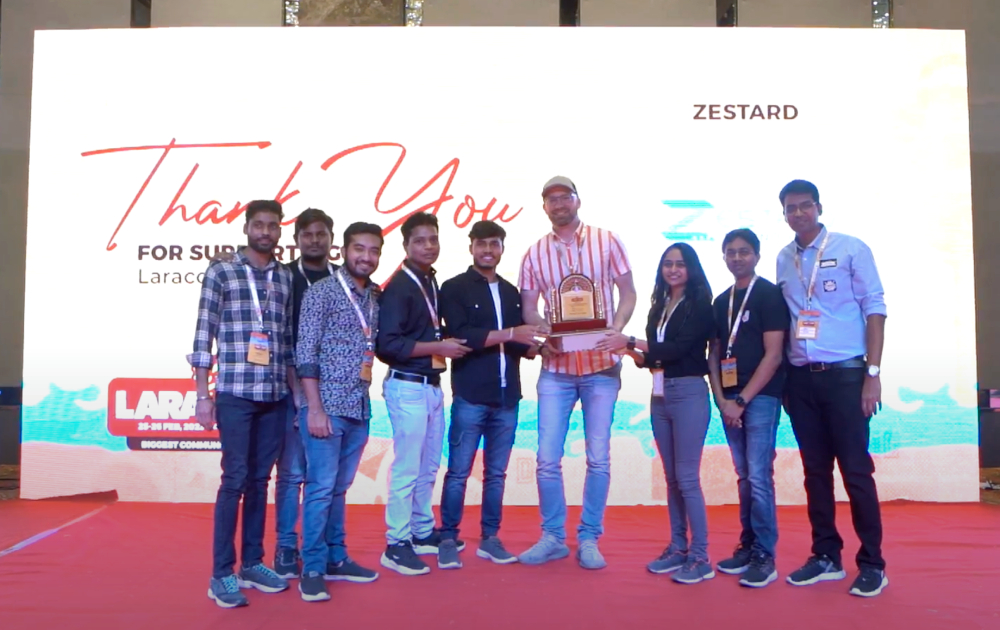 Laracon India 2023 was held at Club O7 Ahmedabad, Gujarat, on 25-26 February. This event was attended by 1100 Laravel developers from all over the world. It was aimed at bringing together Laravel enthusiasts to share their experiences, knowledge, ideas, and tap into business networks. Also, staying up-to-date with the latest trends and developments in the Laravel community was a major focus.
There were several notable speakers at the event, including Taylor Otwell, the creator of Laravel. The event saw him announce the launch of Laravel Volt, which promises some amazing features that we can't wait to explore.
Zestard has been an active participant in the Laravel community. We also take pride in being a Gold Sponsor at the Laracon India event in 2023.
About Laravel
Laravel is a powerful and popular framework that has gained a large following in the PHP development community. It is widely used for building web applications of all kinds, from small projects to large-scale enterprise applications.
This framework is designed to make web application development faster and more efficient by providing a set of tools and features that allow developers to build robust and scalable applications with ease.
Zestard & Laravel
Zestard leverages Laravel to build a wide range of applications, including Ecommerce, Startups, and Micro Saas. Our team has built over 30 applications that are actively used by 25,000+ customers.
As a Gold Sponsor at the event, we were excited to give back to the community that has helped us grow our business. Our participation aimed to support the community, share our knowledge, and learn from others. We believe in the power of collaboration and the value of knowledge-sharing to foster growth and innovation in the Laravel community.
Summing Up
Overall, the Laracon IN 2023 was a highly successful event that provided an excellent platform for developers to expand their knowledge, ideas, and tap into business networks in the Laravel community. As a Gold Sponsor, Zestard was proud to support the event and give back to the Laravel community. We are excited to see what's in store for next year's upcoming Laracon!