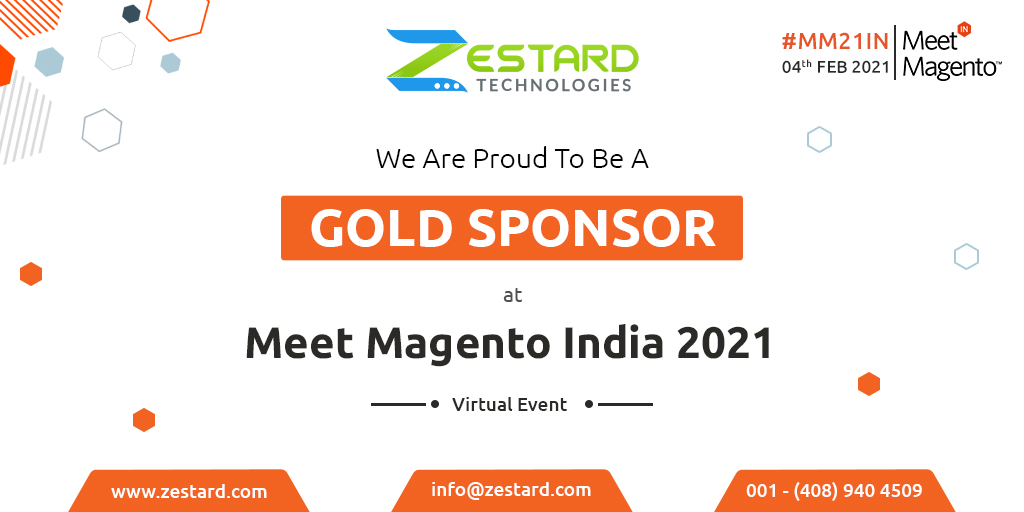 Meet Magento is one of the largest eCommerce event-series hosted across 40 countries. The conference offers a unique opportunity for Magento developers, vendors, merchants, and other professionals to interact on a global platform.
2021 marks the 4th annual hosting of the Meet Magento event in India and shall kick off on the 4th of February. Of course, due to the travel restrictions and advisories issued by the Government in light of the COVID-19 pandemic, the event shall be held in virtual mode.
Last year, Zestard was a proud contributing sponsor of Meet Magento India 2020. This year, we have decided to take it up a notch and have bagged the opportunity to be the Gold Sponsor of Meet Magento India 2021!
Why Should You Attend Meet Magento India 2021?
Wondering what all the hype about the Meet Magento event is and what's in it for you? Here are a few compelling reasons to attend:
Massive Learning Platform
Meet Magento India 2021 will be a hotspot of some of the biggest names in Magento and eCommerce. Hence, it goes without saying that the congregation will involve some top-notch industry experts including Ben Marks, Vinai Kopp, Stefan Willkommer, Sergii Ivashchenko and many more, who will be sharing their nuggets of wisdom. And from a technical or business perspective both, these interactions and knowledge exchanges will add value to how you work with Magento.
And from a technical or business perspective both, these interactions and knowledge exchanges will add value to how you work with Magento.
Gateway to the Latest Trends
2020 has been the year of disruptions. We can no longer depend on the predictions made in 2018, 2019, or even early 2020. Hence, it is time to unlearn the past and learn about all the changing trends to stay up to speed.
Since the world as we know it can transform in the bat of an eyelid, one can leverage the insights shared in the meet to become future-ready.
Global Networking Opportunities
The Magento Meet attracts a host of individuals from various communities involved in making Magento a success. As you gain exposure to these innovators, leaders, contributors, and trailblazers, you will be presented with a unique opportunity to grow your professional network. Bring forth your best social skills, and you can easily get your foot in the door.
Since it's a virtual event, we recommend you to network with the Meet Magento community through the twitter hashtag – #MM21IN
Why Meet Zestard at Meet Magento India 2021?
We are thrilled and excited to be a part of Meet Magento India 2021. As an eCommerce-focused business working predominantly on Magento, Shopify, WordPress/WooCommerce Technologies, it delights us to fuel one of the wings of the sector's growth. We hope to tap into this platform to share our experience, offer consultation, and, of course, to learn and grow further.
Here's why we should feature highly in your meetup list:
Zestard has designed and deployed 320+ eCommerce websites.
We are recognized as one of the top eCommerce companies by Clutch, Design Rush, and Top Developers.
Speaking specifically of Magento development services, we have successfully launched 100+ Magento storefronts, marketplaces, and custom solutions.
We have 40+ M1 and M2 Extensions used by more than 10,000+ customers worldwide.
Our team consists of Magento Certified Developers that will tailor the solutions based on your requirements.
We offer end-to-end consultation and technical support for a range of functions, from starting an eCommerce store from scratch to migrating from one platform to another to optimizing your store!
So go on and hit us up; we would be more than happy to respond!
Meet Magento India 2020: A Rewind
Here is a quick recap of all the awesome people we met at the Meet Magento India 2020:
Ben Marks – Magento Evangelist.
Jisse Reitsma – Magento Master of 2017, 2018, and 2019.
Kali Charan Rajput – Professional Scrum Master and UI/UX Lead.
Marsha Naidoo – COO at MageMojo LLC.
Vikrant Shukla – Magento Certified Solution Specialist.
We had quite a blast interacting with these leaders and visionaries and even got the chance to present them with a memento!
Conclusion
Zestard has been an active contributor to the growth and development of the Magento community. As a Gold Sponsor, we hope to add further stimulus to the industry as it gears up to touch new heights. That being said, the event can only be a roaring success through your participation, so we hope to be seeing you at Meet Magento India 2021!