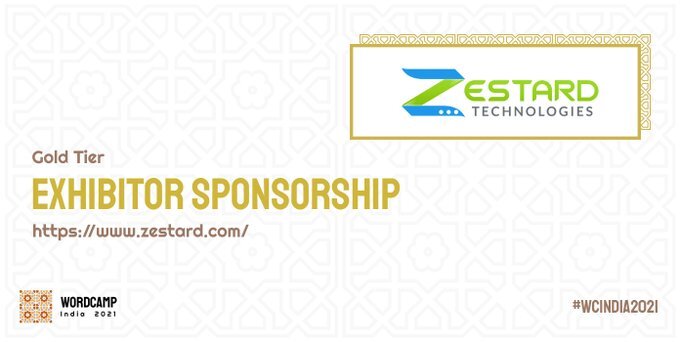 WordPress is one of the most popular CMS (content management systems) in the world. The open-source platform hosts a thriving community of users, developers, designers, and marketers.
WordCamp is one such community-driven and community-organized event surrounding WordPress and its applications. The first WordCamp was conducted in San Francisco in 2006. By 2010, it had grown to a point where it is held in every continent (except Antarctica)!
Since the COVID-19 outbreak, the WordCamp India community has been coordinating to host the event virtually. And we, at Zestard, are excited to extend our support and sponsorship to WordCamp India 2021 as one of their Exhibitor (Gold) Sponsors.
WordCamp India 2021 is spread across three weekends to take off the stress or cognitive load involved with the event. The proposed schedule is as follows:
30th and 31st January 2021 – Workshop Days
6th and 7th February 2021 – Contributor Days
13th and 14th February 2021 – Speaker Session Days
Why Attend WordCamp India?
Zestard has been an active participant in the WordPress community. We were also the Jazz (Gold) Sponsor of WordCamp Ahmedabad in 2019. Given our experience and exposure, here are a few highlights on why we staunchly believe that you should attend WordCamp India:
Various Learning Opportunities
WordCamp acts as the waterhole for the WordPress community. As such, you will get the chance to interact with industry experts, global leaders, core developers, and other key members.
Anybody in IT worth their salt knows that technology involves a constant learning process. WordCamp kindles this spirit and offers ways to enhance, improve, and streamline your skills. Most importantly, it prepares you for any future trends that could potentially cause disruptions.
Chance to Tap Into Business Networks
Given the diverse set of attendees, WordCamp can help you hit the networking jackpot. You can leverage the platform to collaborate with big names, connect with the sponsors, or even build your own team. And if you are skilled and ambitious enough, you may even land the job of your dreams!
WordCamp allows you to form real relationships with participants that extend beyond the boundaries of events and forums.
Make WordPress Better
WordCamp is an attempt to give back to the community. The discussions and inputs that take place at the event make WordPress more secure, useful, and reliable. Sessions like the Contributor Days play a monumental role in outlining how the community can improve WordPress and stimulate its growth.
Who Should Attend WordCamp India?
Anybody who has an interest in WordPress or uses WordPress can be a part of WordCamp India. The list of such individuals includes (but is not limited to):
WordPress Developers
Bloggers and Authors
Designers
Marketers
SEO Experts
Businesses and Nonprofits
Entrepreneurs
Service Providers, such as Photographers, Realtors, Consultants, etc.
Why Meet Zestard at WordCamp India 2021?
As we have mentioned above, Zestard is a proud supporter and sponsor of the WordPress community. As leaders of WordPress development, we think of it as our moral responsibility to support every initiative to make WordPress better.
Here are a few more reasons to meet Zestard at WordCamp 2021:
Establishments like Clutch, Design Rush, and Top Developers recognize Zestard as the top eCommerce company.
We have delivered 320+ eCommerce websites
We have successfully launched 200+ WordPress websites and 50+ custom WordPress solutions.
Our custom WordPress solutions, such as custom theme development, plugin development, integration with third-party solutions, are highly sought after.
In a nutshell, we have a lot to offer when it comes to WordPress Services!
WordCamp 2019: A Rewind
Here is a quick recap of our experience at WordCamp 2019:
Zestard was one of the Gold Sponsors of WordCamp Ahmedabad 2019, held on 14th and 15th December at the Pandit Deendayal Upadhyay hall.
We distributed attractive Zestopus swag bags and hosted events such as lucky draws at our booth during the event. Two lucky draw winners scored the latest Mi Bands.
Apart from attending various speaker sessions, we engaged with over 500 participants to gain and impart knowledge surrounding WordPress.
All in all, we had a blast!
Conclusion
Zestard is committed to growing the eCommerce ecosystem. Given the popularity of WordPress, we hope that our small contribution goes a long way in growing the industry. As Exhibitor (Gold) sponsors of WordCamp, we hope that the event is a learning experience for all!