Accelerated Mobile Pages or AMP is a global initiative for promoting faster mobile websites. This project brings a unique coding language to the fore with AMP HTML, which restricts code to boost loading speed and reliability.
It is being supported rapidly by publishers, web technology providers and several developers worldwide and has been embraced by BBC, Twitter, New York Times, and several headliners in the tech-media space.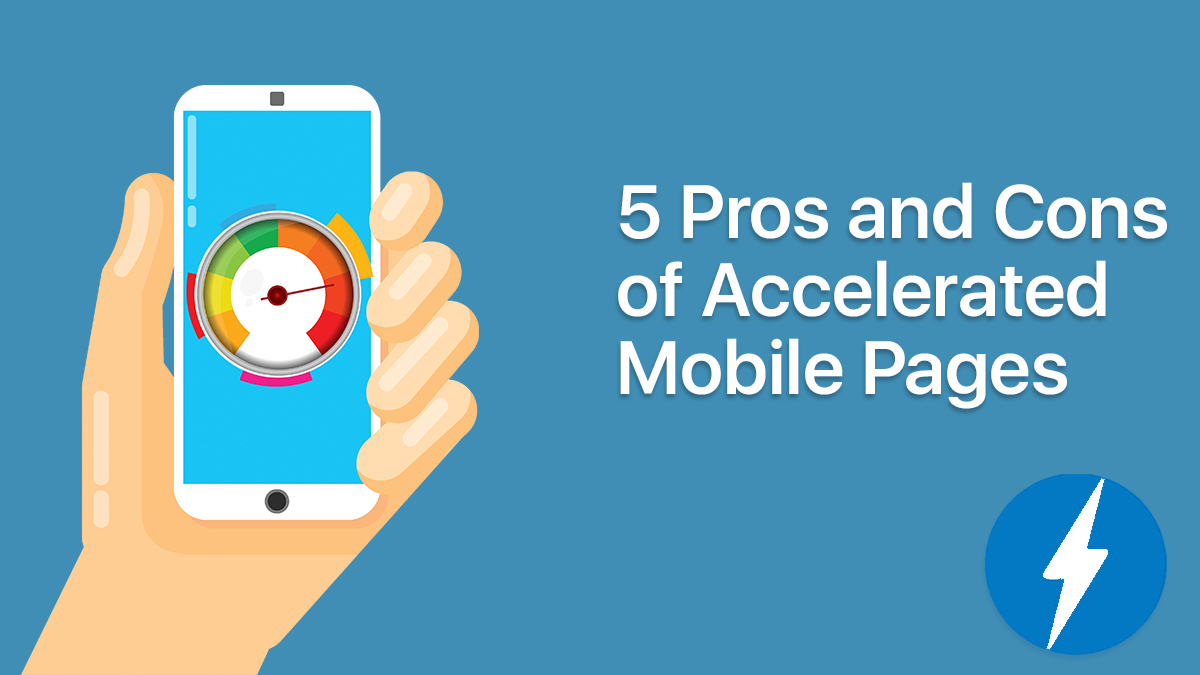 The differences in AMP pages are not directly obvious to untrained users but as they usually do not know where to look to identify the subtle differences. The speed of loading is the biggest clue to the fact of using AMP since it allows the page to load by up to 85% faster than other pages.
5 Pros Of Accelerated Mobile Pages
Improves Website Load Time


AMP aids in faster loading time of the pages, which is the primary aim of such pages. Reports suggest mobile users abandon a website that takes a long time to load – more than 3 seconds – hence businesses like to adopt AMP could help to drive mobile abandonment rates down and increase conversions.

Increases Mobile Ranking


Although AMP has not established itself as an independent ranking factor, it can be judged with respect to its mobile friendliness and faster page load speed times. As AMP improves page loading times, it is evident that AMP pages will be rewarded with higher rankings than others.

Improves Server Responses


If your site generates immense traffic from mobile, AMP can help in reducing the load on servers and boost performance. This helps in improving server responses and faster load times as stated earlier.

Boost CTR (Click Through Rates)


Wired apparently saw a 25% boost in CTR from mobile search results, with while the CTR in the overall AMP stories rose up by 63%. Some companies are now quite clear about using AMP ads, but to those who can use it efficiently, AMP can increase ad performance and boost CTR considerably.

More Ads Viewability


A recent DoubleClick study involving 150 publishers found 80% and more realizing higher ad viewability rates with AMP pages in comparison to other pages. This proves that AMP pages are simplified and secure thus able to deliver better advertising to eyeballs.
5 Cons Of Accelerated Mobile Pages
Decrease In Ad Revenue


Though AMP Project supports ads, the potential in reining revenue is limited since it is difficult to implement ads on AMP-run pages efficiently.

Not Easy To Implement (Excluding WordPress)


AMP is a restrictive framework and the implementation effort is tough. Yes, the gains can be good but the performance boost of HTML web pages be prioritized more. Focusing on performance optimisation needs to take centre stage. Those implementing AMP pages need to follow Google's guidelines to the tee.

Analytics Is Stripped Down


AMP supports Google Analytics under different tags and hence take a lot of time and hassle to place these tag to collect and analyze data.

Google Cache Server (They are using CDN so create dependency)


AMP pages get loaded through Google cache servers thus keeps all web pages depending on Google. Since no company can control their server, it leads to dependency that might affect detrimentally in the long run.

No Leads And Subscribers


AMP pages will not show email popups and optin forms, any sidebar widgets, strategically placed social share buttons, posts and much more. One might lose email subscribers and leads in the process too.
For a better user experience, one can go with AMP although one has to lose on other features like lead generation, connected ads, widgets, etc. Without AMP, one should make sure that the website is mobile friendly with the help of WP Touch plugins or responsive themes.
Should you need any help in AMP Implementation on your website or apps, feel free to contact us