Accelerated Mobile Pages (AMPs) is an open-source platform that's developed by Google to help the publishers to improve the speed and readability of their mobile web pages. The Aim of AMPs is to decrease the loading speed of mobile web pages and make them fruitful for SEO purposes.
As per Neil Patel, Speed is a Killer, the more will be the page speed, and loading time, the more will be the chances of increasing conversions.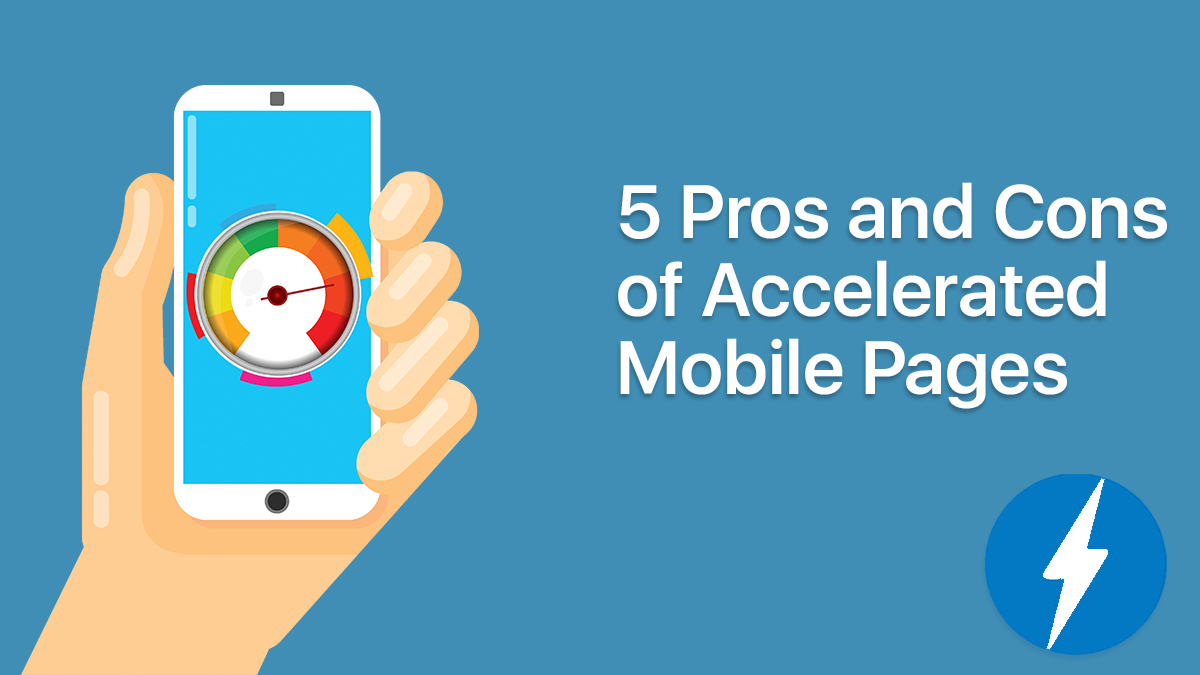 Google intends to provide the best user experience for all those mobile lovers looking for any information and shopping on their smartphones.
Accelerated Mobile Pages (AMP) is an open-source project created by Google and Twitter to improve web page performance for smartphones. This project brings a unique coding language to the fore with AMP HTML, which restricts code to boost loading speed and reliability.
It is being supported rapidly by publishers, web technology providers and several developers worldwide and has been embraced by BBC, Twitter, New York Times, and several headliners in the tech-media space.
AMP is a stripped-down version of a perfectly designed HTML page that is lightweight, quick and has lesser load time. It's specifically designed to boost the readability and speed that smartphone users are facing for a long time.
Let's take a look at AMP's Pros and Cons for making a better decision:
5 Pros Of Accelerated Mobile Pages
Improves Website Loading Time

The AMP Project is created to help developers build fast, statically contented smartphone sites. AMP eliminates all of the non-essential elements for better functionality and speed. Thus, Google can pre-render and load Web pages instantly.

Reports suggest that mobile users abandon a website that takes a long time to load – more than 3 seconds – hence businesses like to adopt AMP that will help to reduce mobile abandonment rate and increase conversions.

AMPs are truly fast; this makes users enjoy sites without getting irritated. There is a greater chance that more visitors will be drawn in by AMPs. Google's Accelerated Mobile Pages are specifically used for reducing any page content's loading time. By using AMP, it would take less time for your pages to load, and definitely with accuracy.

Essentially, AMP does slim down web pages, saving them in Google's CDN, which helps in rendering load times significantly faster.

Increases Mobile Ranking

Although AMP has not established itself as an independent ranking factor, it can be judged concerning its mobile-friendliness and faster page load speed times. Site speed and conversion rate are strongly related. If the users on a fast-loading site are satisfied, they are more likely to subscribe to a list or buy a product. As AMP improves page loading speed, it is evident that AMP pages will be rewarded with higher rankings than others.

For organic mobile search results, mobile-friendly websites are rewarded with higher rankings and pages built with AMP will most likely rank higher than non-AMP pages, in the mobile search results. This means that AMP has a positive side effect on user ranking as it makes pages load quicker. It could even have a greater impact in the future on the SERPs.

Improves Server Responses

Besides providing great user efficiency, the web framework also helps in improving server performance by reducing the load on the server. If your site generates immense traffic from mobile, AMP can help in reducing the load on servers and boost performance.

AMP material is pre-fetched, which reduces the load from your servers. This helps in improving server responses and faster load times, as stated earlier.

Boost CTR (Click Through Rates)

You can build a website with AMP that is stable, user-friendly and easily accessible across all browsers imaginable. As a result, you can get more clicks, drive more revenue and positive ROI. As per the Forrester economic-impact study, the pages which have higher load speed increase conversions and page visits.

If searchers visiting your AMP-enabled pages are less likely to bounce, this also means that they are more likely to click on other pages to your website. If you rely on organic search results, you want to make sure that visitors click on your links.

Wired apparently saw a 25% boost in CTR from mobile search results, while the CTR in the overall AMP stories rose by 63%. Some companies are now quite clear about using AMP ads, but to those who can use it efficiently, AMP can increase ad performance and boost CTR considerably.

In Google, some initial proof often comes with AMP pages in their carousel atop Google Newsstand. This gives you big thumbnails, which makes the site stand out from its competitors. It will boost your CTR, even if it is difficult to get featured.

More Ads Viewing

AMP offers a diverse variety of ad networks with a hospitable environment. In reality, one of AMP's primary goal is to provide a faster-loading ad experience. When ads are loaded quickly, the chances of people seeing them increase, and ad messaging can reach its full potential. Therefore each ad's overall effectiveness and revenue increase.

As per the recent DoubleClick study, around 80% of publishers realize that more people saw their ads and engaged with AMP pages in comparison to other pages which are much slower. This proves that AMP pages are simplified and secure to deliver better advertising to eyeballs.
5 Cons Of Accelerated Mobile Pages
Decrease In Ad Revenue

The AMP Project officially supports ads and installing them on AMP pages is not an easy task. This means that there is still a little limited potential to bring in revenue. You won't get a lot of ad revenue from your AMP page because it gets rid of all the extra things you don't need on the website, meaningful advertising will also be taken off.

That will reduce the chance of the buyers or viewers to see the products or services that you're offering to them. On the other hand, due to this, the potential to bring the revenue is also getting limited. The agencies you deal with or the platforms in which you are partnered will be able to tell you that your viewers are not watching their advertisements.

It's important to mention that Google has taken significant steps to improve these issues that publishers are facing due to AMPs. It's rolling out AMP Advertising as recently and promising even more content integrations.

This web interface provides a robust ad-presentation platform and therefore restricts your ad revenue. The HTML codes are formulated in such a way that they effectively promote ad applicability to your website, thus minimizing additional revenues.

Not Easy To Implement (Excluding Word Press)

AMP is a restrictive framework, and the implementation effort is tough. Yes, the gains can be good, but the performance boost of HTML web pages can be prioritized more. Those implementing AMP pages need to follow Google's guidelines.

While the implementation of AMP Project Guidelines is meant to be user-friendly, conflicting information and consistent template updates can make it confusing. Although some content management systems (CMSs), such as WordPress has available tools for AMP integration, they often conflict with other SEO tools such as Yoast. Hence, it's not easy to implement AMP-yet.

Analytics Is Stripped Down

The most important thing you need to know is that your AMP page isn't the same as your original page. AMP supports Google Analytics under different tags and hence takes a lot of time and hassle to place these tags to collect and analyze data. For the tracking, you need special resources and efforts that may take the time and are not immediately available to access.

Google Cache Server

One reason that AMP makes the loading of pages so fast is by enabling Google to serve users with a cached version of an AMP-enabled page. Google holds the information of the pages that appeared in the search results, so you don't even represent the content you created– it's just a copy that's cached and stored somewhere else.

Google puts the AMP cache between the user and your server to access the information. While they maintain that AMP was created as a fully independent joint business effort, some publishers and industry analysts voiced concerns about the position and intentions of Google. The main concern is that it will be used by Google to shape the way the mobile web operates to its interests.

This means that publishers fear that they might lose control over distribution; hence, they may lose part of their ads revenue. So, are you sure to depend completely on Google through the cache?

No Leads and Subscribers

AMP pages will not show email popups and opt-in forms, any sidebar widgets, strategically placed social share buttons, posts and much more. One might lose email subscribers and leads in the process too.
Why Should You Opt For AMP?
We all know that everyone is becoming mobile dependent, and its popularity will grow year by year. This means it's something you should do to accept and adapt accordingly. If your site is fairly light, however, doesn't serve rich content and is sensitive and loads quickly, then AMPs probably won't bring that much onto the table.
On the other hand, if most of your traffic comes from a mobile device, then it is certainly something that you should at least consider checking, if not instantly implementing.
Nowadays, more and more people are using their smartphones for browsing, getting information and even shopping on the internet. Because of this, building websites that can be easily scaled across these smart devices become the need of the hour. This is where an AMP comes into the picture where it promises a great user experience, enhancing online visibility.
For better user experience, one can go with AMP, although one has to lose on other features like lead generation, connected ads, widgets, etc. Without AMP, one should make sure that the website is mobile friendly with the help of WPTouch plugins or responsive themes.
I hope now you have a clear picture in your mind about AMPs and their advantages and disadvantages.