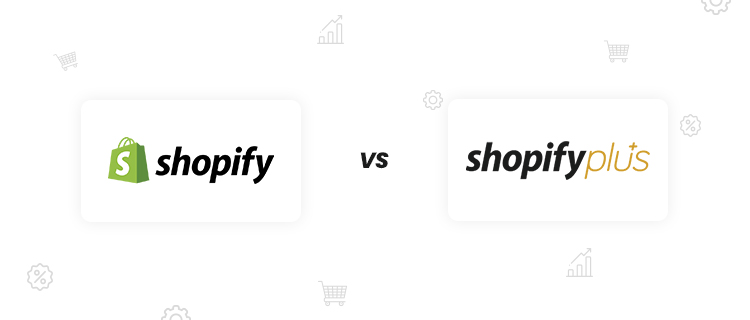 Shopify is among the leading e-commerce platforms with a market share of about 10.98%.
This popularity is a result of Shopify's ability to cater to the business requirements of a gamut of industries and sizes. Beginners operating small to medium-sized businesses find themselves particularly attracted to Shopify due to its codeless shop-building tools, robust security, customization options, managed hosting, intuitive interface, custom domains, unlimited product listings, and more!
But what about the rapidly growing businesses? It appears that Shopify has got you covered!
While Shopify is undoubtedly great, it also offers Shopify Plus, a premium upgrade for fast-growth enterprises. So how does Shopify vs. Shopify Plus fare against each other? How does this tiered option target different market segments?
We have all the answers to the Shopify vs. Shopify Plus debate!
In this post, we will demystify the difference between Shopify and Shopify Plus, and who should consider what.
What Is Shopify?
Shopify is an e-commerce solution that grants you the power to conceive, grow, and manage your business. Shopify benefits its users through its cloud-based, hosted services that eliminate the need for knowing and managing the "tech side" of the storefront.
What Is Shopify Plus?
Shopify Plus is essentially Shopify on steroids. It is considered as a fitting upgrade to the basic version of Shopify. While the interface of Shopify and Shopify Plus is nearly the same, Shopify Plus comes loaded with features that are more robust.
As a general rule of thumb, the difference between Shopify and Shopify Plus lies in the following: the former is more suited for small to medium-sized businesses while the latter is ideal for large enterprises dealing with a high volume of sales.
Difference Between Shopify and Shopify Plus
If you are in a rush, here is an express overview of Shopify vs. Shopify Plus in a tabulated form:
Shopify
Shopify Plus
Price
Shopify is available in three pricing models:

Basic Shopify at USD 29 per month
Shopify at USD 79 per month
Advanced Shopify at USD 299 per month

Starts at USD 2,000 per month but may vary for high volume businesses
Features

Custom domains with customizable store and blogs
Unlimited product listing
AI and Personalization
Real-time statistics for sales and inventory
Support for major payment gateways

In addition to the basic features of Shopify, Shopify Plus takes it a notch with the following:

High volume traffic handling capacity with unlimited bandwidth
Multiple stores (up to 10)
Automation through customizable workflows
Wholesale management
Customization through Shopify Scripts

Customer Support

24-hour customer support through live chat
Support over phone
Online help center
Community forums

Dedicated account manager (Launch Engineer)
24-hour customer support through live chat
Support over phone
Online help center
Community forums

Themes and Flexibility
Users can edit and customize themes, but it is harder to switch to a completely new one
Shopify Plus themes offer greater customization through its open-source templating language Liquid
Shopify vs. Shopify Plus Pricing
Certainly, price is a determining factor that carries the most weight in clinching a deal. Let's compare Shopify pricing against Shopify Plus pricing to know what either of these offers:
Shopify
Naturally, Shopify pricing is towards the lower end of the spectrum, considering that it appeals to small and medium-sized businesses. It offers a 3-tiered plan with attractive plans for long-term commitments. You can test out the 14-day free trial between taking your pick.
The standard pricing plans cover:
Basic Shopify ($29/month)
This plan is perfect for businesses just starting out as an e-commerce store. Since it supports an unlimited number of products, you can get your entire line to the front. However, all online transactions bear a 2% fee, which can make it quite expensive if you have high-value or high-volume sales.
The Shopify plan is suited for rapidly growing small businesses. Consider this option if your storefront generates about $5000 in revenue per month. The two main advantages of this plan include that credit card payments attract a lower transaction fee of 1%, and the store comes bundled with additional features.
Advanced Shopify ($299/month)
Advanced Shopify pricing excludes the transaction fee of 0.5% and is more driven towards medium to large online businesses generating about $10,000 in revenue per month. In return, it offers stellar growth potential, advanced reporting, and shipping options.
Basic Shopify
Shopify
Advanced Shopify
Monthly price
USD $ 29/mo
USD $ 79/mo
USD $ 299/mo
FEATURES
Online Store
Includes ecommerce website and blog.
Unlimited Products
Staff Accounts
Staff members with access to the Shopify admin and Shopify POS.
2
5
15
24/7 support
Sales Channels
Sell on online marketplaces and social media. Channel availability varies by country.
Manual Order Creation
Discount Codes
Free SSL Certificate
Abandoned Cart Recovery
Gift Cards
Professional Reports
–
Advanced Report Builder
–
–
Third-Party Calculated Shipping Rates
Show calculated rates with your own account or third-party apps at checkout.
–
–
Transaction Fees
2.0%
1.0%
0.5%
Shopify Plus
Shopify Plus offers greater customization, higher scalability, and enhanced order volume handling capacity, and it is evident in the Shopify Plus pricing.
This enterprise-level solution starts with a base fee of $2000 per month and attracts a transaction fee of 2.15% + $0.30 per transaction. However, this figure would fluctuate as Shopify customizes it according to your business volume.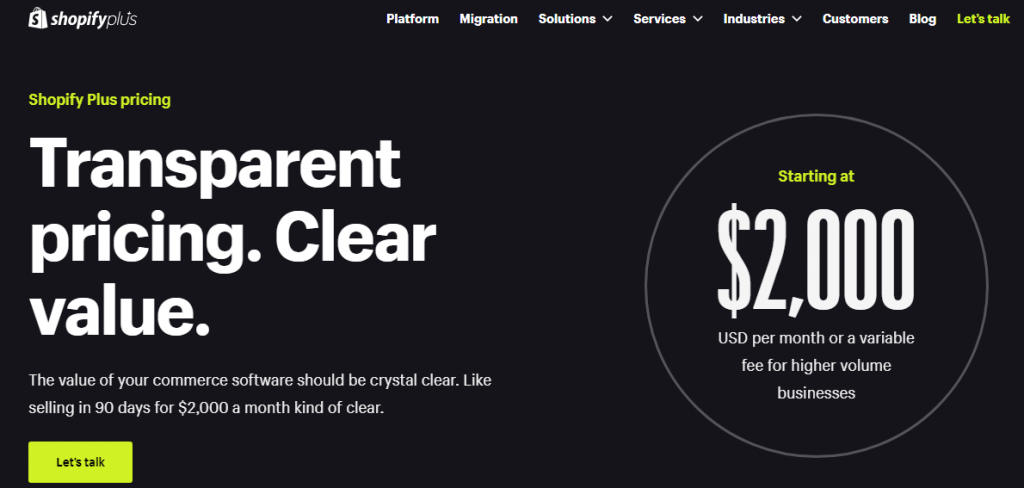 Once your business hits the $800,000 per month mark, Shopify Plus pricing adopts a revenue-sharing model. You will pay 0.25% of your monthly revenue with a maximum capping of $40,000 per month.
New Features to Get With Shopify Plus
As stated over and over again, Shopify Plus features justify the cost of the plan. Here are the major enhancements that you can expect with Shopify Plus:
1. Dedicated Launch Engineer Manager
Shopify is well-known for its world-class customer support. Shopify users are granted support through Shopify Experts. However, with Shopify Plus, it takes it one step further with a dedicated account manager!
Dedicated Launch Engineer Manager help with: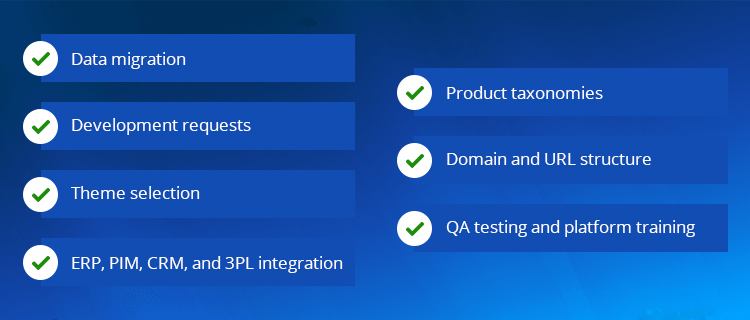 Yes, Shopify Plus features a dedicated Launch Engineer Manager for dedicated and personalized technical support for your store. They can run you through the entire process, right from migrating or setting up your business to deciding the best-suited plugins for your store!
2. Unlimited Staff Account
The basic Shopify plans offer a limited number of staff accounts with 2, 5, and 15 for Basic, Shopify, and Advanced, respectively.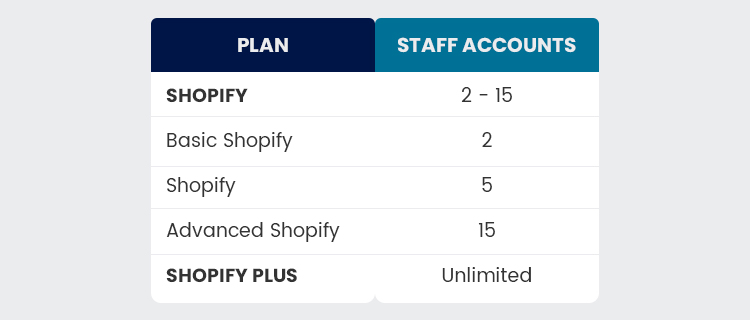 However, Shopify Plus grants you unlimited staff accounts with administrative control over access and permissions. This functionality offers increased scalability as it accommodates the rising number of personnel without incurring additional costs.
3. Customized Checkout With Fine Control
A notable difference between Shopify and Shopify Plus lies in the user checkout experience. Shopify store owners cannot access the underlying code and must rely on third-party apps to personalize their checkout experience.
On the other hand, Shopify Plus offers absolute customization to replicate the overall look and feel of your brand. Further, Shopify Plus comes with the Script Editor that offers granular control over several aspects, such as custom fields, payment options, and shipping methods.
4. API Integration
APIs facilitate integration with third-party applications. Shopify Plus enjoys greater flexibility for smoother and seamless API integration. In addition to integration, merchants can also build their own custom apps to grant a more personalized shopping experience to their users.
Shopify Plus users can also enjoy the following API resources:
GiftCard: Users can key in unique codes during checkout as an alternative to traditional payment methods. The total value of a gift card can be encashed over multiple checkouts.
Multipass: If your website and Shopify store are different, you can use Multipass login to redirect users to your storefront while allowing them to the same credentials to sign in to their accounts.
User: Offers fine control of your user accounts, wherein you can access, add, edit, and remove staff information.
5. Access to Exclusive Apps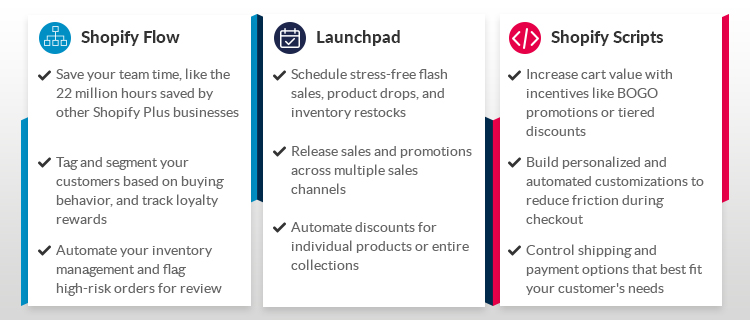 Access to a wide range of exclusive apps is one of the greatest Shopify Plus features. Merchants can use it to refine their platform and make it unique.
Here are a few of the native apps available to Shopify Plus users:
Shopify Flow for introducing workflow automation through a visual interface.
Launchpad to plan and trigger flash sales, exclusive deals, product launches, and other sales campaigns automatically.
Script Editor to personalize the cart building and checking out experience.
Transporter for importing customer or product details to a centralized record-keeping database.
Bulk Account Inviter to import customer accounts from one store to another.
6. Wholesale Channels
Several Shopify Plus reviews talk about the separate, password-protected wholesale channel that mirrors your retail store. Over this platform, you can woo your B2B and B2C bulk buyers with competitive wholesale-only rates. Pair the product/service wholesale pricing with attractive discounts, and you will be selling out at a rapid pace!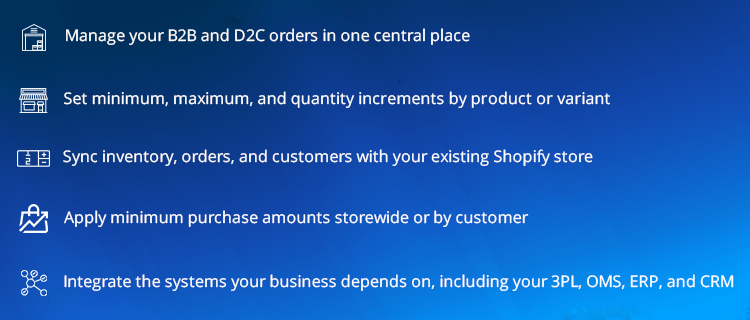 7. Merchant Success Program
Shopify Plus comes with the Merchant Success Program that aids merchants in extracting the most from the platform. Their customer support is actively available to help store owners with products, listing, platform maintenance, third-party integrations, and more. Merchants can access a wide variety of resources for self-training and stay up to date on all events and happenings.
Merchant Success Program helps you with: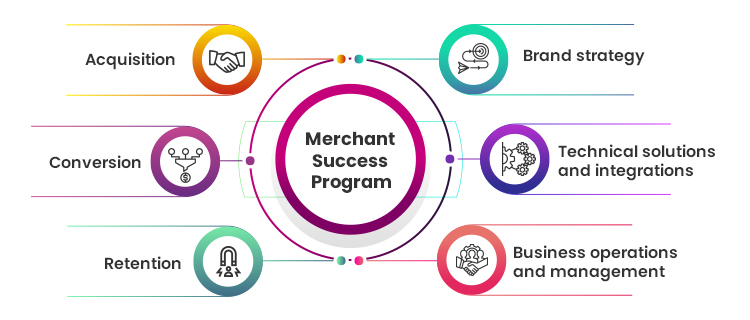 8. Access to Other Shopify Communities
Given that Shopify Plus is the top-tier offering, it offers an equally rewarding community experience. Some of the exclusive Shopify Plus communities include:
Shopify Plus Facebook Community to share experiences and network with other businesses.
Shopify Plus Academy to take reigns of how to operate and expand your business over the platform.
Shopify Plus Partner Program to access technologies and solutions offered by Shopify partner agencies.
Shopify Plus Beta Program to get the latest news and updates on the industry trends.
9. In-Depth Analytics Option
Even if your business runs multiple stores, you can access all the information through a centralized dashboard. The Shopify Plus dashboard contains all the apps, features, and functionalities to grant you a holistic overview of your business regardless of the store type or location.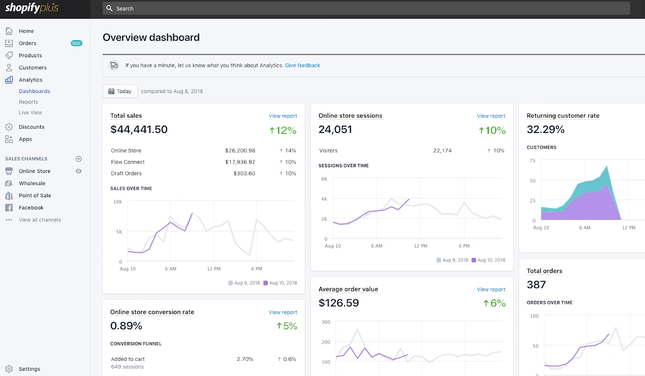 This dashboard also possesses advanced reporting functionalities that give Shopify Plus an edge in the Shopify vs. Shopify Plus argument. These cutting-edge analytics and reporting offer minute-by-minute updates on various metrics such as sales volume, returning customer rate, top products, and more.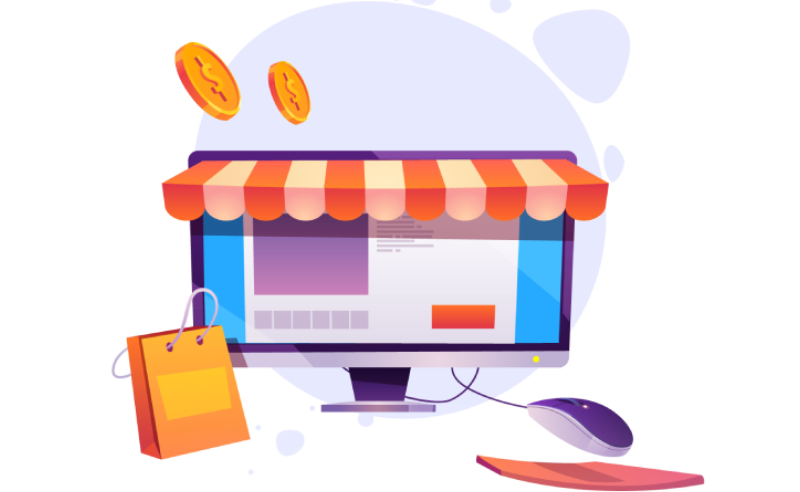 One-stop solution for all your Shopify requirements!
Set up your Shopify store or migrate to one with Zestard's Shopify Development services.
Shopify vs. Shopify Plus: What Is Ideal for You?
After perusing through the Shopify vs. Shopify Plus review, it may be clear by now that the premium offering is directed at established enterprises and wholesalers. Shopify Plus bypasses the need for hiring technical staff to handle the complexities of operating a large venture.
On the other hand, Shopify continues to deliver reliable results for small to mid-level businesses. It comes with all the necessary tools you may need to grow and expand your venture.
Hence, it all boils down to your business requirements to choose the option that ticks all your boxes, and you have a perfect fit!
Well Known Stores on Shopify
Well Known Stores on Shopify Plus
FAQs on Shopify vs Shopify Plus
1. When should I upgrade to Shopify Plus?
There is no absolute rule that outlines the exact moment when you should decide upgrading to Shopify Plus. However, you may consider the upgrade if you are:
Racking up annual revenue around the likes of USD 1 million
Looking to automate your workflow
Planning to customize the checkout
Ready to expand into the international territory
Running out of staff accounts
2. What exactly does Shopify do?
Shopify is a well-known e-commerce platform that enables merchants to set up an online store, manage inventory, ship, and sell their products or services. Merchants can also make in-person sales using Shopify POS.
3. What types of products can you sell on Shopify?
You can use Shopify to sell physical or digital products from an array of verticals such as health, beauty, fitness, lifestyle, apparel, etc. Alternatively, you can also sell services, memberships, consultations, experiences, events and workshops, and experiences.
4. Is Shopify Plus worth it?
There is no silver bullet that describes whether Shopify Plus is worth it or otherwise. However, if you manage multiple stores, want better customization, and are a high-volume, high-growth enterprise with a fat budget, then Shopify Plus is definitely worth it.
5. How to get Shopify Plus?
Contact us; our dedicated team will guide you through the rest!
6. What is a Shopify Plus Partner Manager?
The Shopify Plus Partner Manager acts as your single point of reference while accessing information related to Shopify Partners. They will pitch you their products and offerings to guide you in the process of setting up your store on Shopify.
Conclusion
This concludes the Shopify vs. Shopify Plus review. At the surface, both the products have similar offerings when it comes to basic e-commerce functionalities. However, Shopify Plus grants greater flexibility for store customization, along with access to advanced features.
In a nutshell, you may continue (or switch over) to Shopify if you are a small to mid-level business. However, if you are a rapidly growing business with high-velocity sales and great potential for YoY growth, then Shopify Plus is the way to go!