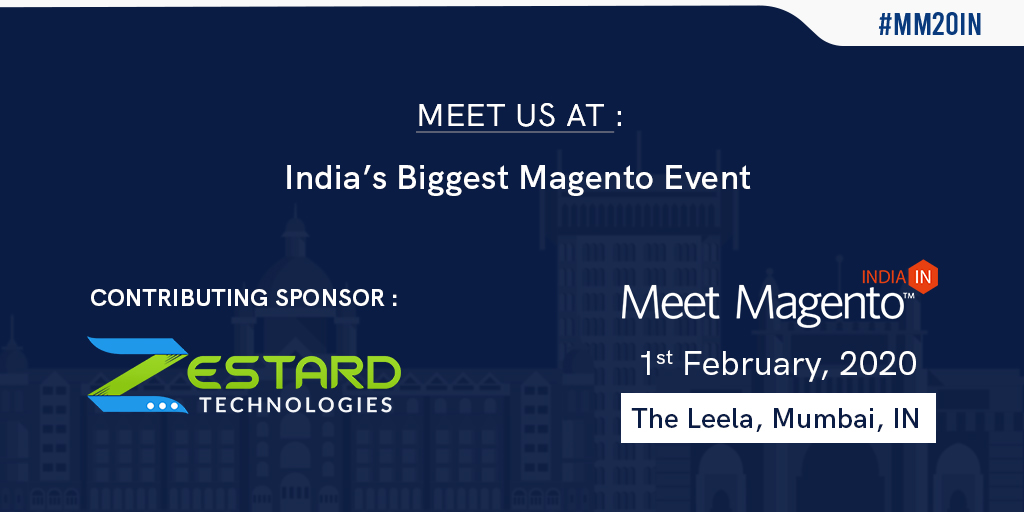 We are just a few days away from India's Biggest Magento Event – Meet Magento, a leading Magento event for the Magento developers, bloggers, retailers, eCommerce & Digital marketers.
The event is going to be held on 31st Jan & 1st Feb 2020, expecting 600+ attendees, including Magento experts and e-commerce evangelists.
We are proud to announce that Zestard is a contributing sponsor of Meet Magento.
What is the time and venue for Meet Magento India 2020?
Certification:
Date: Friday, 31st January 2020
Time: 8.00 AM

Venue: WeWork Raheja Platinum Sag Baug Road, off Andheri-Kurla Road Marol, Andheri East Mumbai – 400 059
Workshop:
Date: Friday, 31st January 2020
Main Event:
Date: Saturday, 1st February 2020
Time: 8:00 AM to 8:00 PM

Venue: The Leela Mumbai, Sahar Airport Road, Andheri (E), Mumbai – 400 059
Contribution Day:
Date: Sunday, 2nd February 2020
Time: 8.00 AM to 5.00 PM

Venue: Nearby Leela Hotel, Mumbai
Why should you attend Meet Magento India 2020?
Meet Magento Experts

Meet Magento India 2020 connects avid Magento developers, decision-makers, and budding Magento company owners with the latest happenings and trends about the platform.

The event would be hosted by 25+ expert speakers from different parts of the world extolling the virtues and attributes of the Magento platform in 20+ sessions.

Some speakers expected to speak on the event include:

Vinai Kopp – Magento Master and Trainer
Saurabh Rajpal – Technical Mobile Solutions Consultant
Ben Marks – Magento Evangelist
Stefan Willkommer – CEO, TechDivision GmbH
Marsha Naidoo – COO, MageMojo LLC and many others.
For the full agenda, you can click here.
Get Expert Advice

Magento professionals will benefit from tidbits, insights, and ideas about the platform by experts worldwide. The event will make them aware of Magento's newest features by participating in varied technical sessions, including Magento Upgrade, Magento B2B, Cloud application management, and more.
Networking

The Meet Magento India event provides an opportunity for Magento professionals and IT companies to make new contacts and expand their business network steadily with the experts, pros, and programmers, forge alliances and explore new horizons.
Gifts and Swags

As a participant to the glittering event, you stand a chance to win free swags including T-Shirts, Diaries, Bags, Magento 2 Training discount offers, and loads of surprise gifts from event sponsors and Magento service providers.
Who can attend the Magento Meetup?
The Meet Magento India 2020 is open for all kinds of merchants, budding e-commerce developers, e-store owners, e-commerce solution providers, freshers in the industry, digital marketing agencies, enterprise decision-makers, and Magento experts too.
Why meet Zestard at Meet Magento India 2020?
Get tips and tricks to boost customer interaction, improve store performance, and deliver high user engagement
Get quick advice and handy ideas to drive business performance by leveraging Magento and its latest features
Expand your business with smart ideas and unexplored demographics
Learn if You Should Migrate to M2 and things to keep in mind while migrating to M2
Get some Discounts on our Magento Extensions
The Meet Magento Conference is a fantastic platform to explore and make a difference in the world of Magento, getting an expert's point of view on the offerings and gain international exposure to the services.
In two days, various companies will be sharing and discussing ideas with e-commerce experts and thus gain tremendous insight into the present and future of Magento in different spheres.
Partner with Zestard to make a massive difference to your online business!

To know more about Zestard, visit our social media profiles and updates on Facebook, Twitter, and LinkedIn!
You can follow the #MM20IN hashtag or Meet Magento India on twitter to stay updated with the buzz.
Catch up with us at the event. See you there…