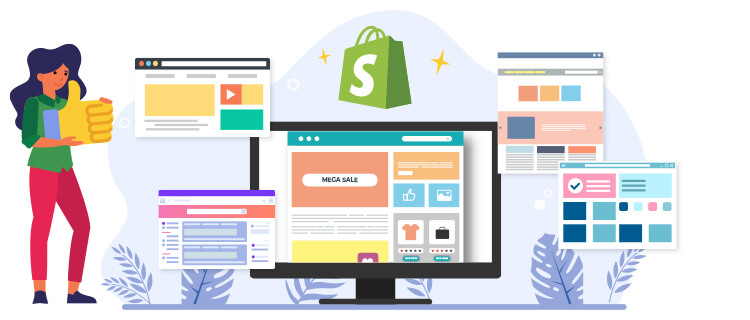 Shopify is the second-largest eCommerce platform occupying a whopping 22% of the market share. As of October 2019, Shopify hosted over one million merchants worldwide, and these numbers have been increasing steadily.
A few reasons for this high rate of adoption include the ease of setting up online stores, gentle learning curve without emphasis on coding or programming, affordability, and low capital investment.
With an accelerating Gross Merchandise Volume (GMV) of 8% between 13 March 2020 and 24 April 2020 alone, companies are scrambling to get on Shopify. So now is a good time as any to get on board the Shopify ship.
Take a look at this list of the best Shopify stores that use unique ideas and strategies to emerge as victorious. You can draw inspiration from these Shopify store examples before starting your venture!
Best Shopify Fashion Stores
Taylor Stitch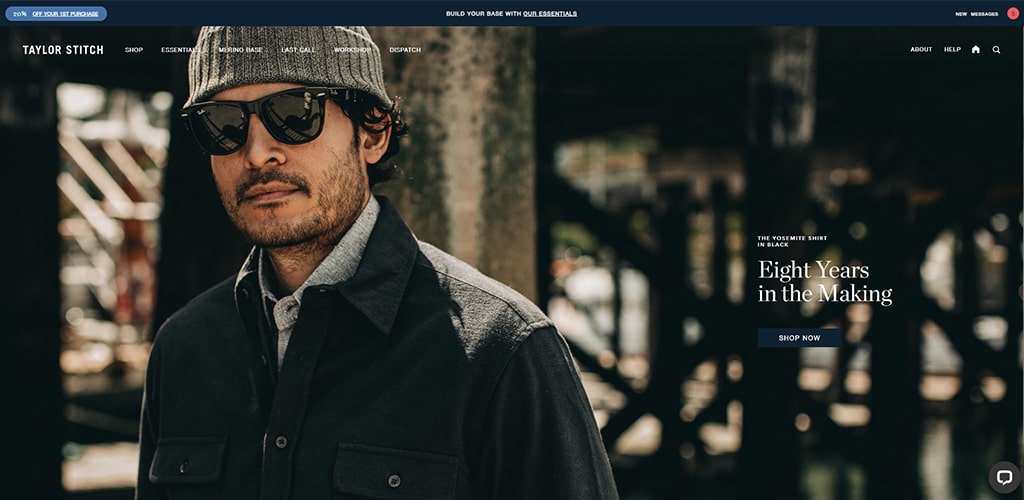 Since its launch on Shopify, Taylor Stitch has spent over a decade collecting customer feedback to improve and enhance their store. According to the owners, each cycle of store improvement brought about a revenue increase by nearly 60%! Clearly, they have dedicated enough time and resources in perfecting their Shopify website to keep their sales numbers up.
The brand's approach towards the constant betterment of the website illustrates its commitment to focusing on customer requirements. Additionally, the overall touch and feel of the website stay true to the aesthetics of their products – custom and tailored menswear. What more could a customer ask?
Jimmy Jazz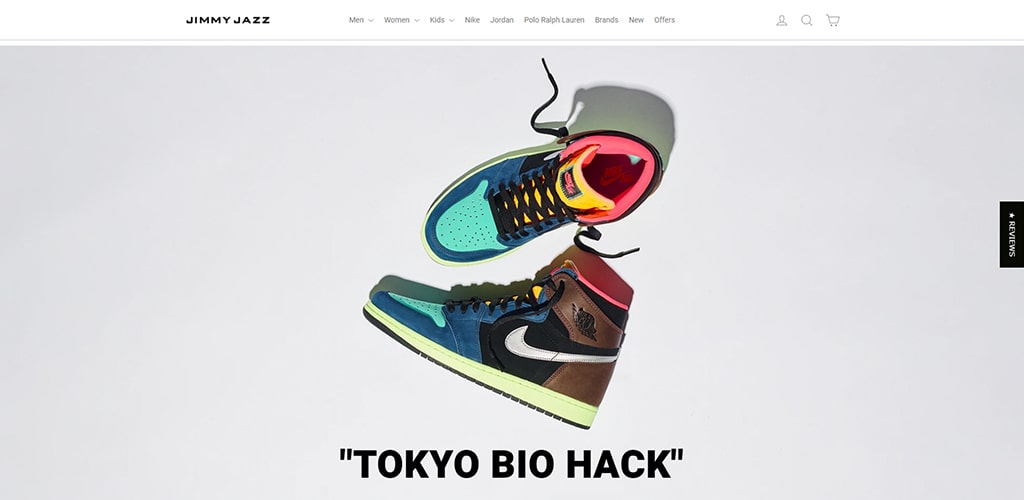 Jimmy Jazz is a hip-hop and streetwear-inspired fashion label that designs and manufactures sneakers and apparel. The bold and loud colors of their products add personality to the homepage, which introduces their latest launches. In fact, the dependence on colorful visual elements is a sustained pattern throughout the website. In contrast, the website design sports a clean, modernistic background.
The Editorial section of the website does an excellent job of capturing leads through information sharing and product integration. On the other hand, the integration with social media handles allows visitors to browse through their catalog over their preferred social media platforms.
Rebecca Minkoff [Shopify Plus]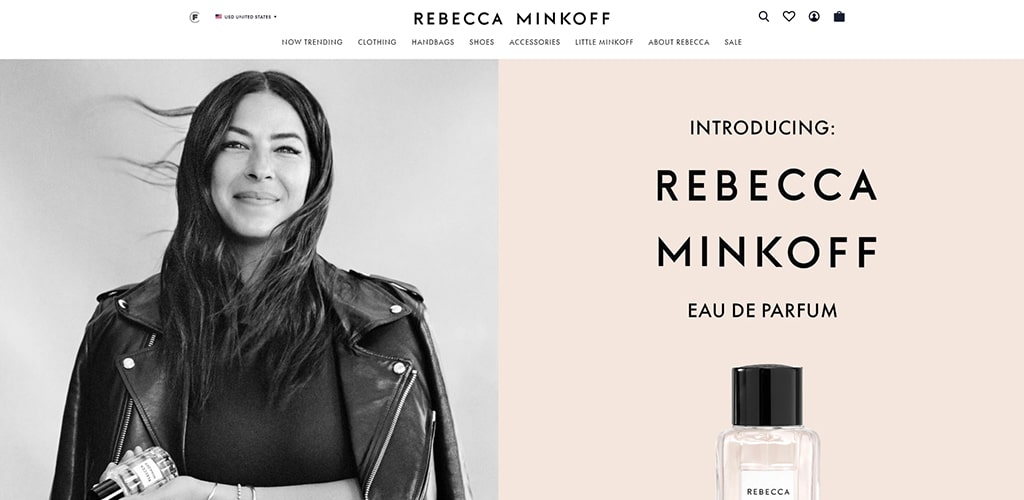 The Rebecca Minkoff homepage contains a tidy carousel banner that redirects users to any latest events and happenings. Users can also make their way through the website using the central heading tab that is divided into various categories.
It sticks to the traditional format of displaying the products in a grid layout with a "Quick View" option. The blog posts from Rebecca herself add a distinct personality to the store. You may also check out their "Superwomen Podcast" or read about the "Female Founder Collective" to know more about the brand.
Fashion Nova [Shopify Plus]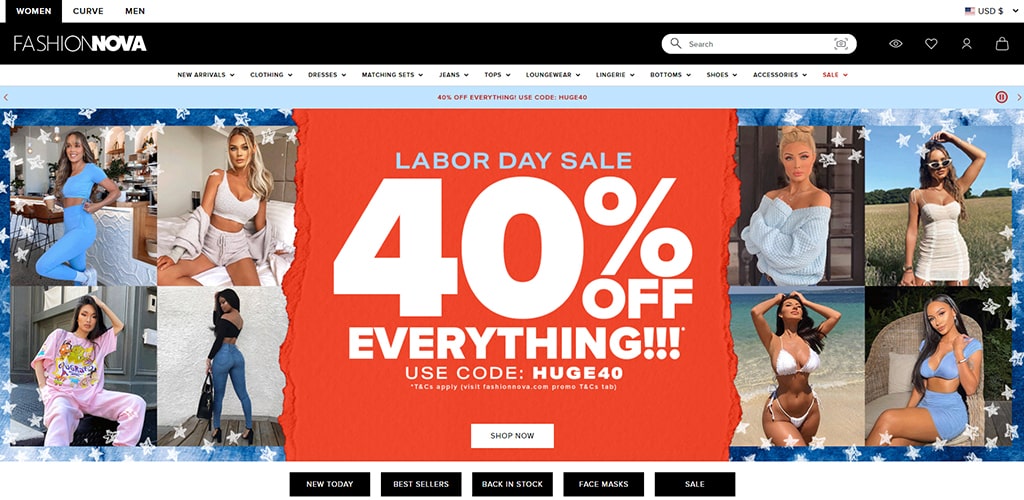 If you're looking for the best Shopify fashion stores, Fashion Nova should rank highly on your list. Considering that the brand overtook the likes of Louis Vuitton, Gucci, and Versace, it is hands down the best Shopify store examples.
Fashion Nova leveraged social media influencers and celebrity endorsements to achieve the status of the best Shopify stores. With names like Cardi B and Kylie Jenner associated with the brand, its growth and expansion have been an unstoppable force.
Good American [Shopify Plus]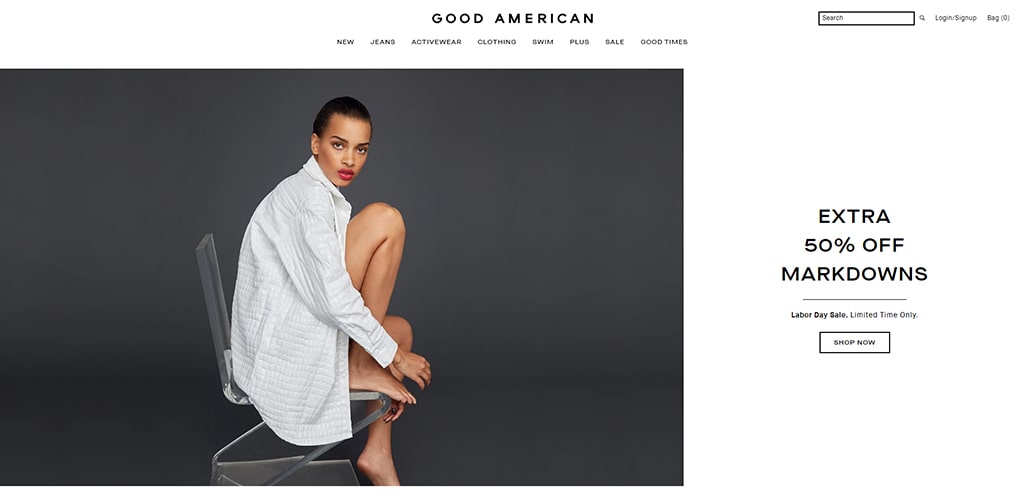 Good American has been leading the body positivity movement for quite a while now. The website makes use of bold and inspirational photographs to make visitors feel empowered. One may also notice the diversity in models, which is a refreshing break from the standard blonde-haired, slim-waisted models.
It does an excellent job of shattering the conventional standards of beauty and redefining the modern woman. Interestingly, the inclusive brand is owned by Emma Grede and Khloe Kardashian!
Best Shopify Sports Stores
Decathlon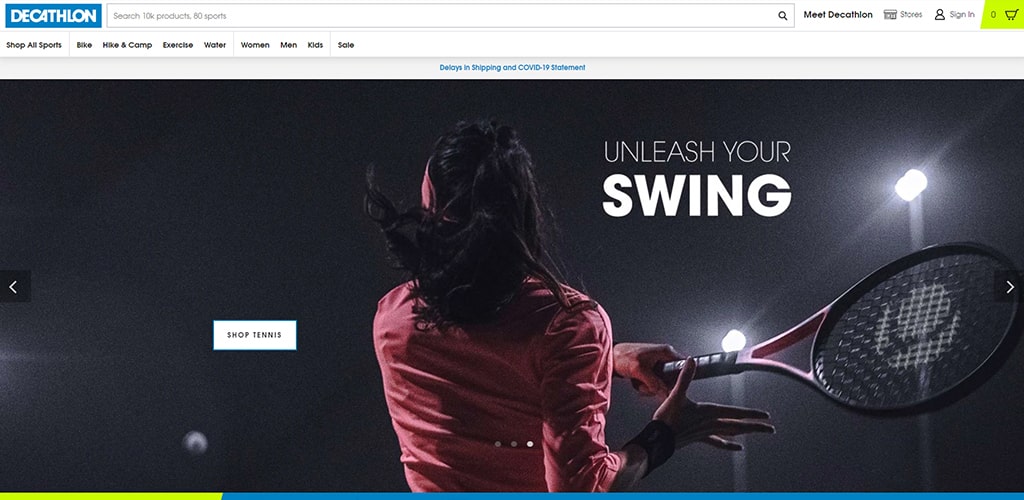 Decathlon is a French sporting superstore with 11,000+ global store outlets. Despite the differences across continents, the brand maintains consistency in its in-store and online shopping experience.
It hosts a wide range of sporting goods to meet everyone's requirements, from sports enthusiasts to professionals dabbling in over 80+ sports. As a result, the feature that allows visitors to sort and navigate through the 10k products by sporting activities is a nice touch of convenience. The subcategories will help you locate your item in almost no time.
Gymshark [Shopify Plus]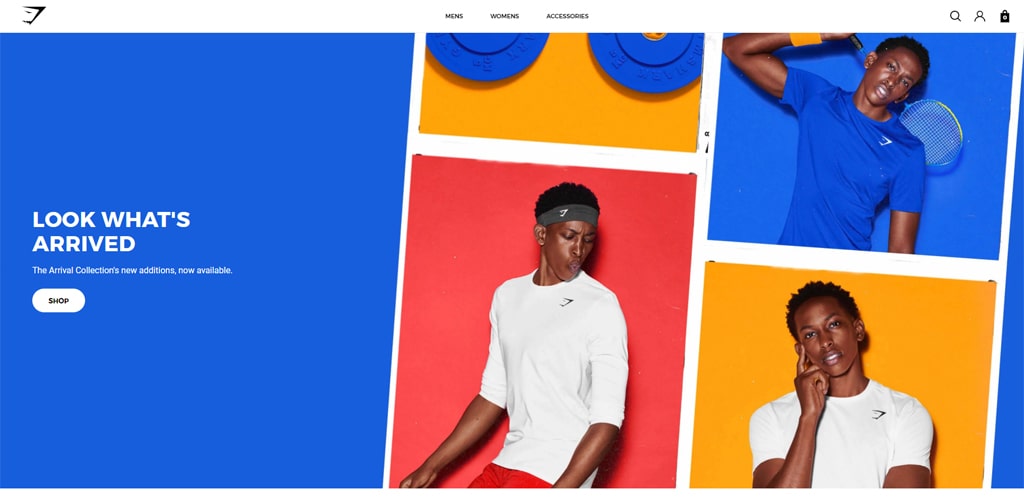 UK-based sports apparel and accessories manufacturer and retailer, Gymshark, is one of the best performing Shopify stores. The website attempts to build a sense of community to bind all the users. To achieve this effect, it makes tactical use of blogs to engage the visitors through relevant content.
This strategy is not limited to their Shopify store alone; their Instagram handle posts relatable content to engage, entertain, and market to over 4.6 million users! These efforts are suitably rewarded with new and returning customers with strong brand loyalty.
Pure Cycles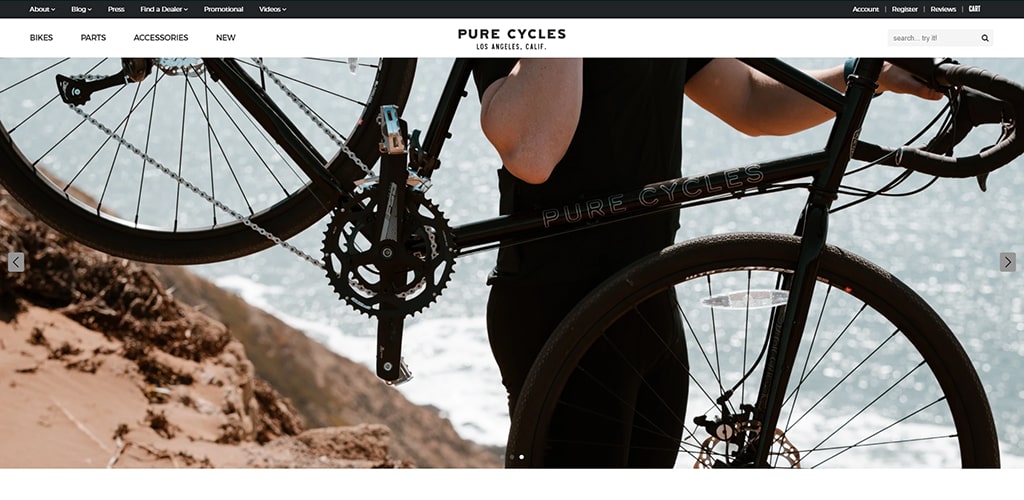 Pure Cycles, previously known as Pure Fix Cycles, gave its brand name a makeover by upgrading its Shopify website. Since its primary appeal lay with the active crowd, the founders decided to make it more action-centric. Thus, the website contained high-definition images of the products "in action" to validate its use.
While the visual appeal added to its claims, one of the most determining adaptations included the integration with Shopify Augmented Reality (Shopify AR). The Urban Commuter bike was the first product that the company designed in 3D. Other bikes followed suit. Soon enough, visitors could enjoy a realistic bike purchasing experience without stepping out of their homes!
Mava Sports [Shopify Plus]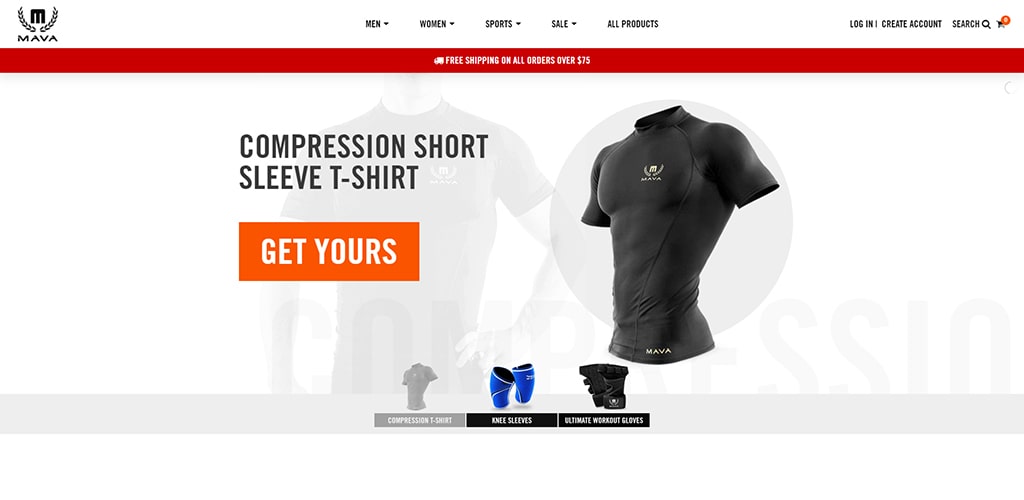 Mava Sports seeped beyond Amazon and featured its own website through Shopify Plus. After streamlining the website and making it more efficient, Mava was finally able to load faster and achieve comparable results to the best performing Shopify stores.
The Mava Sports website is as inspiring as its back story. It features interactive media along with an array of products on the carousel.
Women's Best [Shopify Plus]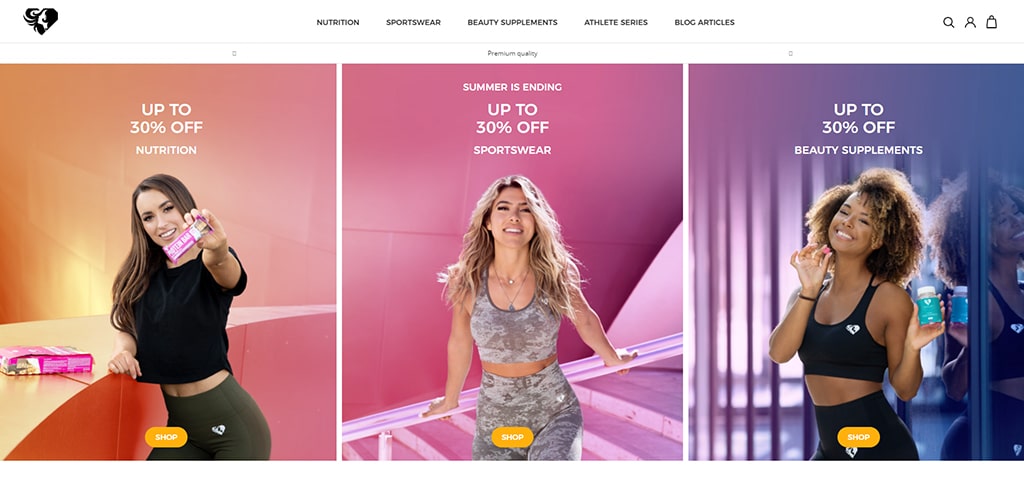 While Mava Sports is mostly catering to a male audience and attempting to capture the female attention, Women's Best drives the result right off the bat. The Shopify store names leave no room for misinterpretation.
Women's Best offers a range of sports gear, accessories, beauty supplements, and nutrition products for women. The website is loaded with real-time updates as visitors get alerts on the items that are selling like hotcakes. Similarly, the social wall not only inspires but also brings you the scoop on the live-action. The clear CTAs are tough to miss, and most visitors will walk away with rewarding purchases.
Best Shopify Fitness Stores
Vanquish Fitness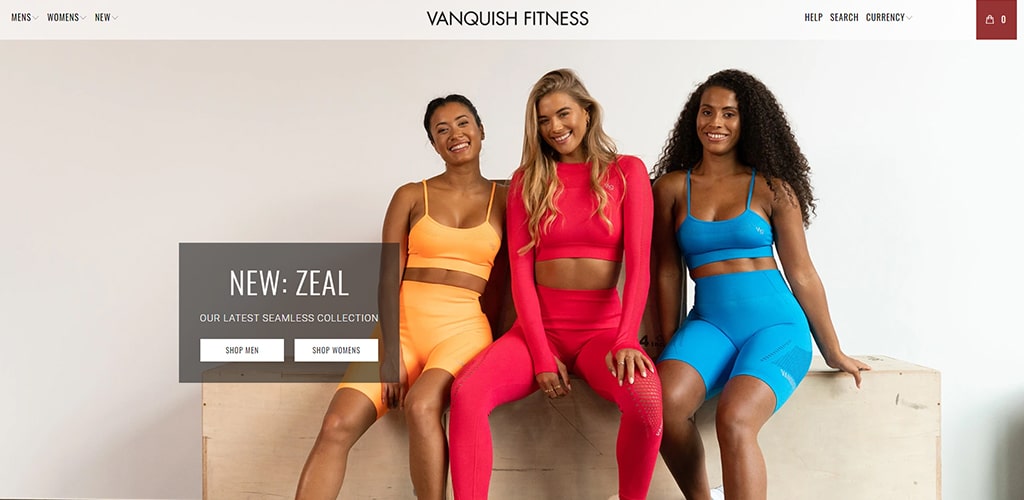 When it comes to activewear, Vanquish Fitness is one of the best selling Shopify stores in the UK. However, the brand has managed to tap into its global potential through its Shopify website.
For starters, visitors can easily browse through the entire catalog using the His and Her section present on the homepage. The clean, minimalistic product images keep the product in focus. Users can easily filter and sort through the collection depending on the product's popularity, price, or product name. The website offers multi-currency support for US dollars, Japanese Yen, Great Britain Pound, and Euros.
Fab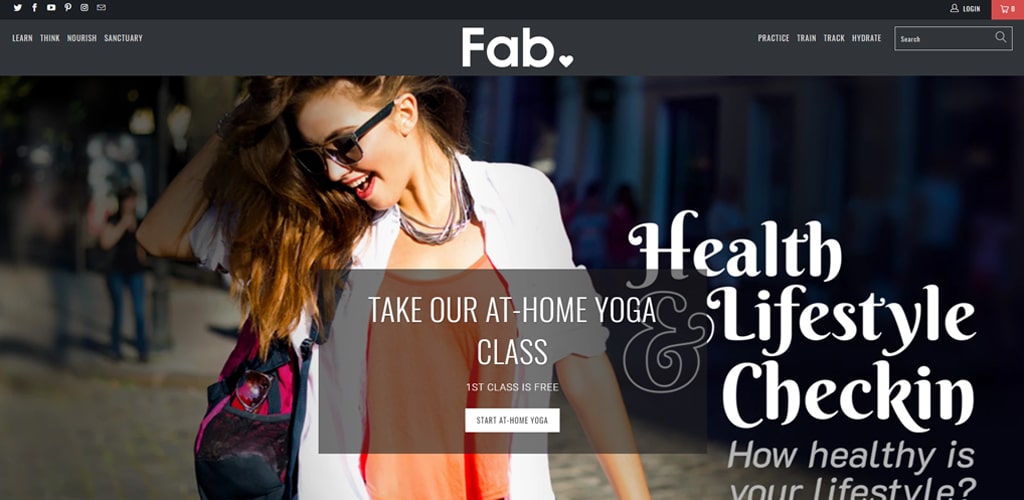 A cursory glance through the Fab homepage makes the Shopify store's purpose abundantly clear – fitness and wellness. While the website manages to hold the visitor's attention with its wide range of offerings and attractive designs, the work that went into setting up the Shopify store before it went live makes the brand stand out even more.
Fab.com started with aggressive marketing campaigns to secure their audience. As it started to gain traction, users could visit the welcome page that announced the arrival of the brand. Once enough users signed up, it gave them a jumping-off point to kick-off right from the top!
Bulletproof [Shopify Plus]
Noted nutritionist and entrepreneur Dave Asprey made use of Shopify websites to get his business online. At first glance itself, the website makes it motive clear – to boost energy and improve performance. In addition to the focus-driven design and layout, it employs research-based health and nutrition blogs to promote social engagement.
At the same time, Bulletproof, through its helpful tutorials, encourages users to post blogs and utilizes this user-generated content to build a community. The niche domain expertise, paired with excellent content marketing strategies, makes it one of the best Shopify fitness stores.
Nutriseed [Shopify]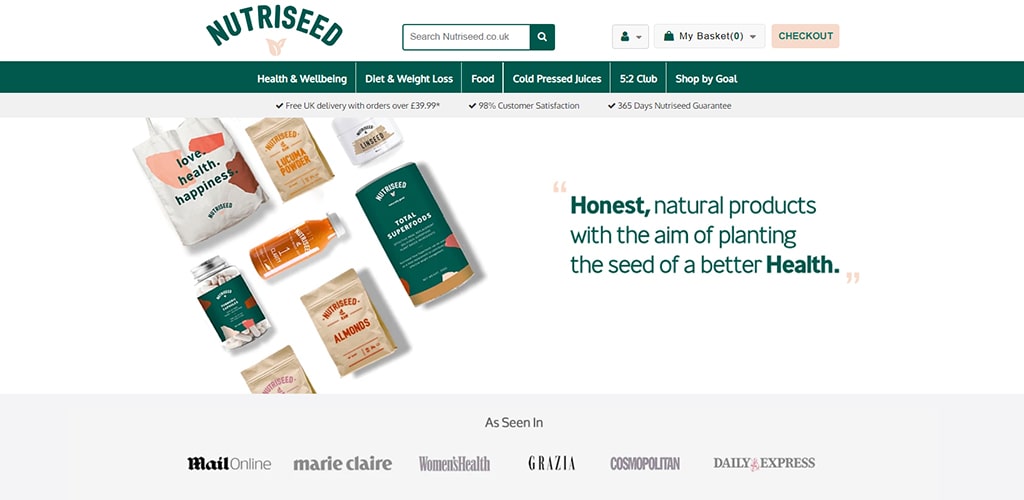 Like any high converting store, Nutriseed does not waste any time entwining the customers in multiple webpages. It operates on the assumption that the visitor already is well-aware of the health benefits of their healthy, natural products and would like to make a purchase.
It also suggests various hampers to help you get started. The products are neatly categorized based on their effects and results, be it helping with weight management or general well-being.
Bootea [Shopify Plus]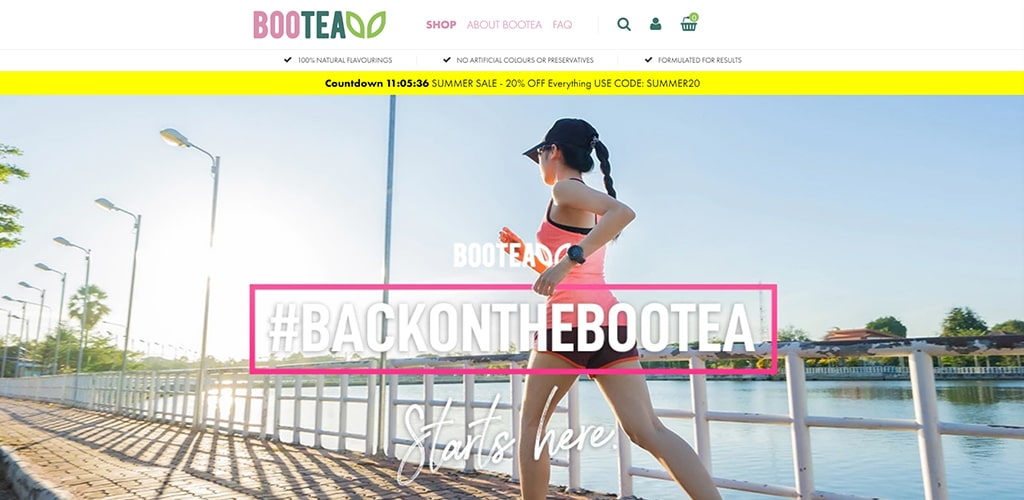 Bootea helps users go on a tea detox, aka teatox. The landing page carries the bestsellers that are heavily in demand. Add a few discounts in the mix, and the company offers convenience and affordability, which will tip the scales in their favor.
Even though it has a no-frills website, it offers a comprehensive and transparent FAQ page to address general queries.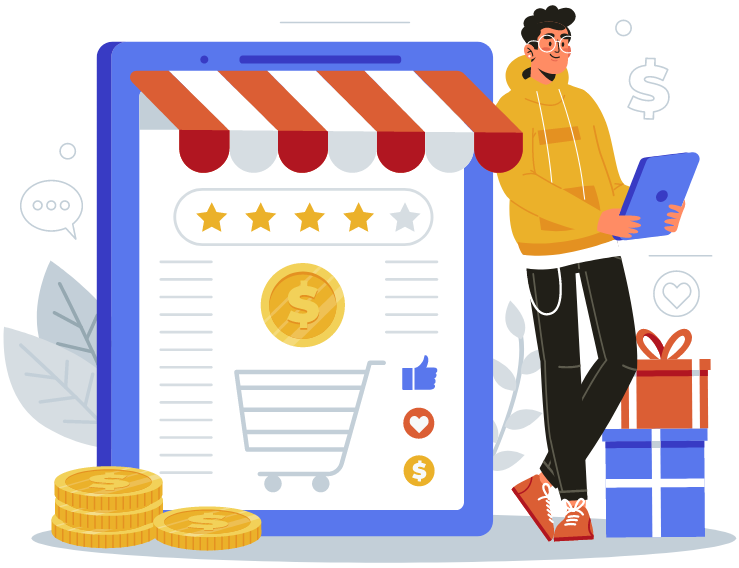 One-stop solution for all your Shopify requirements!
Set up your Shopify store or migrate to one with Zestard's Shopify Development services.
Best Shopify Cosmetics Stores
Kylie Cosmetics [Shopify Plus]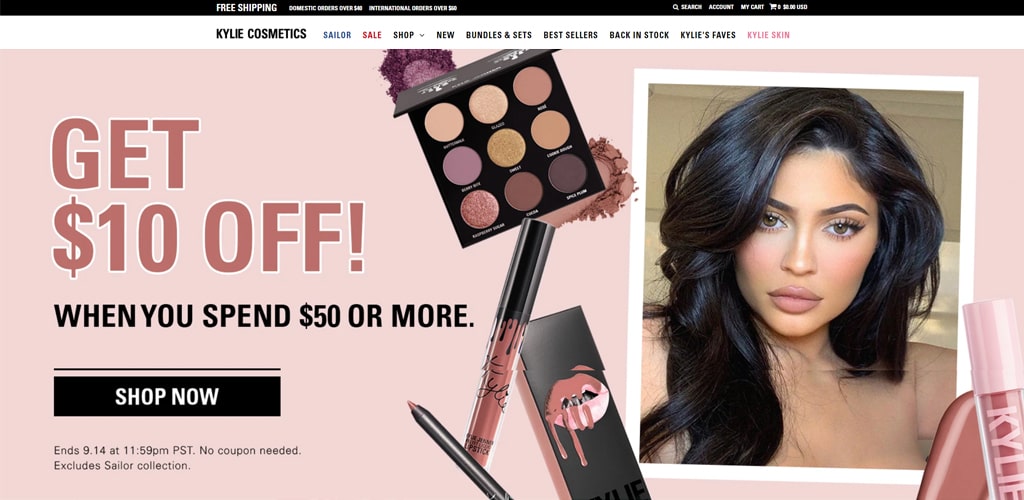 Since we are already discussing the Kardashians, can little sister Kylie be left behind? Kylie started by building an active community of avid beauty lovers before launching her store on Shopify. Her "lip kit" triggered the launch of the best selling Shopify stores, Kylie Cosmetics, which made her the youngest billionaire!
Lips are Kylie's strongest suit, and she is unafraid to use them to her advantage. The entire site cashes into the aesthetic appeal to keep the visitors hooked. Hovering over a product flips over to the image of the fashionista herself sporting the look. Naturally, it's just the motivation one needs to swipe their card and buy the goods!
Soko Glam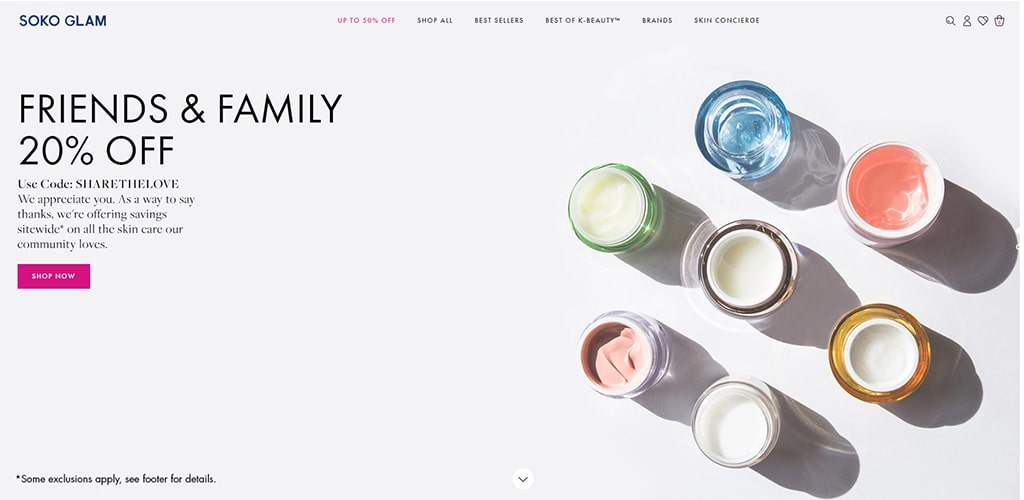 Soko Glam is a complete K-beauty (Korean beauty) Shopify store for beauty and skincare. The website uses pastel shades to gently grab the viewers' attention to the key section of the website.
In addition to the wide range of products, users can browse through highly informative Klogs (K-Blogs) and Guides. These sections can help with the SEO aspect of the store. Users can even explore the specially curated 5-step and 10-step skincare routines to get started on their skincare journey.
Lumin Skin Management for Men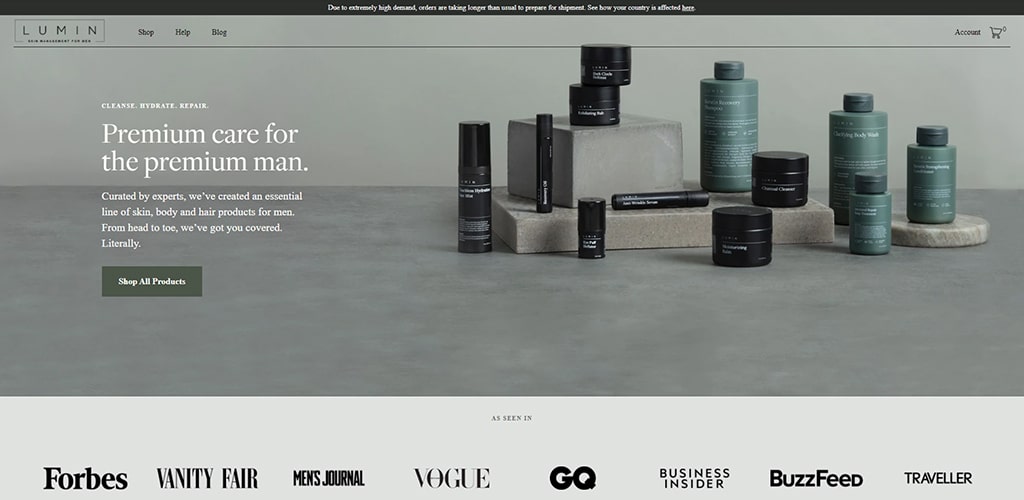 Lumin Skin Management makes skincare more accessible to men. Website visitors get a pop-up notification containing a series of FAQs that men may have about their skincare routine. Users can also check out the list of ingredients that go into the products.
The cooler palette containing shade of blacks and greys grants a more "manly" appearance to the entire store. Therefore, it makes the target audience clear, right off the bat. Additionally, the store sports a no-frills, minimalistic design while shifting the focus on the products, making it one of the best performing Shopify stores.
KKW Beauty [Shopify Plus]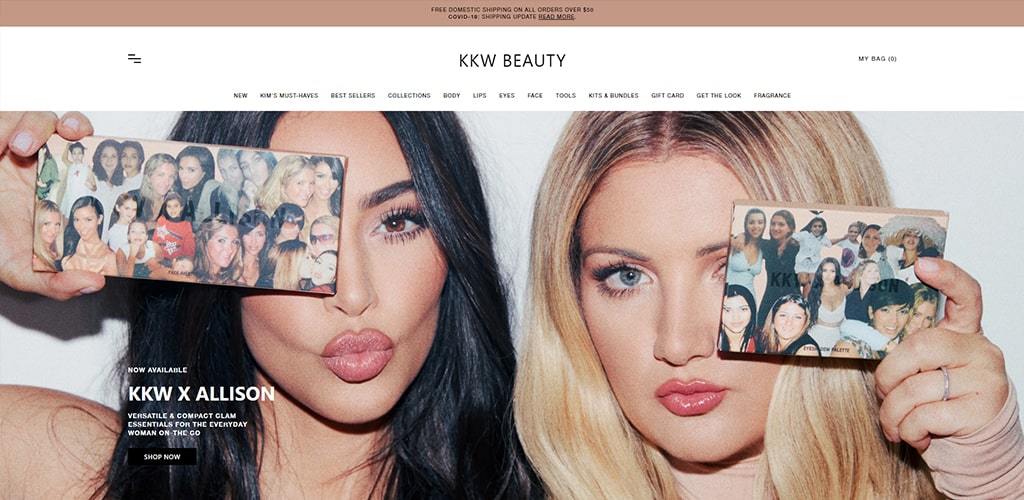 For those of us keeping up with the Kardashians, Kim Kardashian (West) is not a new name. In addition to KKW Beauty, Kim has also launched KKW Fragrance, her line of perfumes. Both businesses mark her entry into the world of beauty and cosmetics. Unsurprisingly, all products were sold out on the very launch day!
Happiness Abscissa [Shopify Plus]
Those looking for chic and modern Shopify store examples will find inspiration in the Happiness Abscissa website. A blend of abstract art and bright colors, which successfully captures the visitor's attention and curiosity, makes it one of the best designed Shopify stores. With only four navigation buttons, there is very little distraction and greater engagement.
The color palette evokes a sense of joy and happiness, which justifies the Shopify store names. Considering that a neurologist and a psychiatrist are the brains behind the brand, Happiness Abscissa is the best store on Shopify to maintain and support its core theme.
Best Shopify Furniture Stores
Haus [Shopify Plus]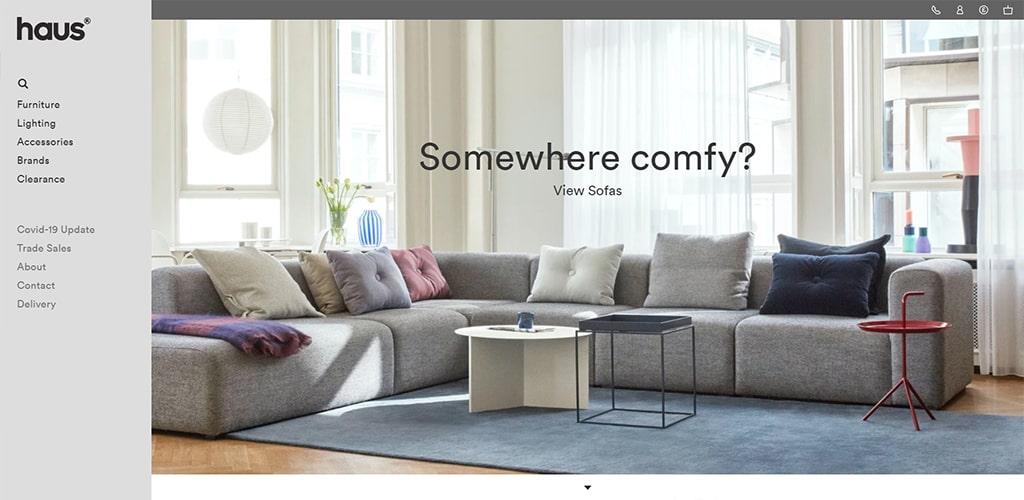 Clean and contemporary – these design aesthetics are the hallmark of Haus products. Naturally, the brand decided to use the same blueprint for their Shopify websites. The uncomplicated design reinforces the belief amongst customers that Haus is one of the best designed Shopify stores for their home and furniture needs.
The website sports a sleek layout with quick navigation tabs. Visitors can choose products based on their categories or brands. The search functionality saves up on time as one can directly enter the keywords and search for the products. The use of stunning, high-definition images of the products in their natural settings is yet another pull that may nudge the user to make a purchase.
St. Frank [Shopify]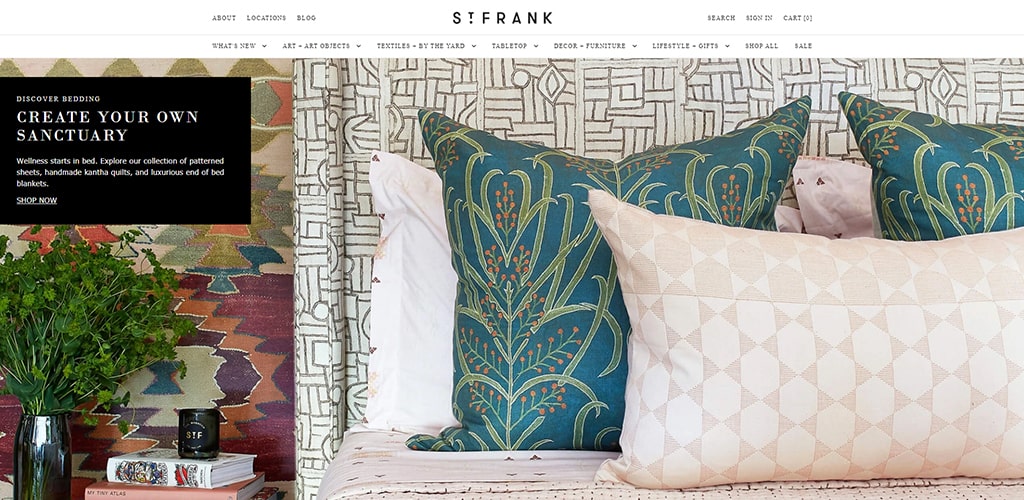 St. Frank is a business with a social mission. It seeks to build ethical, long-term, and sustainable relationships with global artisans to nurture their skills to strengthen their communities.
The physical St. Frank stores conduct charity events to support various causes as chosen by their clients. In the online front, the store contains several stories that weave with the artisan's culture and heritage.
Fyrn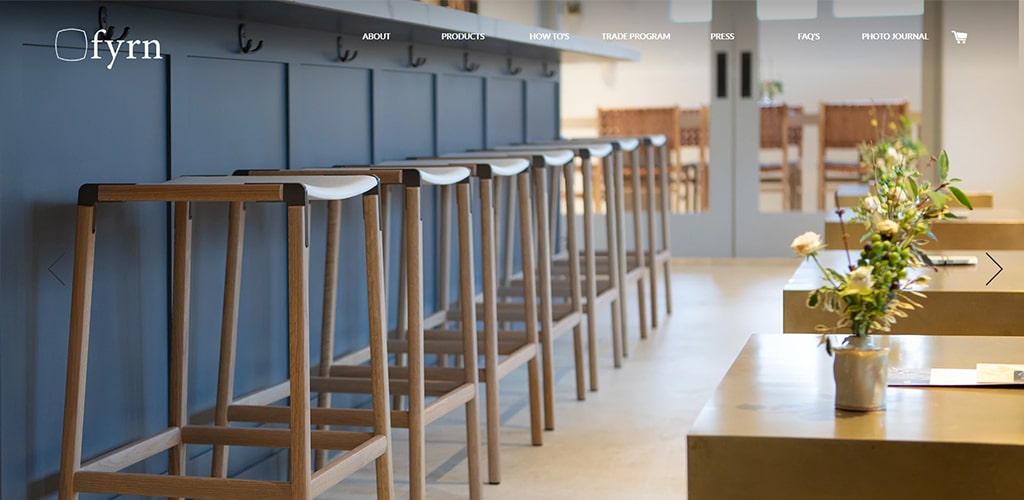 Despite drawing parallels to the ancient art of woodworking and furniture making, Fyrn has a clean, modern look. The Shopify website relies heavily on visual elements, with high-quality images dominating the website.
The strategically placed video on the homepage creates a rich history of the entire process that goes into every furniture element, from dowels to brackets. The Look Book offers an immersive experience of the entire catalog in its natural environment.
Stone Forest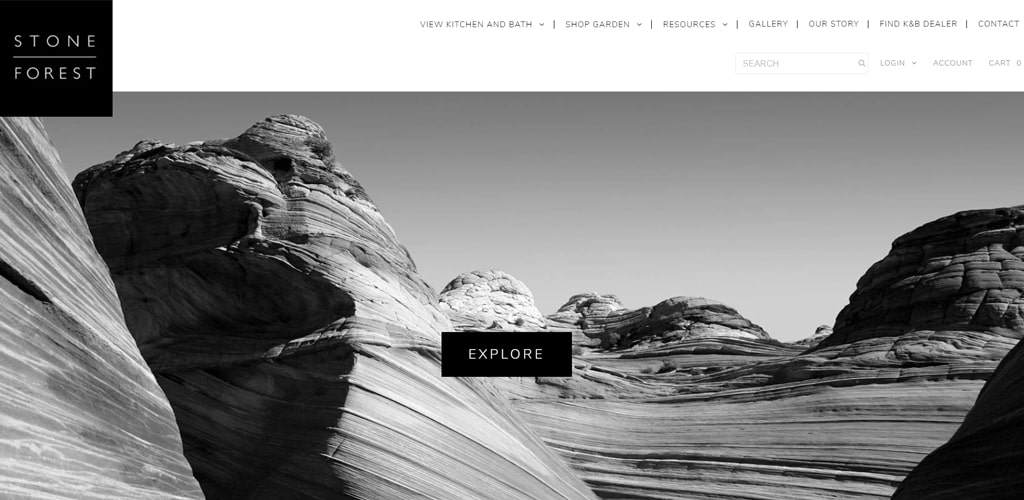 Stone Forest builds and develops on all the elements of nature that come together to give rise to its wide range of products. The monochrome website layout gets a pop of colors as users hover the cursor over interactive elements.
Products are readily available in their respective categories, demarcated by the usage, type, and material. This menu also has a "Process" option that displays the pictorial depiction of actualizing Stone Forest designs. Upon watching the behind-the-scenes processes, viewers are bound to be in awe of the entire collection. Users can also browse through the newest products added to the catalog.
FloorPlan [Shopify]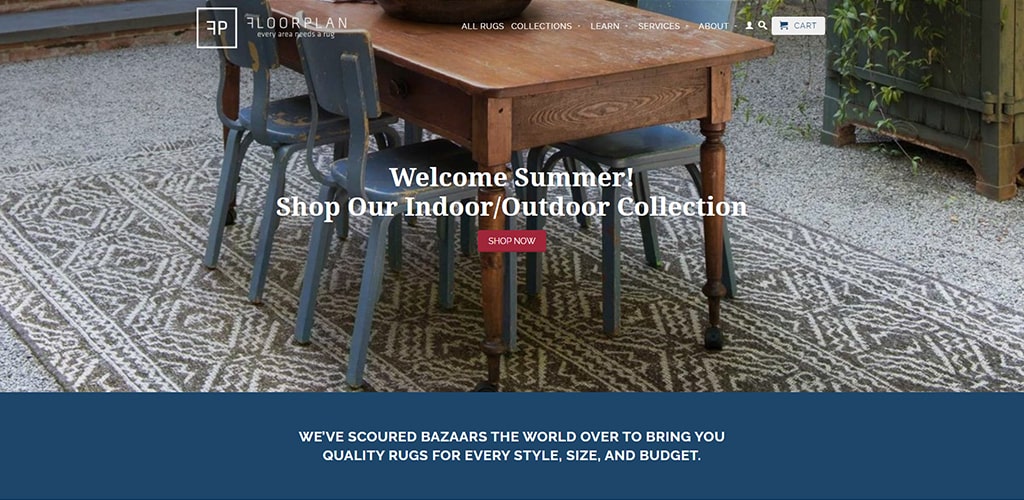 FloorPlan allows you to design your perfect home in the ways that you deem fit. It offers a mind-blowing variety of rugs and other home accessories that will give your living spaces a complete makeover. In case the endless options are not enough, one can even order a custom-made rug right out of your imagination!
Best Shopify Food Stores
The Great Cookie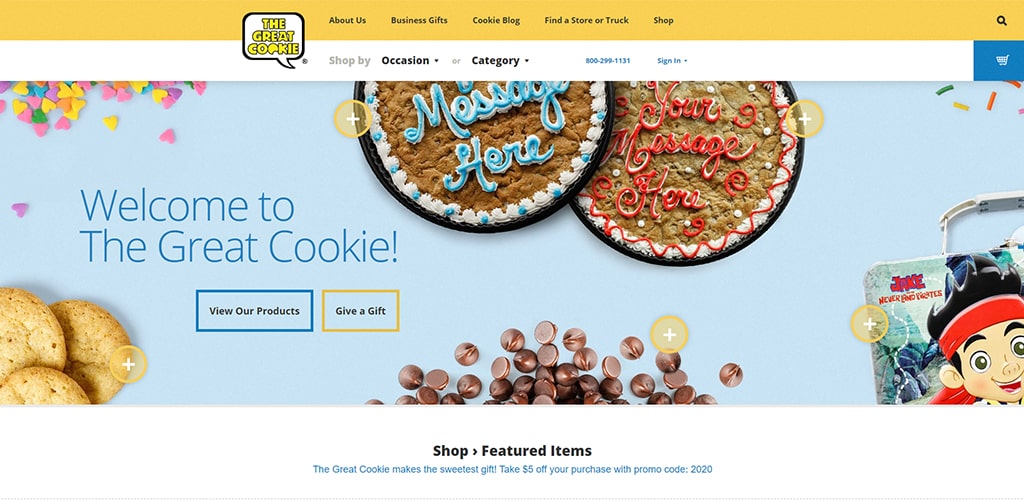 The Great Cookie lives up to its Shopify store names and offers seemingly simple products – cookies and cakes. However, the product and the website is anything but ordinary. Its playful, cartoon-like design successfully evokes the feeling of nostalgia that is often associated with childhood, sweet tooth, and desserts.
You can choose from their pre-designed templates or customize your design. Either way, the buying experience is fun yet simple. Each product has a list of ingredients with special mention of possible allergens. The customer-centric considerations make it the best designed Shopify stores in the food category.
Caravan Coffee Roasters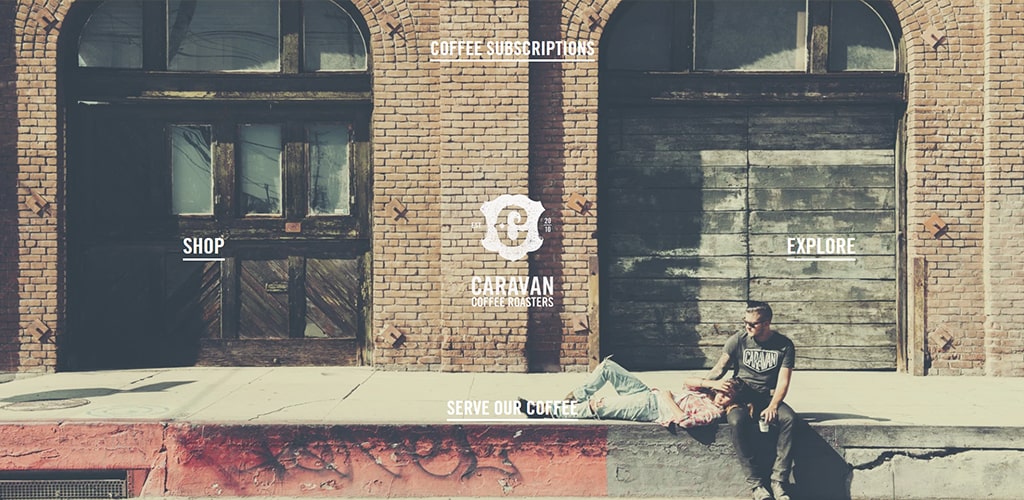 Caravan Coffee Roasters ties in minimal aesthetics with smart product placement in the background. The home page allows visitors to visit the "Shop," "Explore," or "Coffee Subscription" options. The menu options are bold, high contrast, and in-your-face so that you do not miss out on any feature or offering.
The color palette is kept at the minimum with light colors that complement the large site fonts. Every product carries a colorful prompt that illustrates its practical application. It is one of the best Shopify store examples if you wish to observe the simple-looking complexities that you can implement on your store.
Heinz [Shopify]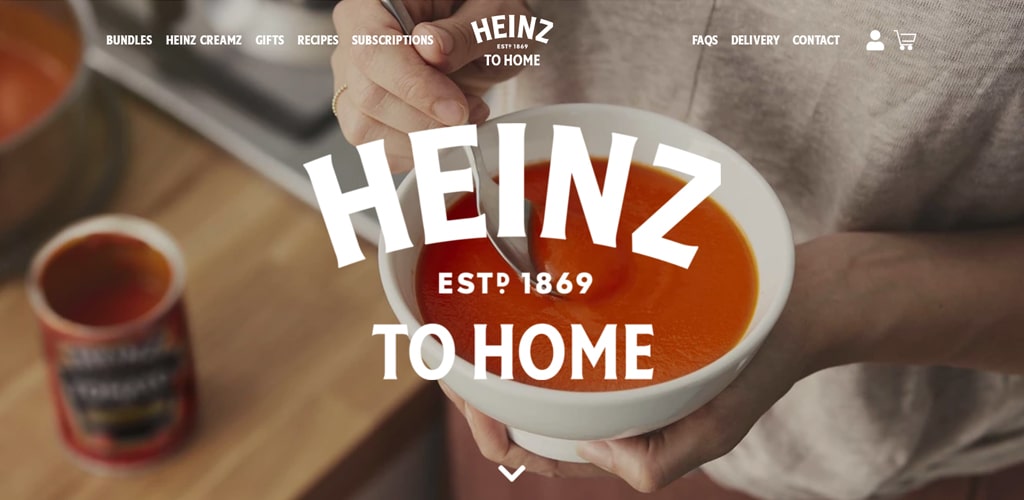 Since 1869, Heinz products have been a staple around kitchens. However, during the COVID-19 pandemic, it kicked off its direct-to-consumer offerings through Shopify. The move came as an attempt to address food security issues, especially for the marginalized and disadvantaged communities. Soon enough, Heinz to Home became a reality. The website offers personalized gifting, bundles, and even limited edition products on sale.
Red Bull [Shopify]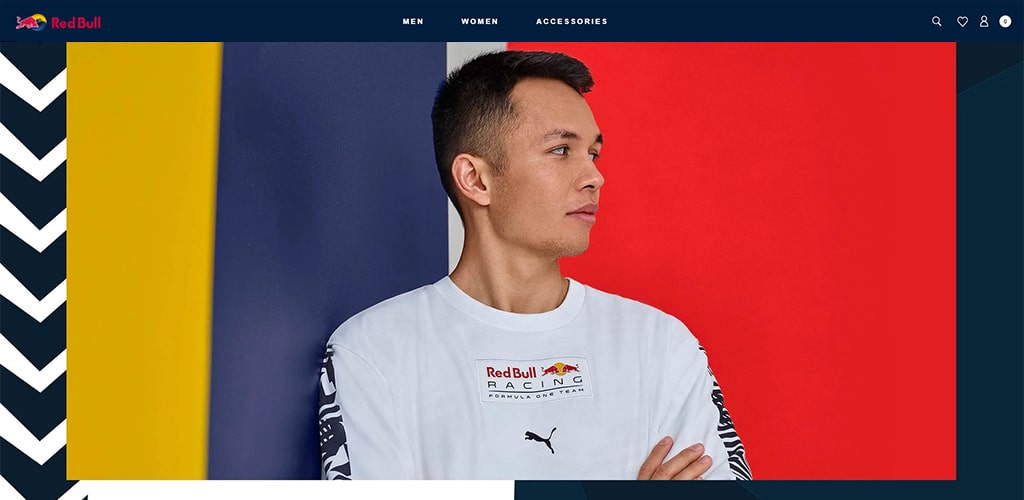 While Red Bull may claim to give others wings, in this case, Shopify has given Red Bull wings. Unfortunately, due to legal restrictions, they may be unable to process the sales of their energy drink over the store. However, they make up for it by selling branded merchandise in the form of apparel and accessories for men and women.
Nestle [Shopify Plus]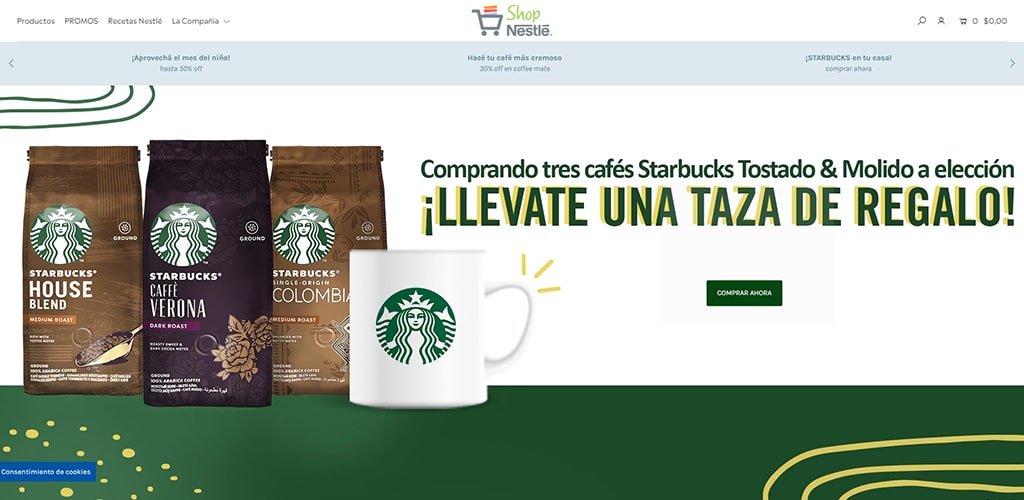 Nestle is one of the best-known Shopify store names. The eCommerce store acted as the digital outlet during the launch of their Sweet & Creamy Instant Coffee. Upon noticing the efficiency and effortlessness involved in executing the operation, the company decided to continue offering its services through the portal. The Shopify Plus store is now fully integrated with its fulfillment operations and helps in drawing customer insights.
Best Shopify Dropshipping Stores
Until Gone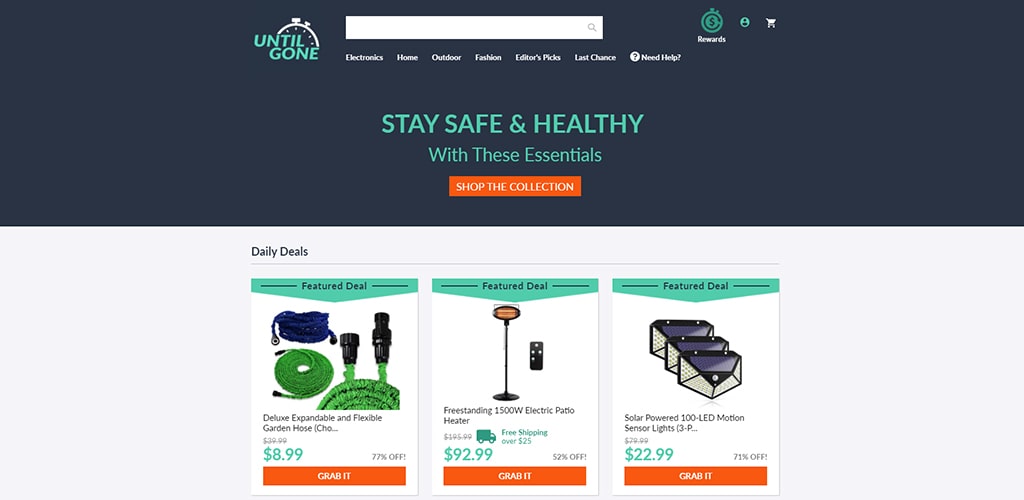 Until Gone leverages the average consumer's fear of missing out, or FOMO, by consolidating stellar, limited-time deals under one roof. Simple psychological tricks allow this Shopify store to make every buyer feel the adrenaline rush of grabbing a once-in-a-lifetime opportunity. Resultantly, this hurried atmosphere makes it the best performing Shopify stores for impulse shoppers.
To aid all impromptu purchases, Until Gone offers a seamless and rewarding customer experience from navigation to checkout and after-sales care.
BlueCrate [Shopify Plus]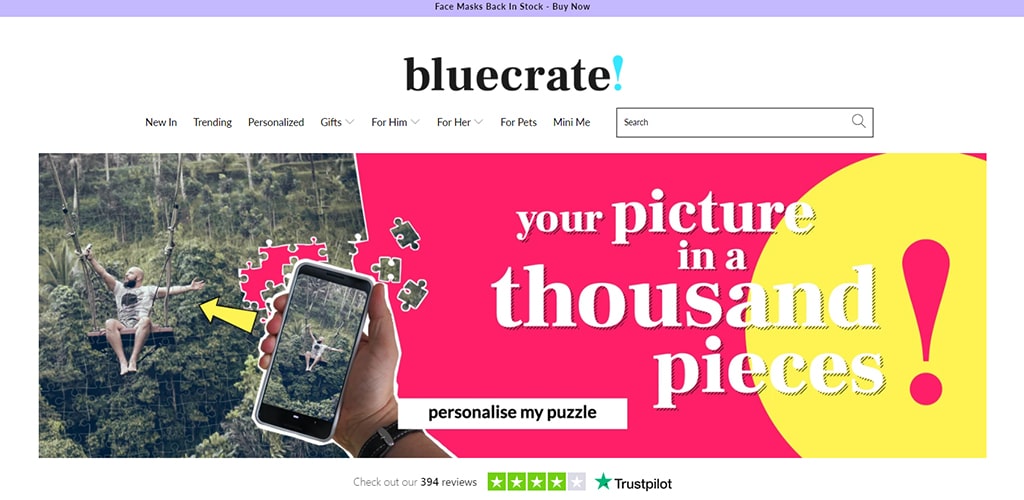 BlueCrate earns the status of the best stores on Shopify primarily because of the way it is handling its Facebook marketing efforts to attract traffic. The company makes use of personalized videos to channel the users to its equally exciting website. It makes use of humor and wit to seal the deal.
DogPawty [Shopify]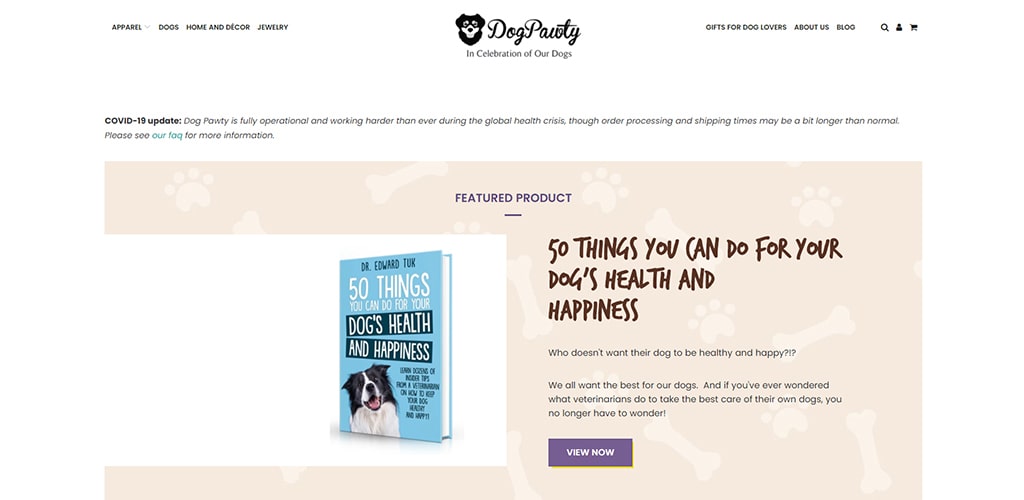 DogPawty is a celebration of dogs in all their glory. While the store does have a few apparel and accessories for pet parents, a big chunk of the products are directed at this highly specific niche. Their Facebook and Instagram handles do an excellent job of funneling traffic to the main store. Their in-house blog also helps with SEO and pushes your audience members to stick around longer.
Trendy Goods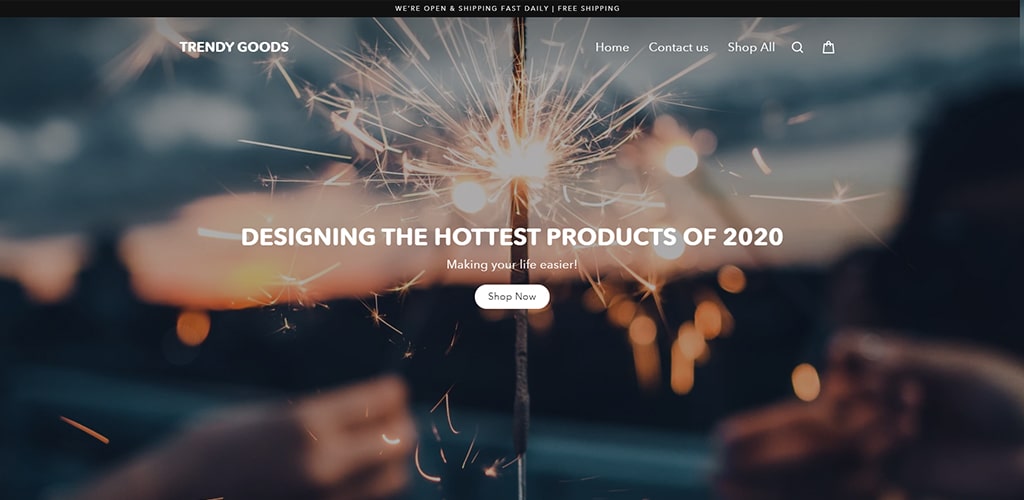 As a dropshipping website, Trendy Goods delivers right to its name. The store delights its users with an assortment of products belonging to diverse niches and categories. From everyday items to unique gadgets – you will find it all on Trendy Goods.
All products are categorized into three main groups, namely, Gifts, Pets, and Beauty. The product pages contain customer reviews and seller information, along with high-quality product images. Thanks to its compatibility with several payment options, Trendy Goods has made dropshipping a piece of cake!
Life Booster Shop [Shopify]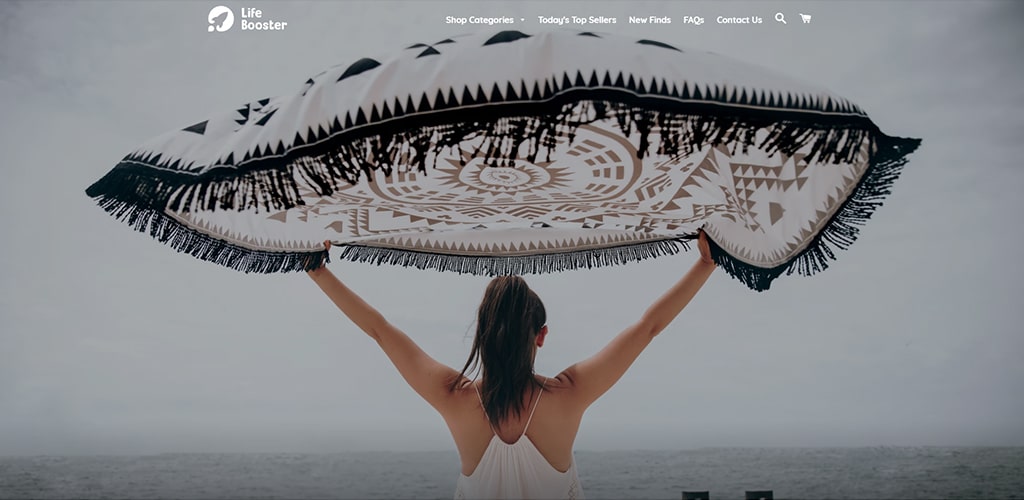 This is the final store that we have on our list of best Shopify stores. As the name indicates, Life Booster Shop contains a range of products that attempt to add value to your life. Naturally, due to this broad mandate, it sells various products, ranging from pet paw cleaner to contour duplication gauge. The "Top Sellers" and "New Finds" tabs are quite useful in exploring the website.
Conclusion
From the Shopify store examples that we have seen above, it becomes clear that the best Shopify stores maintain a USP that sets them apart.
These Shopify store names have been absolutely successful in carving a brand for themselves through various strategies and paths to success.
However, community building is a common thread amongst all the best stores on Shopify. Businesses can tap into such strategies to attract, engage, delight, and convert their audience.