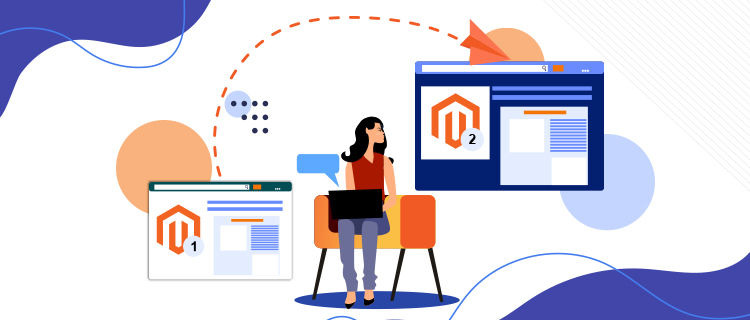 As Magento has stopped all support for Magento 1 from 30 June, 2020, onwards, online businesses currently using Magento 1 are forced to consider migrating to Magento 2. Understandably, an upgrade like this can be intimidating, complex, and cause a lot of trouble.
To understand whether an upgrade is the right move for your e-commerce store or not, let's take a closer look at the benefits of Magento 2.
1. Better Performance with Faster Load Times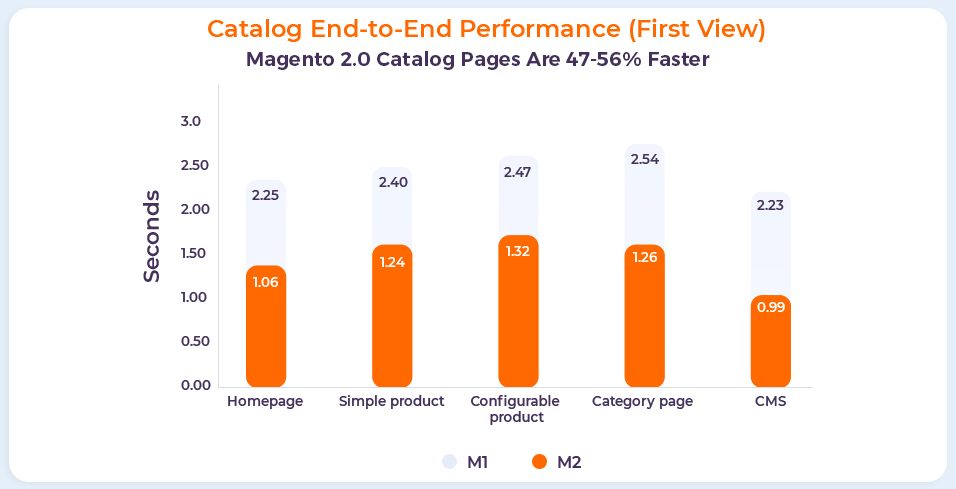 Performance can be termed as the biggest reason why Magento 2 is better than Magento 1. Magento 2 comes with a full-page caching feature by default and offers enhanced front-end and back-end performance.
It adds ajax cart and one-page checkout, which provides a quick and convenient checkout and translates to faster loading speeds. Two seconds is deemed as the threshold for loading time for a modern e-commerce site.
Let's see what Magento 2 offers in terms of faster performance:
Processing 39% more orders per hour
Instant server response times for catalogue browsing
Enabling up to 66% faster add-to-cart server response times
Providing up to 51% faster end-to-end checkout times
Organizations across the world have witnessed dramatic improvements in performance. Maxim Ivanov, CEO Aimprosoft, says, "Significant upgrades were made to Magento client-side for faster page load.
The page weight and the amount of data that must be loaded to render the page was reduced. It was achieved through optimization of minifications, maximizing the usage of the browser cache for storing assets, and asynchronous processing during checkout and cart operations.
The Varnish web accelerator and Edge Side Includes (ESI) were introduced in Magento 2. They ensure extensive use of page content and static assets caching on the server. As a result, you get dramatically improved server response time so that page loads become significantly faster if compared to Magento 1."
2. Improved Architecture With an Advanced Technology Stack
As mentioned before, Magento 2 is built using an advanced technology stack.
This is one of the leading areas of discussion in Magento 1.9 vs 2.0. Magento 2 runs on the latest PHP7, which allows for better optimization and customization of the platform.
Additionally, Magento 2 supports HTML5 and comes with a responsive web design that enables easy access to e-commerce stores via any desktop or mobile device.
The Magento team has further revolutionized the stack by adding technologies such as MySQL Percona 5.6, NGINX, Apache, Composer, Zend, Redis, Varnish, and Symfony. This makes e-commerce store personalization much more interesting for businesses.
3. Organized & Clutter-Free Dashboard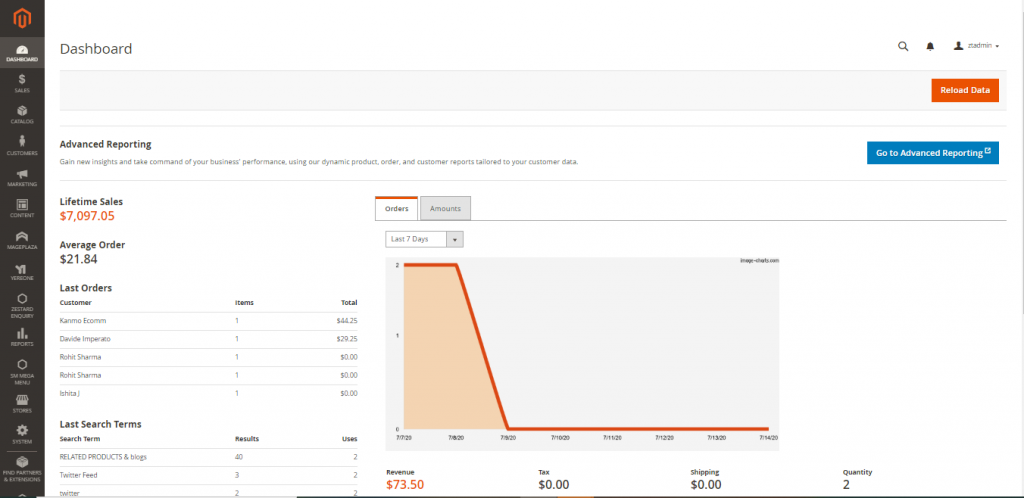 Right off the bat, the Magento 2 dashboard is more organized and user-friendly as compared to the old cluttered panel in Magento 1.
The new dashboard offers an unmatched ease-of-navigation between various tabs and tasks. It is now easy to find critical data like last orders, new orders, average orders, lifetime retail sales, top search keywords, income tax, and more—at just one place.
The admin panel has a responsive design that offers an intuitive experience for users, making it very simple to configure things in the dashboard.
Many businesses are seeing major differences in the ease of navigation. Joel from Upgrow.io, says "The admin panel is an improvement on Magento 1 in terms of ease of navigation, but it still has a steep learning curve. A lot of tasks can be pretty overwhelming to set up and manage, and if you aren't doing things in the correct order, you can get stuck.
The new dashboard displays last, new, and average orders, lifetime retail sales, top search keywords, income tax, bestsellers, and more. It also enables customers to configure products and customize data grids to what they most need to see.
4. Support for PWA and Consistent UI Experience Between Devices
As the world is shifting to a mobile-first approach, Magento 1 offered efficient ways to make e-commerce stores more responsive on mobile devices. But Magento 2 is significantly more mobile-friendly. It provides entire themes that are easy to handle for anyone accustomed to Magento.
Magento 2 is truly designed for the mobile-first world. It enables us to create a consistent UI between our first website and its mobile version. Along with that, the new internal API in Magento 2 performs better in creating mobile apps and managing them and also aids Java developers in building complex apps.
It also supports Progressive Web Apps (PWAs), which allows us to create a native mobile app experience for our stores.
Businesses have been very vocal about its unmatched speed and the ability to create custom-tailored experiences. "Magento 2 also supports Progressive Web Apps (PWA) which can allow your site to load much faster for shoppers. It can also allow you to create tailored user experiences," says Robert Rand from Jet Rails.
5. Allows Extension Overlapping
Extensions have always been a minor but troubling issue for us. Integrating third-party extensions is a pesky inconvenience in Magento 1 due to various conflicting problems. Magento 2 easily solves that issue by allowing extensions to overlap.
The new technologies that are a part of its new stack, like HTML5, CSS3, and Require.js, also make it much more convenient for developers to install extensions. The extension installation and functionality modification processes have become more natural because of its new technology.
6. Provides Uninterrupted Support & Updates
Since Magento will be stopping all support and updates for Magento 1, people who are hesitant to move on will miss out on critical updates, resulting in various troubles like security bugs, PCI compliance issues, performance issues, and a lot more!
Rather than going adrift in a lone boat, it's highly recommended to switch to Magento 2 and smoothly sail towards a brighter future that brings advanced technologies, enhanced performance, and, most importantly, regular updates.
7. More Default SEO Friendly Features & Configuration
SEO-friendliness creates a massive difference between Magento 1 and 2. Magento 1 gave us a lot of issues on the SEO front. No matter how efficient it was in creating a well-performing store, it simultaneously plagued it with severe SEO issues like:
Using product title as the default title tag
The duplicate content issue in product variants
Duplication caused by adding of SSL
Poor use of heading tags
Magento comes to the rescue as it solves all issues and enhances the SEO performance of our online stores even further. From providing search-friendly tags to canonical tags, it has a plethora of advantages like:
Duplicate Content: Magento 2 provides a Canonical tag to avoid duplicate content.
XML Sitemap: Magento 2 comes equipped with better XML sitemap customization options, like setting up the frequency and priority of pages.
Alt Product Images: Adding alt to product images can also help boost our rankings on search engines.
Meta Title, Meta Description, Meta Keyword: Magento 2 allows admins to add Meta tags for each Product/Category.
Rich Snippets: This function allows us to present the defined markup data from our product pages along with Google results.
Robots.txt: Magento 2 gives us a full-fledged ability to customize Robots.txt based on our requirements, making it easier for search engines to find our pages.
8. Industry Leading SHA-256 Algorithms for Security
Along with all the latest technologies and integrations, Magento 2 comes with industry-leading security features. The hashing algorithms (SHA-256) for passwords have been improved, and as a result, passwords are now more resilient to attacks.
This is a prime differentiator when it comes to Magento 2 vs Magento 1. Also, Magento 2 comes with better password management tools, allowing us to protect our client information better.
Along with that, Magento 2 has introduced adaptable file permissions, which enables us to set role-based permissions for various teams accessing different data files and restricting inexperienced users from accessing critical data.
9. Checkout Process That Discourages Cart Abandonment
Cart abandonment (due to extra shipping charges or taxes) is the leading cause of customer loss at checkout, a point where conversions could be maximized. Magento 2 has introduced a 2-step navigation flow feature to reduce cart abandonment.
It has basically divided the entire checkout flow into 2 sub-pages: Shipping and payment. This makes it quite simple for users to review their orders one last time before choosing payment options, giving them time to see the total amount.
Magento 2 comes with the ability to calculate dynamic delivery costs. Once users feed-in their address, the applicable rates automatically load up based on the data. It also allows them to place the order in less time, thereby increasing the chances of conversions.
10. Supports Top Payment Methods by Default
With payments, Magento 2 has gone a step further and added a feature that automatically adds top payment modes like PayPal, Braintree, and Authorize.net, without requiring manual integrations. These integrations give businesses a head start in setting up payment workflows, along with augmenting security and compliance.
Summary:
Feature
Magento 1
Magento 2
Performance
Page load Speed > 3 Seconds
Up to 2 seconds*
Architecture
Uses PHP5
Uses PHP7
Dashboard
Cluttered design & non-responsive admin panel
Intuitive experience, modern look, and a responsive design
Mobile-first experience
Issues in maintaining UI consistency
Comes with responsive templates and support for PWA
Extensions
A lot of conflicting issues between extensions
Enables extension overlapping and makes development much easier
Support
No security support after June 30, 2020
All latest resources and updates available
SEO Friendliness
Basic SEO Features
Supports Advanced SEO features like Canonical Tag, Schema, and much more
Security
Regular security
measures
Comes with SHA-256 security
Checkout Process
Limited Features for reducing cart abandonment
Offers a 2-step navigation feature to reduce cart abandonment
Payment Gateway
Requires manual integrations of payment methods
Automatically adds top payment methods.
Conclusion: Should You Move to Magento 2?
Magento 2 is not just an option for e-commerce store owners; it's a new revolutionary platform that boosts the efficiency and performance of our online stores by tenfold and leaves no scope for errors, issues or inconsistencies.
If your website is performing as per desired standards, you can continue with Magento 1 without facing any issues. On the other hand, if your existing Magento platform is not well-updated, you should strongly consider moving to Magento 2 to avoid these risks:
Critical data security risks
Need for updating modules
Lack of Magento 1 developers
Slow loading speeds
As Magento 1 is fast nearing its end, Magento 2 is more than worthy of being its successor for sustainable and superior e-commerce experience.
For expert consultation on making the right move for your business, reach out to us at Zestard. We are a leading Magento consultant and solutions provider and can help you choose the right platform, along with migrating your entire business to Magento 2.