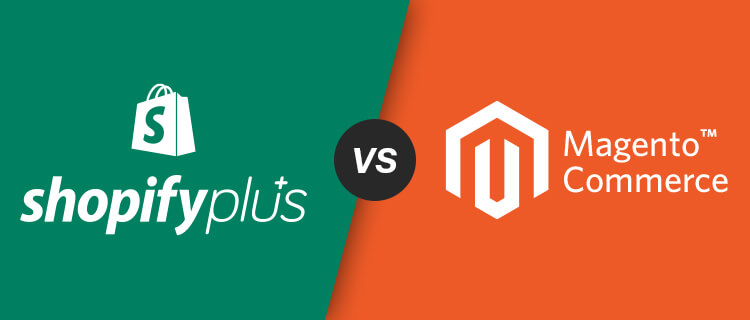 Magento Commerce and Shopify Plus are the two most popular platforms for establishing an enterprise-grade e-commerce business. But since both offer highly diversified feature-sets, you may be unclear exactly which platform to choose for your business.
To help you choose the right platform, we attempt to form a detailed comparison of Shopify Plus vs. Magento Commerce, right from extensibility, infrastructure, and SEO, to customer support, scalability, and more. Let's compare.
Shopify Plus
Shopify Plus is the enterprise version of Shopify.
It is a fully cloud-based e-commerce platform that's designed and priced with mid to high volume merchants and brands in mind. It is a hassle-free solution with a reasonable price tag, and a lot of large brands are using it to further grow their businesses.
Magento Commerce
Written in PHP, Magento 2 Commerce is a wildly popular e-commerce platform. Magento Commerce is special for a few major reasons, such as its unique features and infinite scope for customization and integration.
Traditionally speaking, you get to manage it yourself if on-premise. However, you can always opt for the Magento 2 Commerce Cloud Edition, which is a fully automated and managed e-commerce hosting platform.
Difference Between Shopify Plus and Magento Commerce
Here's a glance at the comparison between the individual features of Shopify Plus and Magento Commerce.
| | | |
| --- | --- | --- |
| Features | Shopify Plus | Magento Commerce |
| Ease of Use & Management | Intuitive interface & Easy to use | Clunky Interface and Difficult to use |
| Scalability | Easy to scale | On-premise solutions are difficult to scale |
| Upgrades | Free | Upgrades are Free but require developer support to implement |
| Security | Highly secure | On-premise Solution is Prone to breaches |
| Support | 24/7 Live Support & a Dedicated Account Manager | Only Community Support |
| Implementation & Go to Live Time | Reduces time by eliminating most of the backend work | Involves a lot of time in setting up |
1. Pricing
Magento Commerce
Magento Commerce offers a demo but not a free trial. While they don't state their pricing on their website, you can always contact their sales team to get a quote.
Nonetheless, from our past experiences, we can say that a Magento 2 Enterprise license would cost you nothing short of $22,000 per annum if you're a business generating less than $1 million in revenue. The costs thereon depend entirely on your requirements when compared to Shopify, whose charges remain the same to a certain point.
Shopify Plus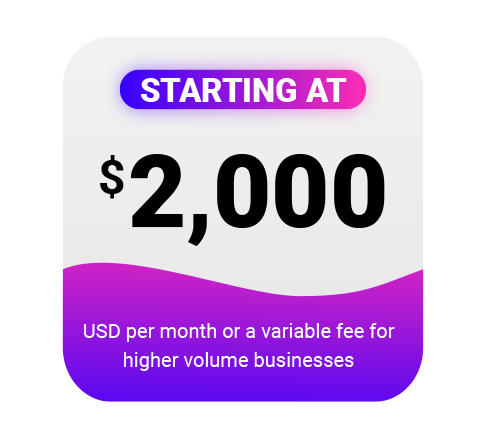 The Shopify Plus price comes up to USD 2,000 a month for standard setups, but it may increase as your business structure gets complex, or if it demands higher volume. Shopify Plus doesn't come with a free trial either.
2. Implementation
Magento Commerce
When comparing Shopify Plus vs. Magento Commerce on implementation, it may take months for a new Magento Commerce site to deploy. Magento Commerce will also need an array of resources, which include, but are not limited to, developers, architects, deployment specialists, and exhaustive resources for QA.
If you choose the non-Cloud version for Magento Commerce, it's going to be a tough job. Building and maintaining an on-premise e-commerce platform with inefficient, zero-standard code means that hiring a team of developers will be your only option. But again, it will be all your responsibility, down to making changes to the core architecture.
Shopify Plus
Shopify Plus, on the other hand, markets its product by prioritizing speed. It's entirely Cloud-based, and launching up your store shouldn't take more than a few weeks at most, thereby saving you valuable time and resources.
3. Scalability
Magento Commerce
The on-premise edition of Magento does not include hosting and managed services in its license. As a result, clients are expected to find a reliable provider to host and accommodate peak traffic. Apart from the extra cost that you'll have to bear, focusing on keeping the store running can distract you from your inherent strategy.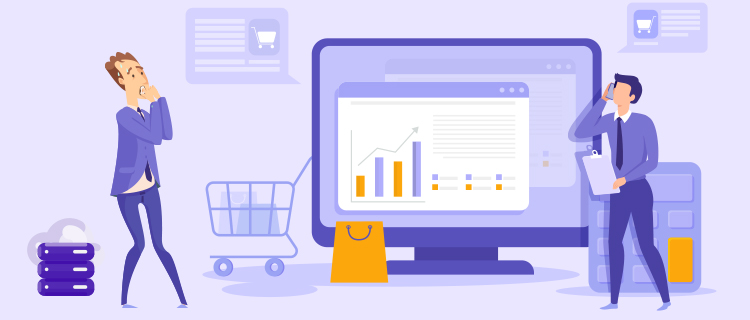 The on-premise deployment option is all about building from scratch and managing an infrastructure that you may perhaps only use for a few days every year to make room for peak traffic. But the Cloud edition (which, to some extent, is again limited in terms of resources) can come to your rescue, ensuring that your scalability isn't impacted every time you roll out a change to production.
Shopify Plus
In contrast, enterprises that use Shopify Plus benefit from their enormous architecture. Since Shopify looks after the entire infrastructure, you need not worry about hosting plans to support the growing need for website traffic.
Their in-house team continually tries to maintain peak performance through extensive load testing and combing through to find any critical aspects of a platform. But what's more, Shopify Plus doesn't charge you for spikes in sales or traffic.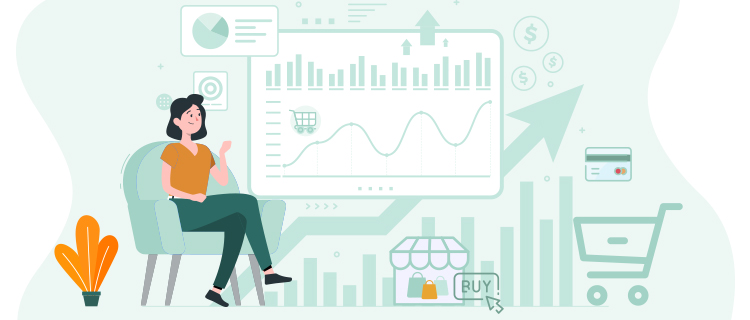 Also, Shopify Plus maintains pace with new technologies and adapts to them rapidly with the kind of flexibility that's hard to find in any other platform.
4. Security
You must take the time to make sure that your customers feel safe during transactions on your online store. As this involves a painfully long process of building trust, you should go ahead with a website builder that has done that already.
Generally speaking, Payment Card Industry Data Security Standard or PCI DSS is a critical security level for managing an online store with customers using their credit cards.
Magento Commerce
Magento has the option to deploy PCI Compliant storefronts. But in the end, as the client, you are solely responsible for the safety of your website. Maintaining PCI Compliance can be a very time-consuming process.
Moreover, you have the pressure of securing all the data in your servers, so it's safe to say that managing security on Magento is nothing less than a headache.
Plus, Magento is prone to malware attacks. It has security breaches, so much so that the software itself is of huge concern. This has even forced Google to blacklist many of its storefronts.
Shopify Plus
Since Shopify Plus has Level 1 PCI DSS, you get the peace of mind that your customers' private data and your store is protected from cybercrime and fraud. Moreover, you can also save up on buying an SSL certificate.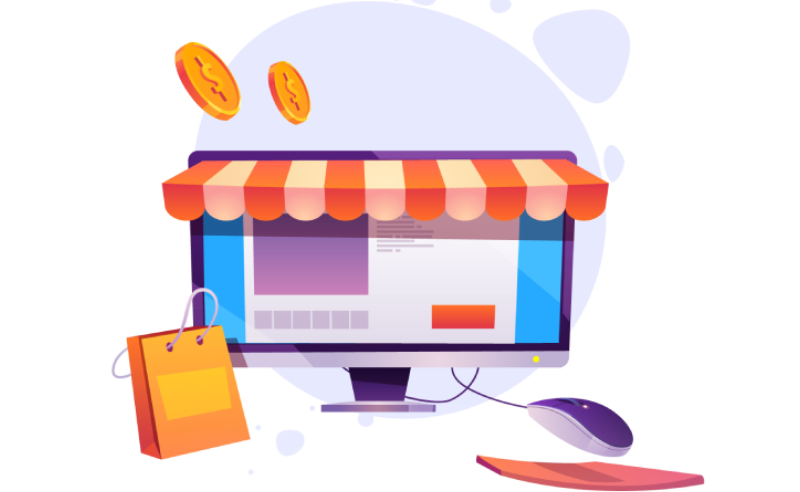 One-stop solution for all your Shopify requirements!
Set up your Shopify store or migrate to one with Zestard's Shopify Development services.
5. Support
Magento Commerce
Although they have exhaustive tech resources, training and certification programs, StackExchange, and a dedicated forum, the support on Magento Commerce is not prompt, to say the least. Their Consulting Group can offer you a hand, but it comes with an extra fee.
Shopify Plus

One of the key Shopify Plus features is access to a dedicated merchant success manager who would be available 24/7 to handle all your issues. You can easily request support for technical problems, marketing, or conversion rate optimization.
For all general queries, you can contact them via live chat, email, or even phone, thereby ensuring the overall support is instant and responsive.
6. Extensions and Apps
There's no contention between Shopify vs. Magento when it comes to marketplaces for apps and extensions. Both platforms have well-established ecosystems, and a significant chunk of the popular third-party systems, like fulfillment services, ERPs, payment gateways, among others, are now live.
Magento Commerce
Magento's marketplace, for instance, has a large number of extensions that can make your site work like the perfect e-commerce store you've always had in mind.
But these marketplaces seldom stress on readymade operations; most extensions require the developers' support to get up and running. As a direct effect, using Magento Commerce makes you highly dependent on your team of developers to get anything done.
Shopify Plus
In stark contrast, as a SaaS offering, Shopify Plus has thousands of tried and tested apps available to support merchants at a very low cost.
These apps can assist you in expanding your business in a lot of different ways and are quite easy to install and use.

Moreover, their store is continuously growing and regularly offers new apps for loyalty programs, email marketing, accounting, affiliate program, etc. Shopify itself moderates these apps and extensions, so you can rest assured of their quality and safety.
7. Customization
Both Shopify Plus and Magento Commerce platforms offer sturdy capabilities for customization, via advanced interfaces that allow you to edit raw HTML/CSS. This can be done directly to give you full authority over the look, feel, and the overall design of your store.
Magento Commerce
Magento Commerce has some great customization capabilities, with most of its code being open-source except for the licensed part, which you'll be acquiring anyway. But again, these customization come in handy only if you're well versed in the core languages of web development.
Shopify Plus
When comparing Shopify Plus vs. Magento Commerce, the former offers a more practical theme editor— the kind that allows you to play around with the theme's design hands-on, using drag and drop. By hiding sections, you can say goodbye to duplicate themes and staging servers.
Shopify Plus has a well-placed menu-driven method that makes the process of changing attributes like font and color a breeze. This makes the experience of building an e-commerce site from the ground up all the more rewarding when compared to Magento Commerce.
8. Updates
Magento Commerce
Magento has a dynamic development cycle in its roadmap, including various security patches and multiple point releases. But it can be a challenge to bring these updates to the standard, non-Cloud version of Magento Commerce, especially if the system has been scaled and customized.
Shopify Plus
Shopify Plus does something unique here. It has removed the very need for security patches, upgrades, or even point releases by designing their platform so that all the updates are automatically installed. This was aimed to save time and money that goes into rolling out upgrades and implementing them.
Conclusion
It's fair to conclude that when comparing Shopify Plus vs. Magento Commerce, both platforms carry their own importance. Still, from our comparison, it's quite evident that Shopify Plus takes an edge over Magento Commerce in multiple areas.
Zestard specializes in building Shopify and Shopify Plus Stores. We offer high performance and business support so you can be more focused on sales and revenue than ever before.