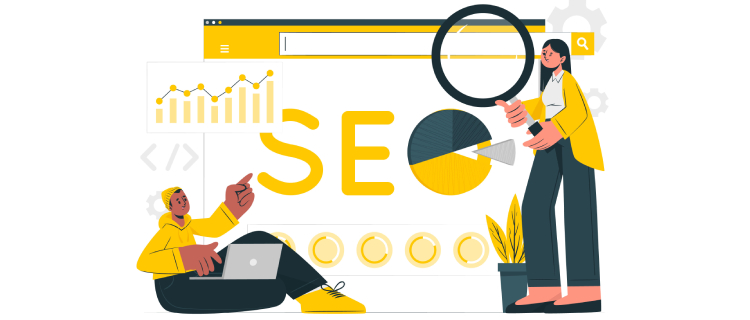 What Is Shopify SEO?
Conducting SEO for Shopify means optimizing a Shopify website to perform better in SERP results. Though SEO can be applied to any website, SEO for Shopify is specifically focused on helping e-commerce business owners to obtain more organic traffic and higher keyword rankings on Google.
According to internet live stats data, Google processes over 40,000 search queries every second on average, or over 3.5 billion searches per day worldwide.
This states that the majority of your potential customers use Google to search for the products they wish to purchase. Because of this increasing popularity, Shopify store owners need to make their online stores easy to be found on Google.

SEO is a cost-effective medium for potential customers to find your Shopify store online. People these days turn to search engines or other digital channels to make purchase decisions. Having your website on the first page of the SERP results associated with the credibility of your brand.

Let us check out some of the proven On-Page and Off-Page tips to conduct SEO for Shopify Store.
On-Page SEO Tips for Shopify
On-page SEO for Shopify refers to the practice of optimizing web pages to improve your website's search engine rankings and earn organic traffic. Let us check out some of the proven on-page tips to conduct SEO for Shopify for ranking your eCommerce website on Google.
Perform An SEO Audit
Performing an SEO audit for your Shopify store lets you figure out the issues that your Shopify website might be facing, which makes it difficult to rank on Google. A thorough SEO audit will identify those issues immediately.

Some issues such as missing titles and descriptions, missing heading tags, 404 pages, canonical tags, index bloat, etc are some of the issues that are detected in an SEO audit. Online stores are extremely competitive in search rankings. It is challenging for the website to claim the #1 spot on Google.

SEO audit lets you figure out whether your content is of low quality or outdated, whether your web pages are optimized or not, the speed of your website, and other important factors that are responsible for the ranking of your Shopify website.
Conduct Keyword Research
Conducting keyword research will let you figure out what terms customers are actively searching on the internet. Implementing keyword research will help you to optimize your pages for those search terms. This tells Google what your ecommerce store is about and attracts potential customers.

Let's say you sell handmade chocolates on Shopify. People searching for 'handmade chocolates' might be looking for information on making chocolates. You're not interested in those people. You want a customer who wants to buy handmade chocolates. Modify your keywords or phrases by including active words like buy.
Opt for a keyword or phrase that suggests an intention to buy. You don't have to be a Shopify SEO expert to master keyword research. Start by figuring out a list of relevant keywords for each product and use the below-mentioned tactics:
Explore Google's autofill suggestions
Conduct competitor research to identify the keywords they are ranking for
Identify keywords that perform best for your website having a high search volume with relatively low competition.
Make the URL's Short & Relevant
When the URLs are long, it makes it harder for your website visitors to share your product pages or content via different channels. However, if the URLs are short, there is less room for confusion and your pages could be easily found.
Short and relevant URLs emphasize the product's keyword. It is wise to create short URLs with keywords that will constantly be searched for. Below mentioned are some of the best URL practices to improve your website's Google rankings.
Keep the URLs short and sweet.
Include your target keyword in the URL.
Avoid unnecessary words like and/or/the/etc in the URL.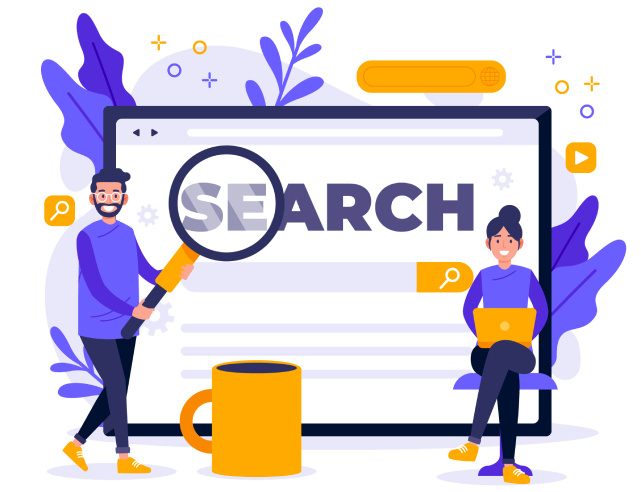 Want to boost your website's traffic and visibility?
Give Zestard a try to improve your brand's online presence and fulfil all your digital marketing needs.
Make Products Title and Description Unique
Product titles and descriptions are of critical elements that affect the ranking of any site. Both the meta description and title tag must have keywords related to the content of the page, no matter if it's a product page for coffee machines or a blog post about wristwatches, making the product titles and descriptions unique is highly valuable.
If you have unique product titles and descriptions, help the search engines like Google to understand what your page is about, and the better it understands, the higher your website might rank when someone searches for those products on Google.
Product titles and descriptions for a Shopify website have to be created according to the SEO requirements in order to obtain more clicks. Usually, the meta title should be up to 60 characters, and the meta description is required to be up to 160 characters.
Optimize Image Alt Text and File Names
Google uses alt text to identify what the image is about. Google is still a machine and visual data is not easy to dissect. Alt text is necessary to provide contextual relevance to the search engines about the web page where the image resides.
Your Shopify website will likely have lots of images to showcase your products. But remember, Google cannot see your images. You have to communicate to Google what the images are, through descriptive file names and keyword-rich alt text.
Shopify stores are usually very visual. Product images are engaging and an important part of the buying journey. Adding alt text that incorporates your researched keywords into your images, helps in boosting their ranking.
Optimize Website Speed
79% of shoppers who experience slow page loading speeds won't return to that site to buy again. 47% of online shoppers expect a page to load in a maximum of two seconds or less. To improve the page speed of your Shopify website you should consider several things such as:
The theme you are using (ensuring the code is not bloated and is optimized for speed)
Optimizing the images present on your web pages
Minimizing broken internal links and redirects
Limiting the number of plugins/apps being used
Consider implementing accelerated mobile pages (AMP)
If your eCommerce store is slow, people aren't going to stick around for a longer period of time. This will indicate to Google that your website isn't relevant to the search terms used and will lead to a drop-down in the search rankings.
Add "Noindex" Tag
Just like the other websites, there might be some pages on your Shopify store that you wouldn't want to appear in the search engine results. Noindex tags convey to search engine bots that a specific web page should not be indexed, even if it contains relevant keywords.
Noindex tags do not stop the bots from crawling pages but prevent them from indexing the pages in the SERP results.
For instance, if you are experimenting with your Shopify site by launching web pages for A/B testing, you wouldn't want Google to index those pages. Noindex tags are the perfect solution here.
These tags allow you to test different web pages of your Shopify store for proper functionality or broken links without indexing them before they are ready. Once the web pages are good to go, you can make them "live" for search engines by removing the Noindex tag.
Add Content to The Collection Pages
Collection pages are one of the most neglected pages on a Shopify website. Many Shopify store owners usually tend to forget that content can be added to the collection pages. Adding content helps you describe precisely what's in the collections. Visitors can get an overview of what products they can expect to see on your website's collection pages.
The content on collection pages includes product images, product titles, product descriptions, and prices of the products. This makes it easier for the visitors to navigate through different products within a certain specific category.
Fast Simon Implementation
Fast simon is a tool that is specifically designed to automate manual work and replace expensive and complicated implementations by point vendors by integrating AI conversion optimization solutions. This shopper interaction tool can help increase conversions by automating some of the manual tasks using AI. Apart from Shopify, this tool integrates well with WooCommerce, BigCommerce, and Magento too.
Increase 'Dwell Time' On Your Shopify Store
Dwell time measures the amount of time a visitor spends on your website. The higher the dwell time, the better chances your Shopify website will rank in the search engines. If a visitor spends a good amount of time on your website looking up something, it is likely that the visitor is enjoying your content or is interested in what you have to offer.
Similarly, the lower the dwell time of your website, Google will lower the rankings of your Shopify store.
To increase the dwell time of your Shopify website, it is necessary that you focus on providing an amazing user experience for your website visitors. If your website is meeting the needs of your visitors, your dwell time will increase automatically as you need to give the visitors a reason to stay on your website for a longer period of time.
Optimize Blog Posts
Blogging creates more opportunities for visitors to find you, as well as increases your SERP ranking potential. The more content pages your website has, the more chances it has of showing up in search results.
Blogging on a Shopify website is necessary to help draw more potential customers into the eCommerce store. This helps to target visitors by nurturing them towards the sale through valuable and engaging content. Regular blogging and optimizing your blog posts can drive potential traffic to your Shopify store using SEO strategies and techniques.
For instance, if you own a Shopify business that sells coffee powder online, you can blog about the history of coffee beans, how to make different coffees, different types of coffee beans, the benefits of consuming coffee, and many more such related content.
Internal Linking Optimization
Internal links are links pointing from a web page to another web page on the same domain. These links are important for passing internal link juice from one web page to another. Internal links help search engines to understand your site structure and crawl your website more effectively.
The Shopify homepage is usually the center of the site, often the most powerful page. Making navigation links on your Shopify homepage towards other pages raises the interest of your visitors since they can move around the online shop easily.
If you don't link to your internal product pages, your visitors often will not be able to find your products easily since your essential pages might be somewhere deep in the store.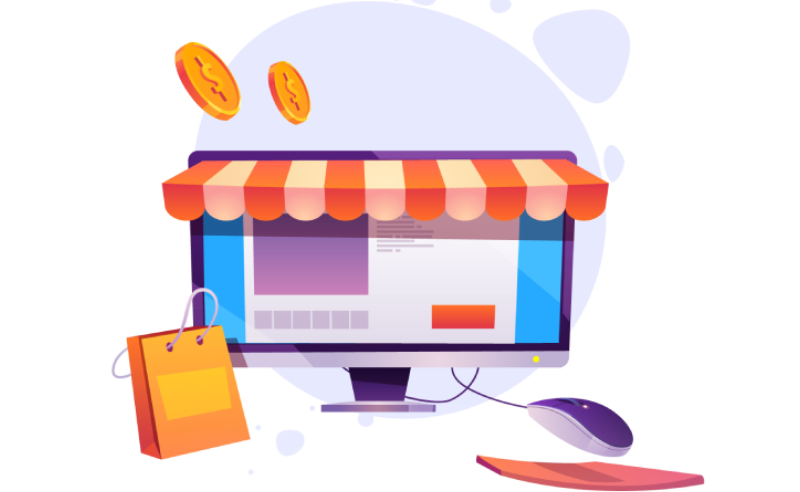 One-stop solution for all your Shopify requirements!
Set up your Shopify store or migrate to one with Zestard's Shopify Development services.
Off-Page SEO Tips for Shopify
Off-page SEO for Shopify refers to the actions that are taken outside your website and are responsible for your website rankings within the SERPs. The first step is to identify the target pages for your Shopify website on which you'll be building links. They could be the home page or any other landing page that you wish to rank for your Shopify website.
These pages are usually going to be the most visited pages that bring in a good amount of traffic to your Shopify website.
You'll then be required to build quality links on these target pages of your Shopify website. Let us check out some of the proven link-building tips to conduct SEO for shopify for ranking your eCommerce website on Google.
Guest Posting
Guest posting is the process of reaching out to other website owners to write guest blogs for their websites and proactively acquire backlinks in return from their websites. For guest posting activity, one reached out to the prospects via email asking for guest post contributions to their website, in exchange for a backlink.
When reputed websites link back to your site, it increases the authority of your website in the eyes of search engines. If your Shopify store receives backlinks from high authority websites, the search engines are likely to provide more visibility to your content.
HARO
HARO or Help A Reporter Out is the process of reaching out to reporters and journalists in order to provide them with expert quotes for their upcoming articles and obtain valuable media coverage. This is an excellent service that connects reporters with their valuable sources.
HARO technique is a win-win situation for all as the journalists get expert sources for their articles and the sources get a high-quality backlink for their website
Digital PR
Digital PR is the strategy of increasing brand recognition by promoting the brand through well-known Influencers in the business's niche. This is an amazing tactic to create brand awareness for your existing products as well as promote upcoming products.
As branding here is done by influencers, it has the potential to reach a wide range of audiences. Influencers promote your brand via endorsements and product mentions with their huge number of followers, boosting the awareness of your product or brand.
If you want to obtain white hat links for your Shopify website and gain visibility in the search engines, enroll in our link-building services today.
Best Shopify Apps for SEO
SEO for Shopify is not that hard and tiresome if you have the right strategy. If you wish to optimize your Shopify website for SEO, there are various tools available in the market to make your work easy and simple. Check out this article to know more about the SEO tools for Shopify.
Conclusion
If you are not yet prioritizing SEO for Shopify stores as part of your e-commerce strategy, you need to start sooner. Let an SEO expert handle your Shopify website while you sit back and enjoy your conversions. Contact us today.