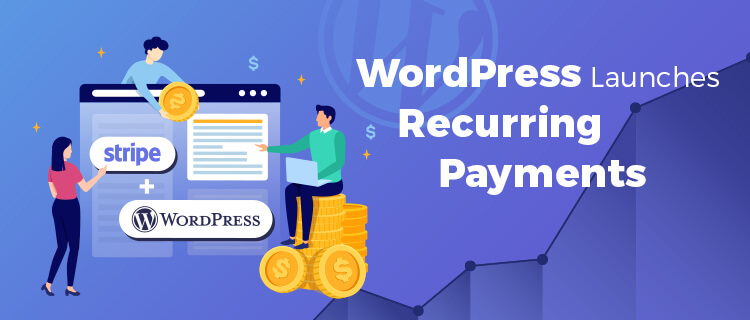 WordPress platform has just introduced an exclusive new feature, "Recurring Payments" with premium plans. It has tied up with the online payment processing giant Stripe to bring this novice payment feature for its blog creators, publishers, and business users.
For years, WordPress is making the lives of the community more straightforward. Today with this newly introduced feature available to all the users, can generate repetitive contributions on the go from their website/blog readers, customers, or fans.
How can Blog Publishers Earn Revenue with the Recurring Payment?
The payment feature is a smart way that enables bloggers to earn revenue from their pages on their blog/website. Also, self-hosted WordPress sites with installed Jetpack plugin can leverage this feature.
To get your WordPress.com website connected to the new recurring payment feature, you need to get off the blocks. Empower your website with these five pre-requisites:
Log in to your WordPress.com account
Set up a Stripe account
On WordPress.com, go to the "Earn" page and start using the Recurring Payments feature by clicking on the "Connect Stripe to Get Started."
Complete the setup essentials. Open your blog post or website page, click on the plus icon to add a new block with the recurring payments button*
Offer subscriptions by customizing your recurring payments in terms of amount, currencies, payment frequencies, and more.
*Make sure you have Jetpack v7.4 installed.
And you are all set to earn revenue with Recurring Payments feature for the content on your WordPress.com website or blog.
A sneak peeks into the newly introduced recurring payments' benefits & pricing model.
The Benefits of Recurring Payments are:
Easy integration with Stripe to process the ongoing payments
Increase your fan base with niche content and empower your target audience by offering memberships, donations, subscriptions on a monthly or annual basis
Automatic collection of membership dues
Accept payments directly from your visitors
Sell exclusive access to the members-only newsletters
Raise funds with your supporters for your next creative project
With access to the recurring payments feature, your website or blog visitors can now easily connect and support your site.
Visitors & subscribers can make easy subscriptions and purchase
Subscribers can enjoy seamless payment by using the same payment information
Subscribers can easily manage all the subscriptions at one place
The WordPress.com + Stripe Recurring Payments feature comes with a price. In addition to this, only the premium WordPress users can leverage this feature.
The WordPress.com fee-tier based on users' plans is as below:
Personal – 8%/sale
Premium – 4%/sale
Business – 2%/sale
eCommerce – No fee
Along with the fees that you pay to WordPress, Stripe collects 2.9% + $0.30 for each payment made to the Stripe account.
Isn't this feature a win-win for both content creators and subscribers? From creating content and providing early access to fresh content on the site to collecting revenues, and scheduling process with the ongoing payments. Leverage every bit of this automated payment system with WordPress.com, Jetpack, and Stripe!