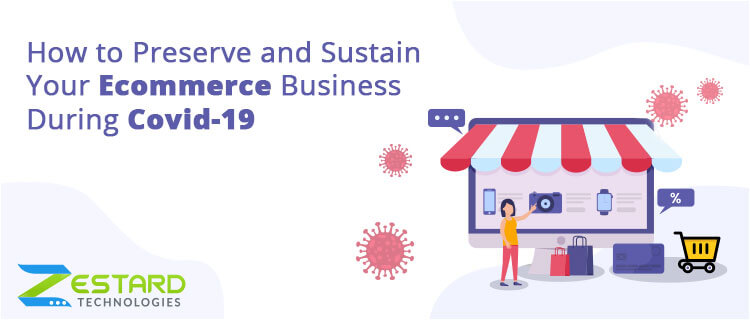 Brick and mortar businesses may be suffering during the coronavirus pandemic, but what about ecommerce stores?
Early reports from 2020 show a growth rate increase of 52% in some online sectors, as well as an 8.8% increase in conversion rates. While there are sure to be ups and down with each wave of the pandemic, these numbers are promising for online retailers!
Regardless of which products you sell, you're no doubt concerned about the impact this pandemic will have on your business. Are there practical things you can take to sustain your ecommerce business in 2020?
Yes! In this post, we'll reveal 6 actionable steps you can take to ride out the storm and keep your business afloat. Keep reading to learn more—your business depends on it.
6 Steps to Ecommerce Success
Here's a collection of business tips and tricks to help your company survive (and thrive) in the months ahead.
Publish a Statement About the Pandemic


Transparency is key, so the first thing you need to do is acknowledge the pandemic. The easiest way to do this is to create a banner that appears on your site's landing pages.

Assure everyone that you're open, stocked, and ready to ship merchandise. You should also explain that you're keeping your workers safe and your products and facilities sanitary. If you're making any changes to the way you're operating during the crisis, provide relevant details.

Once everything is drafted, publish it to your website and store pages. Send it out in an email to your subscribers and share it on your social media pages. You might even consider a formal press release to help spread the word that you're open for business.

Update Your Site & Google Business Listing


Along with an official statement about the pandemic, there are other things you can do to keep your business on everyone's radar.

Many shoppers are trying new online merchants, especially if they're searching for hard-to-find items. Make sure your platform clearly shows that your store's items are in stock and ready to be shipped. Your site should also pass stock data onto Google, which will display an "In Stock" message with the search results.

Another important step is to update your Google Business Listing to reflect your status. Many people use online directories or Google search results to find out if a business is currently operating. Make sure your business is listed as "open" and that all contact information is accurate and up to date.

Offer Percentage or Bulk Discounts


Not everyone is forced to tighten their belts during this pandemic. Some families may have more disposable income than usual because they're not spending it on travel, dining out, or entertainment.

Entice them to use that extra cash by offering a flat or percentage-based discount. WooCommerce, for example, lets you set up deals like "$10 off subtotal above $50" or "15% discount on 10 or more items." If you're trying to move out a particular batch of stock, offer a special discount within that category.

Another idea is to combine popular items into a "quarantine bundle." Combine complementary products together into one easy-to-order package rather than hoping customers will buy each one individually. Consider items that are frequently bought together and offer a bundled discount to encourage the purchase.

Not only does this help empty your inventory, but it also ensures you've got steady cash flow through each wave of the pandemic.

Align Your Store With Trending Categories


Some niche markets, like home and garden supplies and fitness equipment, are seeing a huge boost in sales. If your store falls into a harder-hit category, can you find a way to capitalize on the niches that are performing well?

Let's say you sell women's clothing in your ecommerce store. Rather than focusing on high-end fashion items, why not add a collection of inexpensive gym wear? This provides a logical connection to a niche market that's still booming.

Once you've added these related items, tweak your marketing efforts to reflect the connection. In your social media posts, you could show a woman wearing your brand's shirt while she works in her garden or runs on a treadmill. That way, your customers will see your brand as relevant despite changing circumstances.

Add New Sales Channels


There's an endless variety of marketplaces and sales channels all over the world. If your current sales are in a slump, why not see if you can attract a new customer base from a different source?

For example, if you've been selling only from your own website, why not add eBay to the mix? If you're selling on Amazon, can you add new locations to expand your store's reach?

If you've exhausted those options, what about trying Etsy, Alibaba, or Google Express? You may discover a whole new source of customers who are looking for products just like yours.

Add More Content to Your Blog


What should you do if, despite your best efforts, your business temporarily slows? Use that extra time to add valuable content to your company's website.

A blog is one of the best ways to boost your SEO and drive more traffic to your site. The more optimized text you have on your site, the more Google will reward you with better search result rankings.

Research keywords that are trending in your niche, then craft new blog posts around those trending keywords. Adding SEO-rich content to your site now will help drive more traffic to it in the months ahead.>/p>
That way, when the pandemic passes and shoppers are more active, they'll have an easier time finding your website and your products.
How to Sustain Your Ecommerce Business: Now You Know
You might feel overwhelmed by the thought of how to sustain your e-commerce business during the pandemic, but you can succeed.
Maintain full transparency by updating your website and Google listings, letting your customers know you're stocked and open for business. Try offering bulk discounts or new sales channels to encourage spending. With any extra time you have, change up your marketing strategy and add more content to your company blog.
If you do all these things, there's no reason you can't have a successful ecommerce business during and after the coronavirus pandemic.
What else can you do to develop and maintain your ecommerce store? Click here to keep learning.