What SEO Stands For?
SEO stands for Search Engine Optimization. Search Engine Optimization is the practice of optimizing your website to increase the visibility of the website in organic search results of a search engine for specific keywords. By Organic, we mean without paying for the traffic that comes to your website.
You probably might want to know how SEO works and why should you care, so let's dive right in!
How SEO Works?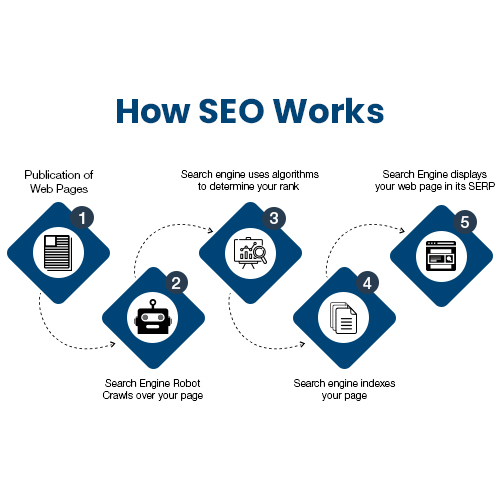 To know how SEO works, you have to understand how the search engine works.
The search engine works by using its web crawlers to crawl webpages and then indexing it into their massive database.
Once a page is indexed, it is eligible to be displayed; as a result, to search queries that are relevant to that page.
According to the pieces of content in the webpage, that would be the best match for the searcher's query, the search engine's algorithm orders it by relevance, by most relevant on top to the least relevant at the bottom.
This ordering of webpages in the search engine results page by relevance is known as ranking. You can assume that the more relevant the search engine believes a webpage is to the query, the higher that webpage is ranked.
SEO works by making certain changes to your website's structure, design, and content, to make your site more appealing to a search engine in the hope that the search engine displays your website or webpage on the top of the search engine results page.
Several different factors impact your rankings, but basically, the search engines display the most relevant results on top of its SERP.
Commonly Used Acronyms in SEO
ALT: Alternative Text Attribute
CDN: Content Delivery Network
CTA: Call to Action
CTR: Click-Through Rate
GA: Google Analytics
GSC: Google Search Console
HTML: Hypertext Markup Language
LSI: Latent Semantic Indexing
NAP: Name Address Phone Number
PPC: Pay-Per-Click
PR: PageRank
ROI: Return on Investment
SEO: Search Engine Optimization
SERP: Search Engine Results Page
URL: Uniform Resource Locator
UI: User Interference
UX: User Experience
Why is SEO Important?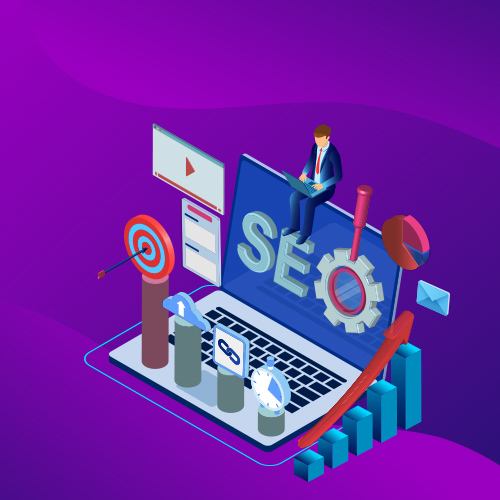 If you have a website, blog, or an online store, SEO is more important than ever. Here are a few reasons why SEO is important for you.
Millions of users per day are looking for answers and solutions to their questions and problems.
Organic search is usually the primary source of website traffic.
More than 65% of users click on the top 5 results in the SERP.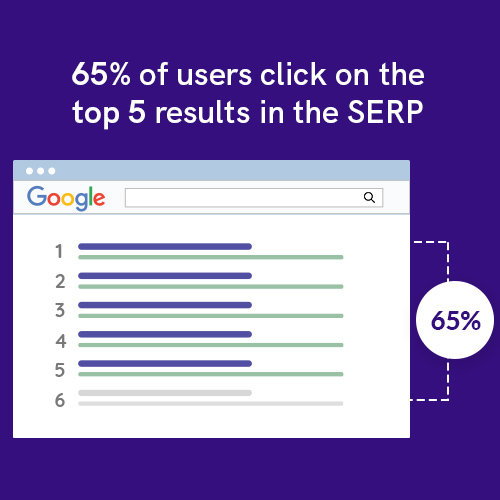 Almost 91% of web pages are invisible in Google as they are not optimized and do not rank in the top 10 of SERP.
SEO builds trust & credibility.
SEO improves the visibility of your website. The more keywords your website ranks for, and the higher they rank, the more are the chances of your brand being visible to your potential customers.
SEO helps in getting more traffic on your website. According to the Advanced web ranking CTR study, the No.1 position in Google, on average, has a 27.5% click-through rate.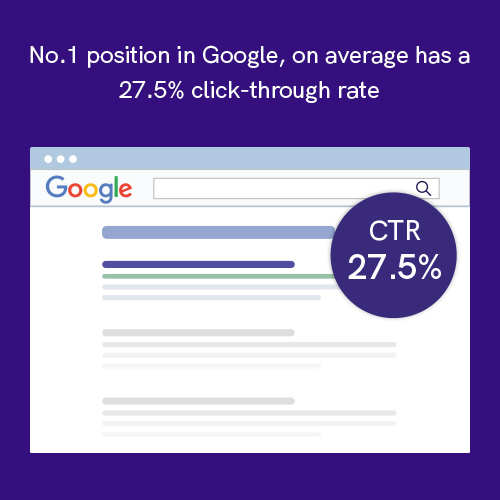 SEO improves the user experience and usability of your website.
SEO can also put you ahead of your competitors. If two websites are selling the same thing, then the optimized website is more likely to get more traffic and revenue.
SEO helps in the social promotion of your website. People who find your website on reputed search engines such as Google or Yahoo are more likely to promote it on Facebook, Twitter, or other social media platforms.
Optimizing your website helps search engines in understanding your content better so that it can be appropriately indexed and displayed on the results page.
SEO is also one of the leading online marketing channels that, when set up effectively, can keep on delivering profits over time. Furthermore, it produces a higher ROI than other marketing channels.
SEO has 20 times more traffic opportunities than PPC, on both mobiles and desktops.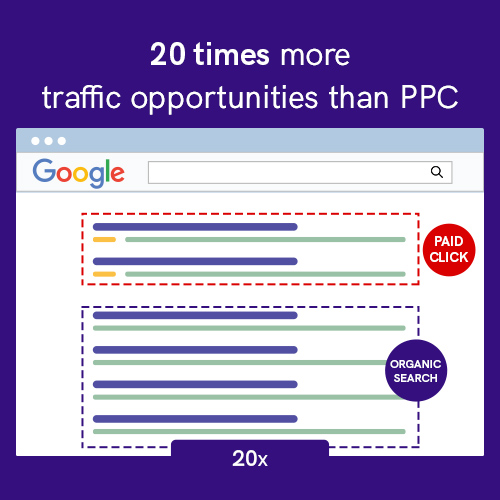 SEO improves the online presence, traffic & eventually goals of a website.
Local SEO means increased engagement, traffic & conversions.
Local SEO ensures that your business name, address, and phone number are precise across the web.
So now that you are convinced that SEO is essential for your website, I will explain to you what builds up SEO. Let's get right into it.
What are the Parts of SEO?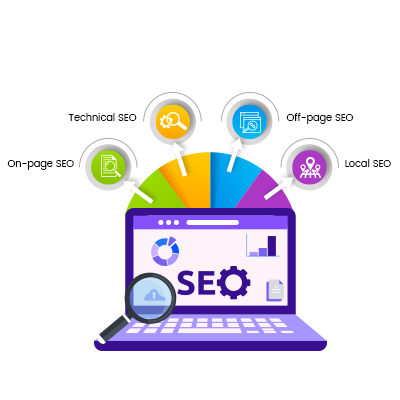 Here we will divide SEO into four parts, On-page, Technical, Off-page & Local SEO.
I have separated technical & local SEO from on-page & off-page SEO to help you understand it better. Let me explain each of the parts in detail.
On-Page SEO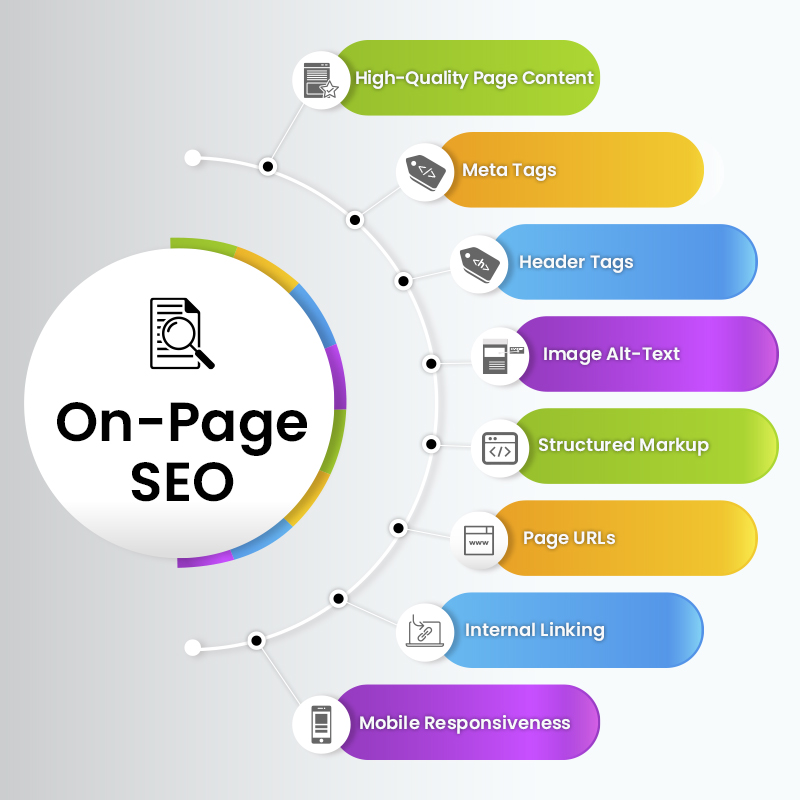 On-page SEO is the process of optimizing the actual web pages of your website in order to make your website look aesthetically pleasing to humans as well as bots of search engines.
Everything which is visible on the website and optimizing it is called on-page SEO.
It is crucial because it helps Google understand your website and how it can provide value to its visitors.
In on-page SEO, the changes you make are visible to the visitors of the site, and it should look appealing for the visitors to engage with your website, if your website is awesome it will start ranking. A well-optimized website also makes off-page SEO easier as no one wants to link to a crappy site.
Elements of On-Page SEO:
Keyword Mapping
Meta Tags
Header Tags
Image Optimization
URL Optimization
Internal Linking
Content Audit
Canonical Tags
Tip: Optimizing your website's content according to the searcher's intent would help you rank better.
Technical SEO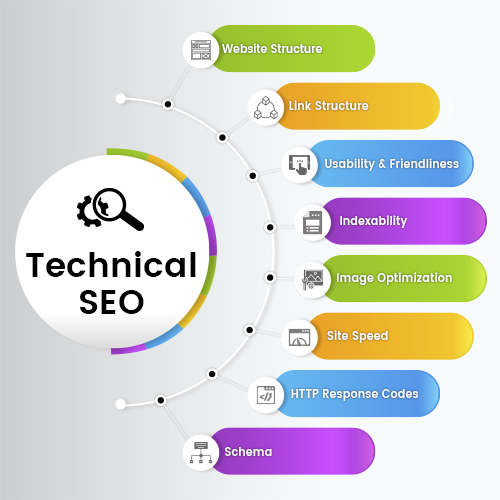 Technical SEO is the process of optimizing the specific elements of the server and your website, that help the search engine bots to crawl and index your website effectively.
It can also include any other technical process which will improve your visibility in the SERP.
It is crucial because, without it, your website might not even show in the SERP.
While search engines are getting better at crawling, indexing, and understanding information on your website, they are not perfect. You do need to make it easy for them to understand your website.
If they have a hard time figuring out what your website is about or whether you have what the searchers want, then they might move on.
If search engine bots can't crawl your website, then they wouldn't index it, and if your website is not indexed, then it wouldn't show in the results page.
Elements of Technical SEO:
Website Structure
Indexability
Site Speed
Index Bloat
HTTP Response Codes
Responsive Web Design
W3C Markup Validation
Schema
Tip: Having a schema markup code on your website might help you rank on top of the 1st result in the SERP.
Off-Page SEO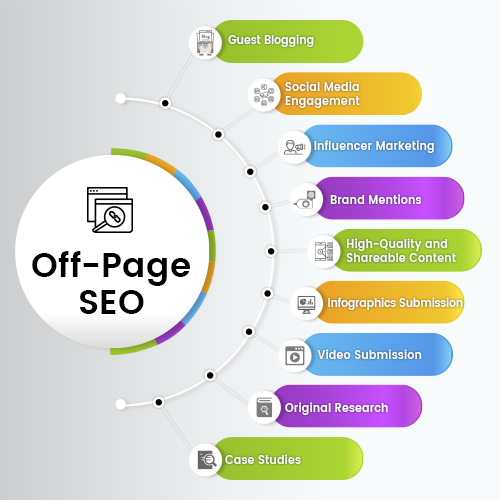 Off-page SEO is the activities done outside of your website that will affect your website's rankings in the SERP.
Off-page SEO involves link building, and it is a major part of it, but link building refers to the practice of obtaining high quality and relevant backlinks to your website, but off-page SEO goes way beyond that.
It is essential because, by building high quality and relevant links, it indicates to search engines that your website is trustworthy and your content is valuable and will satisfy the user intent.
Google's Pagerank algorithm checks the quantity and quality of your website's backlinks and decides your web page's ranking accordingly.
Elements of Off-page SEO:
Guest Blogging
Social Media Engagement
Influencer Marketing
Brand Mentions
Media Outreach
Infographic Outreach
Original Research
Case Studies
Tip: Number of referring domains matter more than the number of backlinks. Try getting more relevant domains to link out to you.
Local SEO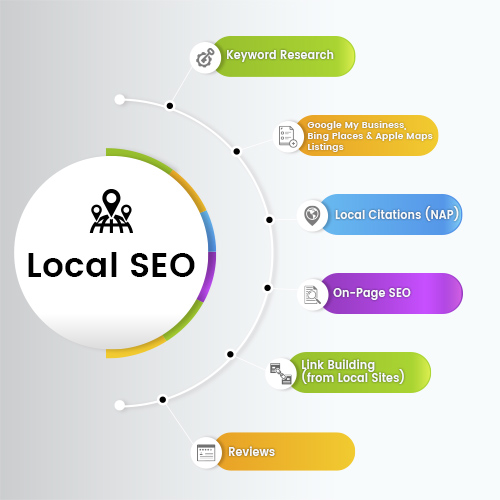 Local SEO is the process of optimizing your website or online presence to rank for a relevant local search query to attract more business from local searches.
Local SEO focuses on giving users, results that are more relevant to their current location. And this is most pertinent to show places/ locations in the proximity of the user.
It is crucial because 46% of all the searches on Google are local search queries, and Google's snack pack appears at the top of SERP for local search queries.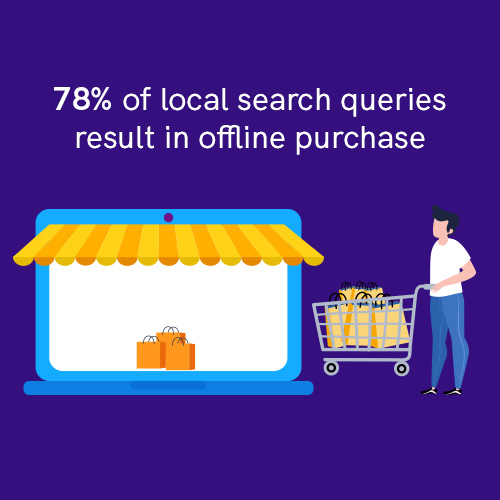 78% of local search queries result in offline purchases. And around 61% of searches from mobile are more likely to end up contacting a local business if they have a mobile-friendly site.
So if you have a physical store or want your website to rank locally, you need to rank for local search queries.
Elements of Local SEO:
Keyword Research (Geo-Targeted)
Business Listings (GMB, Bing Places, and Apple Maps)
Local Citations (NAP)
On-Page SEO
Link Building (Local Sites)
Reviews
Localized Content
Tip: Make sure you have consistent NAP (Name, Address, Phone number) across all directories, it gives a higher chance for ranking locally.
What are the SEO Ranking Factors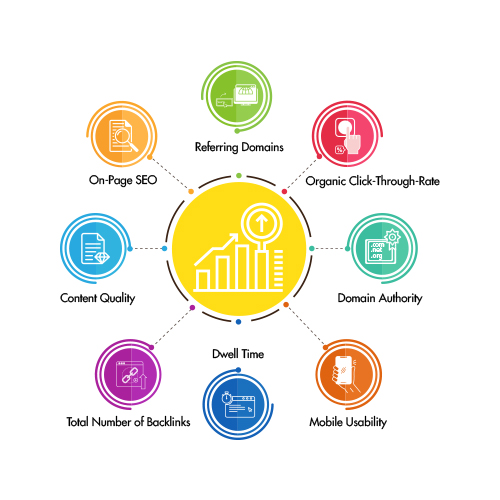 All search engines have their unique algorithms to determine the ranking of a result.
More than 75% of the world's searches are on Google so that we will talk about Google's ranking factors.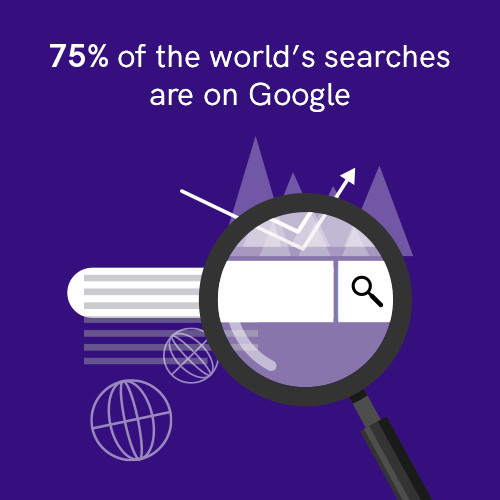 Google has more than 200 ranking factors; you can check this site for a complete list. Here I will mention the top 8 ranking factors that affect the ranking of your website:
Referring Domains
On top of our ranking factors list are referring domains. Referring domains are the number of root domains that link back to our website. They are one of the most important ranking factors in Google's algorithm.
Backlinko conducted an industry study of 1 million Google search results and found out that the number of domains linking to a page correlated with rankings more than any other ranking factor.
Organic Click-Through-Rate
Organic click-through-rate is also known as "Organic CTR," is the percentage of searchers that click on a result in SERP.
For example, if your web page ranks for a keyword that 500 people search every month and 50 people click on it, then your webpage's CTR is 10%.
Also, an engineer from Google confirmed the usage of CTR in Google's search rankings to figure out the types of results users want to see. Google's algorithms rank the result on top, which the maximum number of users want to see.
Domain Authority
Domain authority is a metric invented by Moz, which calculates a domain's authoritativeness by multiple factors, including the number of linking domains and the total number of backlinks a website has.
Domain Authority predicts how well a website will rank on the SERP. A domain authority score ranges from 1 to 100. The higher authority your website has, the more are the chances of your website ranking high in the SERP.
Mobile Usability
More than 60% of the searches are done from mobile devices.
With that said, Google wants your site to be optimized for mobile users. Google even gives mobile-friendly websites a ranking boost.
Google has a free tool called "Mobile-Friendly Test," it tells you whether your webpage is optimized for mobile or not and even provides suggestions to fix it.
Dwell Time
Dwell time is the length of time a person spends on a web page after clicking it from the SERP but before returning to the results page.
By dwell time, Google decides how user-friendly is the website and whether the content on that page is helpful.
By that Google determines whether the searcher was happy with that result or not, and decides that page's ranking accordingly.
Total Number of Backlinks
The total number of backlinks is like a vote from another website for the search engines. Google decides which web pages deserve to rank in what position in the organic results.
Content Quality
Content quality is an important ranking factor. Even if your site is perfectly optimized for SEO, but your content isn't unique or not that great for the readers, then your website isn't going to rank.
Google wants your content must satisfy a user's intent, so make sure that your content is thorough and complete.
It should provide an answer to the user's query. Backlinko analyzed 1 million Google search results and found that content with 2000 words or above has a significantly better chance at ranking than short content. So make sure that you write quality and lengthy content.
On-Page SEO
On-page SEO is the act of optimizing the content and HTML source code of individual web-pages on your website.
There are a few factors that you have control over, including optimizing keywords, meta tags, images, content, site speed, outbound links, and many more.
How to Get Started in SEO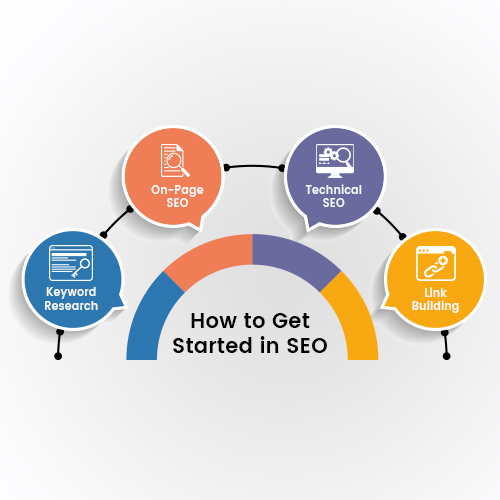 So now that you know about SEO and Google's ranking algorithms, you might be wondering where to start.
Well, we got you covered here.
Assuming you have a website and want to start optimizing it for higher organic search rankings, but you are worried as Google has more than 200 ranking factors, and how would you be able to do them all?
Don't you worry, we have made the perfect shortlist of the most crucial strategies which will help you rank higher than your competitors in no time. So let's get started.
Keyword Research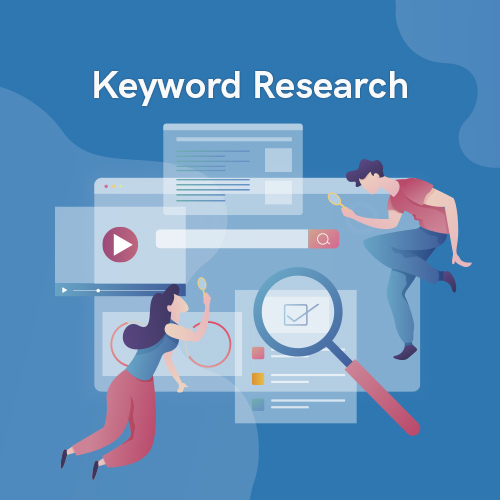 Keyword research is the most fundamental part of SEO and one of the most confusing ones too.
So how do you find the best keywords for your web page?
You have to understand the intent behind the keywords users are searching for and choose which suits your web page best.
Keywords should always be chosen on a page to page basis, as Google ranks web pages and not websites.
You can use any keyword research tools and search for relevant keywords, try finding a medium to long-tail keywords that have low keyword difficulty but high search volume, as those are the keywords, you will be targeting for.
Short tail keywords are mostly hard to rank for and might seem impossible for beginners. But if you rank for a medium tail keyword, you automatically rank for hundreds and thousands of long-tail keywords.
On-Page SEO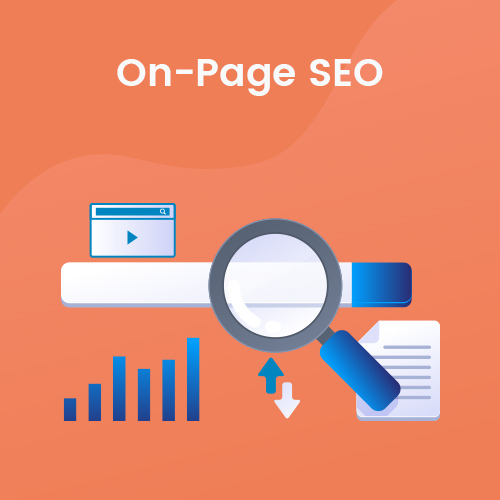 Now that you have found your prime keyword, it's time to optimize your web page around that keyword.
On-page SEO or optimizing your web page is a huge task consisting of several different factors. I'll mention a few important ones:
URL Structure: Use a short URL consisting of your keyword.
Title: Insert your keyword at the start of your title.
H1: Have only one H1 tag and use your keyword in your H1 tag.
H2 to H6: Use your keyword at least once in the subheading.
Content: Use your keyword in the first 100 words in your content.
Multimedia: Use engaging images or videos to reduce bounce rate and increase dwell time.
Optimize Images: Include your target keyword in the filename of at least one image. Use your keyword in the image alt text.
Internal links: Link out to 2-3 older, high performing, relevant posts whenever you make a new post.
Outbound links: Link out to other high authority sites that are relevant and provide value to your content. Per 1000 words, try to use 2-4 outbound links.
Social Share: Social share helps in getting more traffic to your site and increases the chances of someone linking back to you.
Technical SEO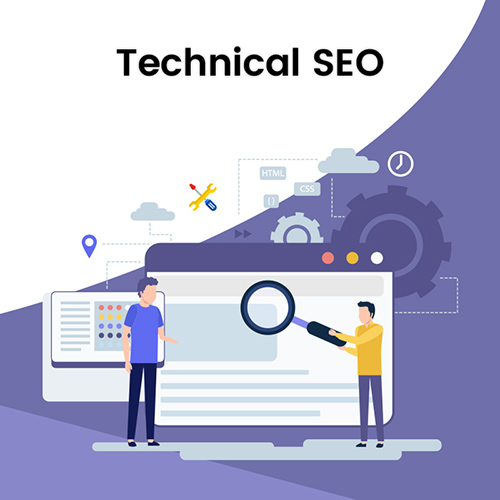 Technical SEO, in simple words, is optimizing your website for the search engines. It is the most significant step in the entire SEO process.
With technical SEO, you can help search engine access, crawl, understand, and index your website with no issues. I'll mention a few factors:
Hosting service allows you to make your website accessible to the worldwide web. Your hosting should be fast and reliable as you will lose valuable customers if your website takes ages to load or doesn't load at all.
An XML sitemap is a file that lists all the pages of your website. It helps Google index your web pages quickly. After creating it, submit it to Google search console (GSC).
Robots.txt is a file that directs the search engine crawlers, the areas of the website they should scan, and which areas they shouldn't. You can use it to prevent desired pages from indexing.
SSL certificate are small files that are installed on a web server, which helps as a security measure for websites. It is an essential ranking factor too. After installing, it will switch the protocol from HTTP to HTTPS and show a padlock symbol next to your URL in the browser.
Responsive web design is an approach to make web pages render well on a variety of devices and screen sizes.
Structured data markup is a code that you can add to your web pages. Search engine crawlers can see the code, and it helps them understand the context of your content.
It can help you rank higher in the SERP through featured snippets, knowledge graphs, etc. and boost your CTR.
Link Building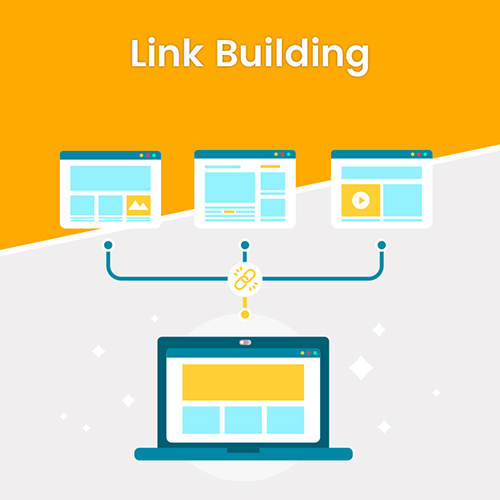 A backlink is the most important factor. They are essential for building trust and ranking. You must earn backlinks from relevant authority sites only.
Building links from poor quality websites wouldn't help your site much and might even end up getting penalized.
Having up-to-date, quality content is the most crucial part of it. There are tons of methods to build backlinks from other websites; I'll mention a few best and effective means of link building:
Guest posting is the act of contributing a post to someone else's blog to build relationships, authority, exposure, and backlinks.
A broken link is a link on a page that no longer functions or leads to a 404 error page.
In any industry, many websites have broken links, particularly the older ones. You can approach the websites linking to that particular page with your relevant, fresh content and ask for a backlink.
This tactic is all about finding whether someone has mentioned you, your business, your product/service, or your content without actually linking to you. Once you find that 'someone,' you can request that they add a link to your website.
You can find competitors backlinks with the help of various free and paid tools. You might find many quality links which your competitors have a backlink from. Then you need to check and approach them to get backlinks from them.
You have to find web pages or resources that are outdated or recently have changed names. Then you have to find backlinks of that page (people that are still linking out to that broken page), and you can approach them with your relevant updated content.
Resource pages are web pages that curate and link out to useful industry resources. When you reach out and suggest valuable content to the creators of such pages, you're helping them to make their page better, so they have a reason to link out to you.
A resource page's value is determined by the quality and quantity of the third-party resources which it links out to.
This technique is all about finding content that is relevant to your website, then creating an updated content which is way better than the existing one, and finally reaching out to those people who have already linked out to similar content.
Here you already have content for your chosen topic. You need to club a few similar contents together, research & update it, and add more valuable content. Once you make a superior content than the existing ones, you have to reach out to the people who have already linked out to those existing contents. As you have an updated and more through content than the sites they have already linked to, they would be happy to give a backlink to your content.
Help a Reporter Out (HARO) is one of the best ways to get high authority backlinks from news sites. You have to sign up as a source, and you start getting three emails each day from reporters that are looking for sources, then you can respond to them with some useful tips, and if they like it, they will mention you as a source and give you a backlink.
What Google Doesn't Like?
Some techniques will give you faster results and help you rank higher on the SERP for a short period but are against the search engine's terms of service, which can result in the site being penalized or banned from the search engine.
I'll mention a few of these methods which Google hates and can penalize or ban you for using them:
Keyword stuffing refers to the practice of stuffing your keywords in meta tags, content, anchor texts, etc. These are done to manipulate search rankings.
Reciprocal Link Building:
Reciprocal link building refers to a link exchange between two websites. In this, two webmasters agree to provide a link to each other from their websites.
This link building tactic no longer works as you may end up linking to sites outside of your niche or too low-quality pages, even getting a link from these pages is also harmful and you may end up getting penalized.
Link farms are a group of websites that all link out to every other site in the group. It is a sort of reciprocal link building, you link out to everyone within that network, and they link back to you.
Private Blog Network (PBN) is a network of authoritative websites that are used to build links to the targeted site (the site which we want to rank) to rank it higher in the search engine results page.
Linking out to Unrelated or Suspicious Sites:
Linking out to unrelated or suspicious sites such as payday loan sites, online casino sites, phishing sites, etc. Especially the sites that aren't related to your content in any way, will create a link profile that has no focus.
Plagiarism is a serial rank killer. Google will notice if your website's copy is too similar to another's or if the content is an exact duplicate of information found elsewhere. Once found, Google will definitely flag your site.
Now It's Your Turn
I hope this guide helps you understand SEO better.
And now I'd like to turn it over to you.