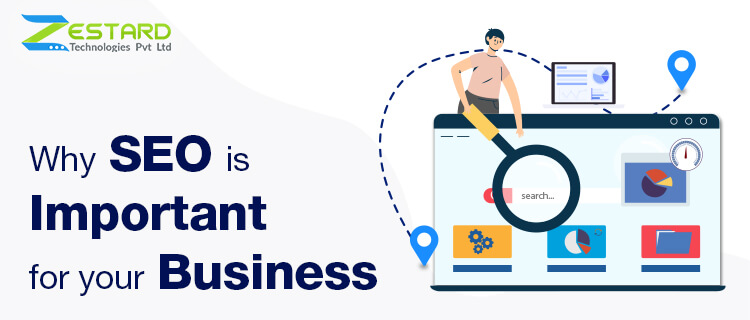 SEO (Search Engine Optimization) is the process which helps websites to optimize their search potential for their viewers. SEO is the reason why a search gets personalized. It analyses the most searched keywords by all the users and aligns the search options accordingly. SEO will certainly improve a website's overall searchability, visibility, and improve search ranking.
Here are 13 Reasons Why SEO is Important
Branding: Every brand has credibility, quality, and product to offer. But not everybody is aware of all the brands all the time. SEO optimizes a customer's search as per their search queries and keywords, and if your brand has had good user reviews and is easy to navigate and understand, it will place your website link in top pages organically, increasing your brand awareness.
Visibility: 'Out of sight, out of mind.' Every word of it is true in business. To be remembered and approached, your brand should always be available and visible. If your brand deals with varied businesses, an experienced SEO team will make sure it is marketed; that the customers find you easily and quickly by ensuring that your content gets indexed by the internet search engines. This is how businesses boost their brand visibility in the digital world.
SEO Builds Trust & Credibility: Unless a customer is looking for a specific brand, one is most likely to open the results on the first page of the search results. Hence, if your SEO can optimize your search and is able to provide your website link on the first page of the search results of a search engine, customers will not only open your site but will come back to look for it if they like the browsing experience, which means they trust your site and are even willing to suggest or share the link with other people.

Better User Experience: When you like using a website, and the content quality it prefers to show you, the user experience for the site becomes positive. In the same way, when you encounter a poor user experience, it will not be your choice of a website from then on.
A quality SEO incorporates all those necessary functions in a website that give the customers useful and reliable data that is not only the most sought- after at a given time but also in accord with the customer's needs. This will increase the user-friendly quotient while leveraging the brand's goodwill.

Local SEO: SEO identifies the most searched data in a specific vicinity/area, producing demographic- friendly results. The local results ensure that people get answers based on where they live. This helps in breeding familiarity with local brands. Such brands become more popular over time since they have niche demographics that trust them more owing to a shared location.
They can then expand their businesses targeting local traffic while customizing products simultaneously based on the local audience's needs. Local optimizations concentrate on particular towns, cities, regions, and even states, to build a viable factor for a brand's messaging on a local level.

SEO Impacts the Buying Cycle: The method of buying products and services has changed drastically over the years. Today, customers are cautious because they are well- informed, well- before investing in any item. The information they gather is luckily from the internet.
Via SEO, you can channelize your brand advertisements and catch their attention, so that when they see your deals, they consider buying from you. An excellent SEO enhances your brand visibility and widens your brand access among your customers.

A Cost-Effective Way of Marketing: SEO is not a by-product or a luxury a business owns; it is a fundamental element to organize, adapt, and thrive in the industry. It is also relatively cheaper when compared to other web portals that can also optimize your search, such as, creating a social media profile/ following social media profiles, etc.
However, they need lots of time to become popular and require lots of money and investment, despite which you mostly have access to filtered content. Compared to this, SEO is cost-effective, multi-functional, and a non-encroached arena, suitable to small- scale and large- scale businesses alike.

Exposure: SEO gives the chunks of data searched worldwide and makes your website available to people who are located beyond your geography. The entire world can access the site with SEO providing exposure to new and unknown people every minute of every day.
The information of the site can be strategized in such a way that it fulfills what people want and SEO provides the power to create tailored marketing plans too. Optimize your method of using existing resources efficiently and tap into profitable spaces in the market with optimized search engine results.

Superior ROI: When your sales increase due to immense traffic, the return on investment (ROI) will get assuredly higher through SEO than other marketing efforts. Tracking the highly trafficked areas where ROI is also flourishing will allow you to build your business around those customers, who are potentially loyal and will come back to you as a frequent choice.
This is also an excellent strategy to ensure the smooth- functioning of the business even in times of recession and such since you will have a constant source of traffic and income no matter what.

Insight Into The Customers: As SEO adapts to the changing demands of the online environment, it becomes easier to keep in touch with the needs of the customers. SEO, combined with analytics, gives relevant insight into the buying and searching trends of a niche market.
The fashion of what one wants is rapidly changing today more than ever, with SEO delivering various results in a second, showing preference to a trend while rejecting the other. A well-planned SEO strategy can lead to what customers need and thus helps quantify market trends too!

Measurable Results: The only things that you can trust in business are numbers. Luckily, SEO is quantifiable. It delivers measurable results against a majority of metrics used for marketing purposes.
Therefore, with SEO, the industry can be aware of the monetary burden, the budget, the risk factors, the success or failure ratios, the ROI, the clicks, conversions etc. that are imperative to know in order to keep track of the business and whether or not it is in the sight of its goals.

A Long-Term Strategy: SEO strategies can be used to maximize search potential. However, high- profile SEO needs a long-term mindset for more efficiency and reach, longer than other marketing resources. A good long- term strategy involves slowly and surely increasing traffic with useful changes on landing pages, on campaigns, and on the dynamic nature of the content that attracts readers consistently.
It also encompasses aspects of digital business, beginning from branding to user feedback on sales and purchases.

Brings New Opportunities to Light: SEO goals are mostly identical to digital marketing goals – to explore new leads and market opportunities for the company's benefit. This means that search engine results deliver a changing market trend fuelling an equal chance of growth and untapped opportunities that present better business direction.
With a good SEO strategy, businesses can evaluate new markets and introduce new pages and campaigns that capitalize on them.
Businesses need to find their place in their industry, and SEO helps them forge a strong online identity for the intended market. Having an SEO strategy that works helps businesses in different ways, no matter the competition – bringing new opportunities to light, enabling customer insight, introducing measurable results, and promoting renewed trust and credibility of the brand itself.