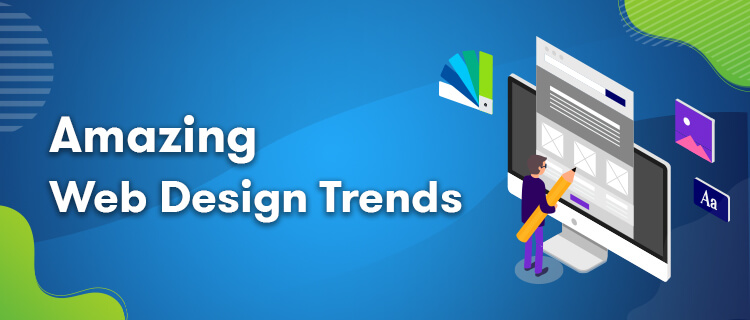 Web designing is sure to take a leap in the world of user experience. This year will be about mobile and speed that deliver eye-catching designs, faster loading times, search engine rank, and more.
Web designing trends involve great things from unique designs to responsiveness. Here are some amazing web design trends for the year 2020.
What is Website Design?
Website design refers to the art of conceptualizing websites with visual and aesthetic appeal along with functional elements.
The website design focuses on user experience for web, tablet, and mobile browsers and on reinventing the appearance, layout, and content of a website.
The colors, typography, style, and images are used in harmony of the entire concept. Additionally, the level of customization, features, visual images and intensity will define the cost, performance, and speed of your site.
For an outstanding design, web designers should focus on the goal of the website, their audience, and their appearance.
Find below the List of Amazing Web Design Trends:
1. 3D & Illustrations
For an attractive, interactive, and impressive website, 3D elements and illustration is a must. With the new trends in technology and web design, the transformation of 2D to 3D has given a dimension to the web design world. Read More…
2. Typography
Typography is the fine representation of text. It is an essential medium to communicate with the digital audience and target new customers. It helps a business to establish a connection between the website and the end-user. Read More…
3. Creative Design
Website design is now evolving to several fluid shapes, and the typical dimensions of all kinds of shapes are being implemented organically.
Design with organic shapes and lines will now be aligned with human nature. Every design speaks to the brand message too. Read More…
4. Grid, Asymmetry & Overlapping
The grid makes elements in the frame or organizes the page efficiently. Grid layouts can structure all UI elements including navigation bars and text boxes efficiently.
The asymmetry attracts user attention while the proper overlapping of imagery renders extravagance to any content on the page. Read More…
5. Color
Colors take your website to yet another level. There are about 16.8 million colors available to choose from for website designing. You can also create a palette by a combination of different colors.
You can improve color usage skills and refine them. You can try the hash or RGB values of colors. Read More…
6. Animation
One of the hottest trends in website design is animated websites. Animations are an integral part of modern web design. The interactive user experience, illustrations, and the effects have the power to make your website different from traditional web designs. Read More…
7. Multimedia
Images and videos are an alternative to text. You can enhance the quality of your design and create a better end-user experience with high-quality images and videos.
You can start by incorporating animations, videos, gifs or photography in your designs. Read More…
8. Speed
Speed and performance define the user experience. It has to be the most priority for any website owner. If your website takes more time to load, you might lose your customers.
Also, the website ranking in the search engines is also an important factor for its visibility. Read More…
9. Mobile First
Smaller devices now rule the roost, so it makes sense to target them first. The mobile-first approach helps in presenting the best responsive or adaptive design that aligns with the need for smaller screens first and then makes the choice of aligning with devices of larger dimensions. Read More…
10. Bonus
There are several other trends that make the cut. Witness websites are utilizing white space better while voice search will add more context to website content.
Chatbots and Machine learning will enhance web design and drive user experience with necessary interactions.
Expect data visualizations to make a splash as they help users to understand complex content clearly. Read More…