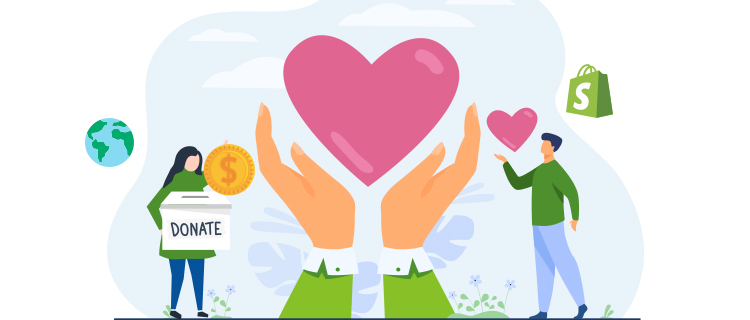 We are living in an age when businesses are going digital, customer-centricity, convenience, and innovation reign supreme, and instant gratification forms the cornerstone of any business transaction.
However, despite all the efforts, the average customer craves something very fundamental – a human touch.
The modern client is more eager to transact business with corporates that abide by ethical business standards and adopts social activism. In fact, a whopping nine out of ten millennials would switch brands to ones associated with a cause!
Enterprises that are already environmentally conscious and socially responsible (or planning to emerge as one) must make their efforts seen.
Furthermore, they can involve their users to pitch in for these charities and causes.
For this purpose, you must incorporate the inclusion of the Shopify donation app in your Shopify e-commerce strategy.
Here is a round-up of the best Shopify donation apps that you should try:
Easy Donation

Easy Donation is quite true to its name and is the best Shopify donation app on the store. Merchants can use it at the product page or cart page and choose between default charity values to make a donation. Alternatively, merchants can also create a dedicated landing page to collect donations or sell nonprofit products for charity purposes.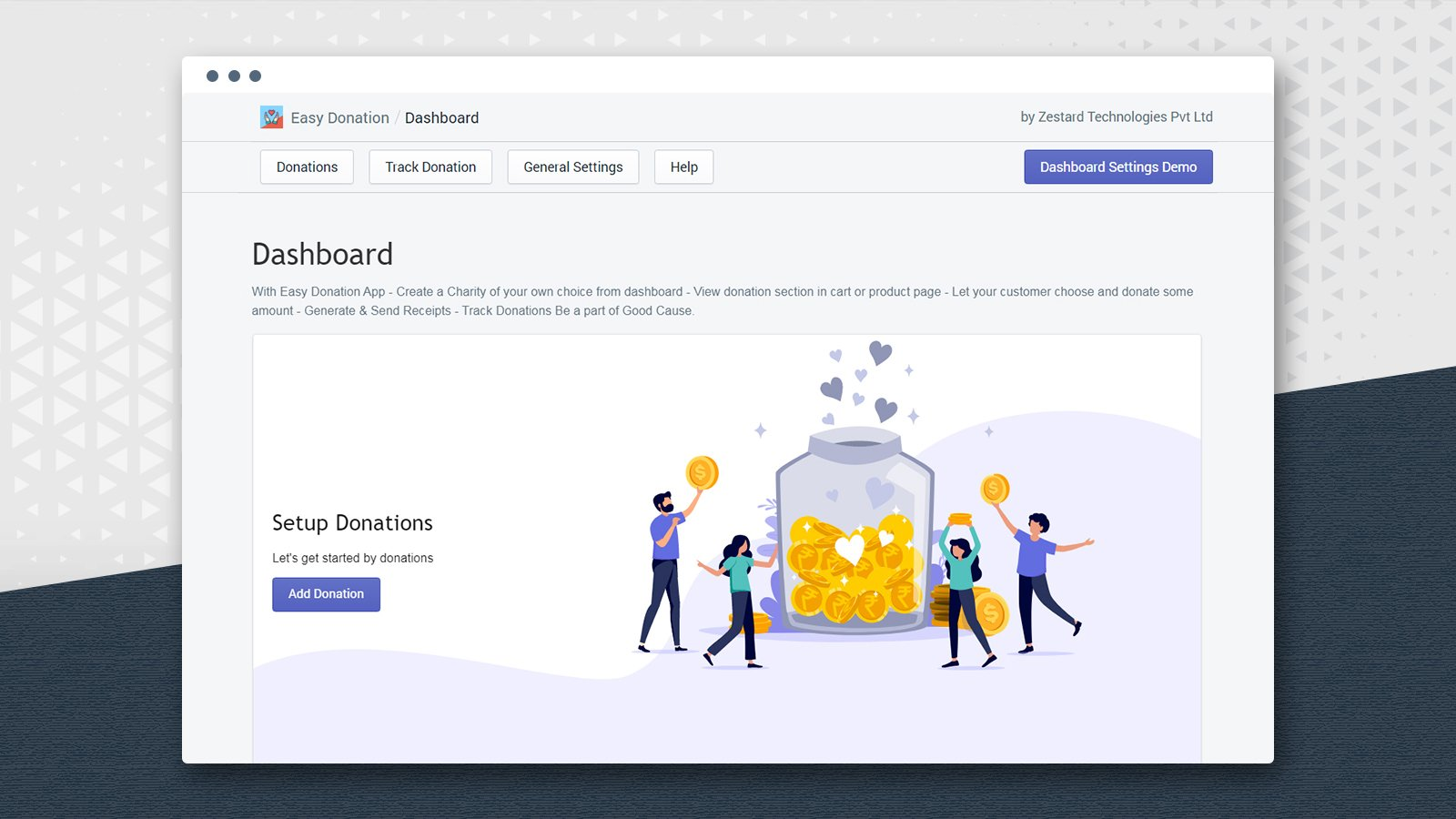 Merchants with basic CSS knowledge can modify this Shopify donation app to blend it with the website's overall theme. One can utilize the reporting feature available in the admin panel to keep track of the monthly and yearly collections.
Pricing
The pricing is divided into two buckets and offers a 7 Days Free Trial:
Basic – $4.99/month
Advance – $7.99/month
Reviews
Overall Rating ★4.7 (95 reviews)
Features Highlights:
Add donation option on the cart page as well as the product page.
Users can donate a custom amount of their choice.
Customers & Merchants will receive the receipt of the donation in the form of an email.
Merchants have the option to format the layout and design of the Donation Receipt.
Ability to Track the donations year/month wise.
Multiple ways to show Donation Option on the product page or cart page.
Easy to Enable/Disable the App from the backend.
Customers can buy and donate at the same time from the cart page.

Does your business want to make the world a better place? Then, Share The Love can help you achieve this goal. Store owners can list out various charities and cause that they support and display it at the checkout. Even if the customer does not choose any charity, either a percentage of the sales or a flat rate will get assigned as a donation. Not selecting the charity will not hamper with the checkout process.
Merchants can then access an exhaustive report on the amounts and the corresponding dates of the collection. They can then settle these amounts by directly paying to the charities listed.
Pricing
$5.99/month
Reviews
Overall Rating ★4.9 (36 reviews)
Features Highlights:
Shops owners create a list of causes they want to support
Select Charity at checkout.
Automatically Tracks donation of each charity.
Provides a Detail report by date range of the amount collected for each charity you have set up.
Give & Grow

Using Give & Grow merchants can hand-pick their preferred charities from a comprehensive list of global and local nonprofits. The dashboard is highly customizable, which allows businesses to offer a personalized experience to its users.
For every purchase that a buyer makes on your website, Give & Grow offers them a choice of organizations that will benefit from this transaction. It helps you visualize the impact of your contribution, which is one of the best motivations.
Pricing
Freemium (Pricing is a little confusing)
Reviews
Overall Rating ★4.5 (49 reviews)
Features Highlights:
You can choose to support one cause or many
Add an Impact Calculator to your checkout to share the real-time impact of donations.
The legal and financial challenges of working with nonprofits are taken off your plate, so you can focus on growing your business.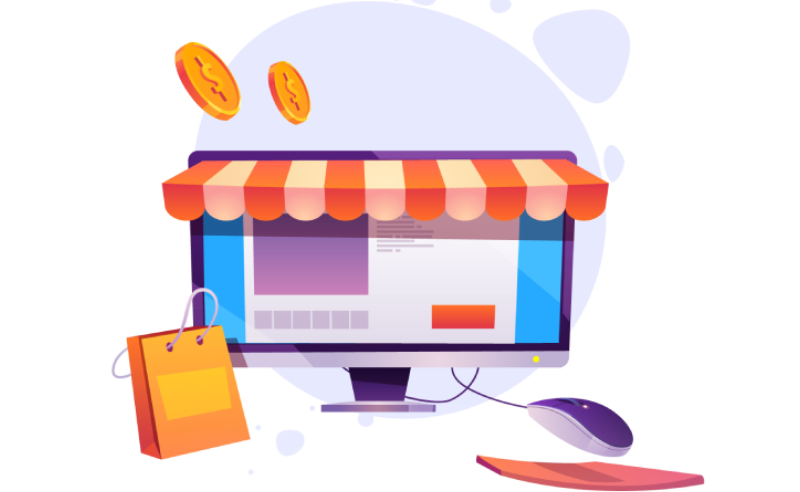 One-stop solution for all your Shopify requirements!
Set up your Shopify store or migrate to one with Zestard's Shopify Development services.
One Tree Planted at Checkout

Do you wish to make your business more sustainable and environmentally conscious? If so, One Tree Planted at Checkout can help you with the same.
Shoppers are greeted with a pop-up at the checkout, which asks them whether they would like to plant a tree for $1. If they select yes, $1 is added to their sub-total, which goes to the One Tree Planted nonprofit organization of Vermont. One Tree Planted is actively involved in promoting reforestation drives all over the world.
Pricing
Free
Reviews
Overall Rating ★4.7 (24 reviews)
Features Highlights:
Customize the look & feel of your store's widget through a simple editor without coding.
Track top tree planter customers on the dashboard.
You can choose the currency: USD, CAD, EURO, or POUND. Stores using other currencies can still use the app – see FAQ for more info.
The customer can change the number of trees planted with their cart, meaning multiple trees can be planted with an order.
Shop for Good

Shopping is fun, and quite often even therapeutic. But what if users could shop and do good? Merchants can use Shop for Good to align their brand with social causes that resonate with their audience. As a result, they will enjoy enhanced customer loyalty and improved brand affinity.
The app allows businesses to launch six cause marketing options that come with top-notch tracking abilities. Due to automatic donation disbursement, merchants will have to do minimal work without worrying about the legal angle or account maintenance.
Pricing
The pricing is divided into three buckets.
Free – Free
Growth – $49/month
Pro – $99/month
Reviews
Overall Rating ★4.9 (74 reviews)
Features Highlights:
Select charities as per the preference of your customers.
Pick and customize your campaign(s)
Track your campaign results through your Reports dashboard
Change Commerce ‑ Donation App

The Change Commerce Shopify donation app empowers buyers to choose the nonprofits that will benefit from each purchase. Store owners can choose between a flat rate donation or a sales percentage that goes as proceeds to the beneficiary. Additionally, they can pick from 1.5M unique nonprofits to support a cause or to exclude the ones from which they wish to distance themselves.
In addition to updating the impact potential of the donation, businesses can also share donation tracking details to add more transparency in its operations.
Pricing
The pricing is divided into three buckets.
Impact Starter – Free
Impact Plus – $285/month
Impact Partner – $940/month
Reviews
Overall Rating ★5.0 (61 reviews)
Features Highlights:
Select up to 6 cause nonprofits or portfolio to support
Customize donations to be a percent of purchase or a flat dollar of purchases
Choose a product page widget style that fits your brand
Exclude which causes or categories of causes you want to distance yourself from
Conclusion
Whether you support LGBTQ+ Pride or want to fight racial injustice, businesses can utilize Shopify donation apps to meet their CSR goals. It makes the best use of your available resources to impact the marginalized communities or the planet, in general, positively.
The Shopify charity donation apps listed above will help you to set off an impactful movement with the help of your customers. Most importantly, it will enhance your brand perception and boost your bottom line.
More Shopify Apps for Your Online Store