Social media is playing a huge role in marketing activities along with SEO, branding strategies, and online lead conversion.
Each of the social media channels is crucial in marketing products on e-commerce sites like Shopify. A seamless social media strategy will go a long way in diverse marketing approaches and sales channel support.
Shopify has a huge number of apps, which assist in social media marketing and saves time and effort in the process in many ways.
We have curated the Top 10 Best Social Media Apps for Shopify:
Outfy presents a fantastic way to boost the social reach of products, drive traffic & overall sales. The app helps product promotion in 12+ social networks under a single canopy.
One can schedule the posts for every day, month and year. It is a powerful, robust, and effective tool to automate social media marketing for your Shopify-based store.
Pricing: Free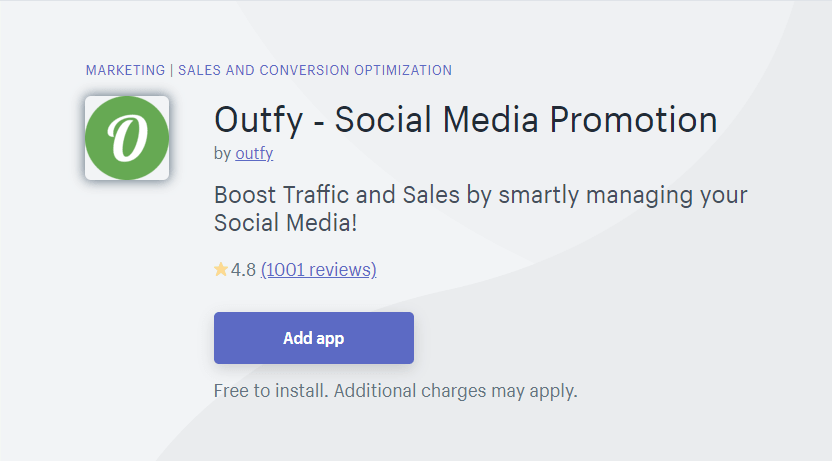 Highlights:
It saves a lot of time by promoting your products to 12+ networks within seconds in a single click.
Having a unique autopilot feature, it will automatically pick and post products daily as per your settings.
It provides multiple store support options without separate login/logout from the same account.
It offers a pay per use concept with which you can spend money by defining your own marketing strategy.
You can choose themed or customized templates to attract people on social media accounts.
Shop Instagram Feed & UGC allows shoppers to make purchases through the Add to Cart option directly from Instagram.
One can even embed shoppable Instagram galleries on different sites and include multiple Instagram options for Shopify-based sites.
Every small store owner would love its simplicity and ease of use along with enterprise-level attributes.
One can create galleries with hashtags and curate images with tags through the dashboard.
Your best performing Instagram images derive best user attention with a Homepage carousel, Product gallery, tags, layouts, and user-generated content too.
Pricing: Free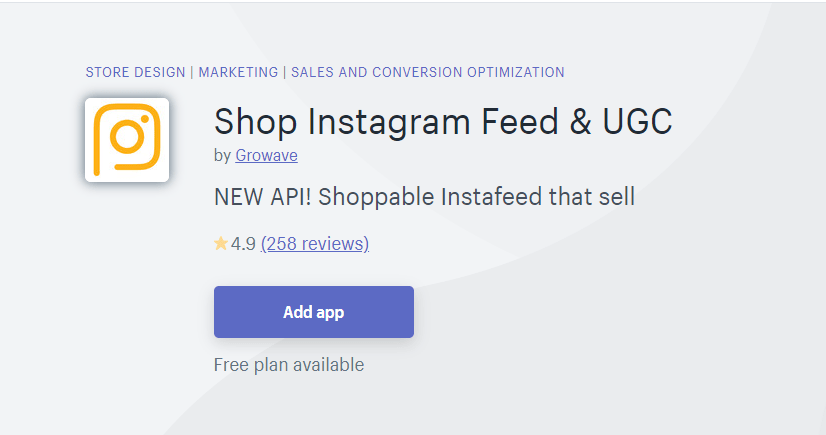 Highlights:
It offers a beautiful Instagram gallery for your Instagram shop page that you can use in various styles.
You can tag different products on images on Instagram and convert them into shoppable items anywhere on your website.
Make instant purchases by giving your visitors an option to quickly add items from images into the cart without much searching.
You can publish your curated pictures and secure them for avoiding brand damaging.
You have an option to copy and paste your Instagram feed directly to your Shopify page.
Social Sharing Buttons developed by Zotabox connects multiple social accounts including Facebook, Twitter, Instagram, and many other sites.
This Shopify app comes in multiple styles, sizes, and colors. Some of these mobile-friendly buttons are free and some are paid.
Social buttons, Facebook Live Chat, Promo Bar, and Slide Box features are free while after a 14-day free trial; the premium buttons include email capture bar, countdown timer bar, easy banner, and store locator.
Pricing: $6.49/month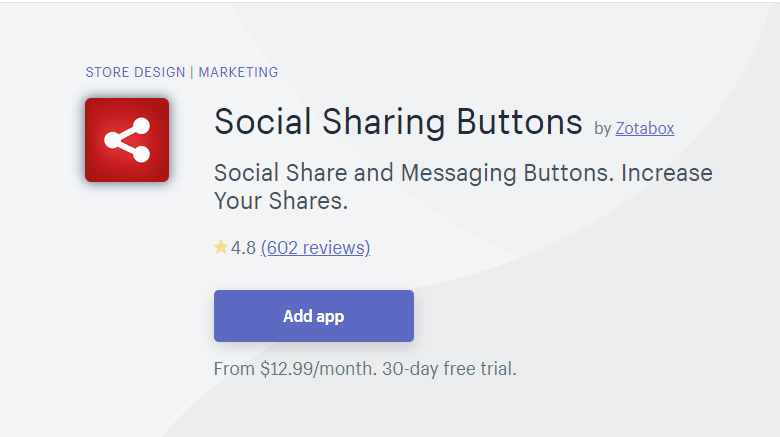 Highlights:
With social sharing buttons, In just one click your website visitors can share your content on social media platforms that will help you reach your target audience.
With the help of social share buttons, you can enhance the overall SEO of your website and increase visitors to your website.
You can get more followers using the social share buttons as its simple to pull new followers and boost visitors' engagement to your website.
Get eye-catchy and floating layouts to put on your website and increase the chances of getting more visitors.
You can get wide button customization for having a consistent look.
Instafeed app showcases Instagram photos on the store and includes the auto-update system feature too.
The app can show the latest photos from your account on a real-time basis. The app helps Shopify users to connect to their audience with the store making Instagram shoppable.
There is a slideshow gallery for the account, new templates, and is extremely customizable too.
Pricing: Free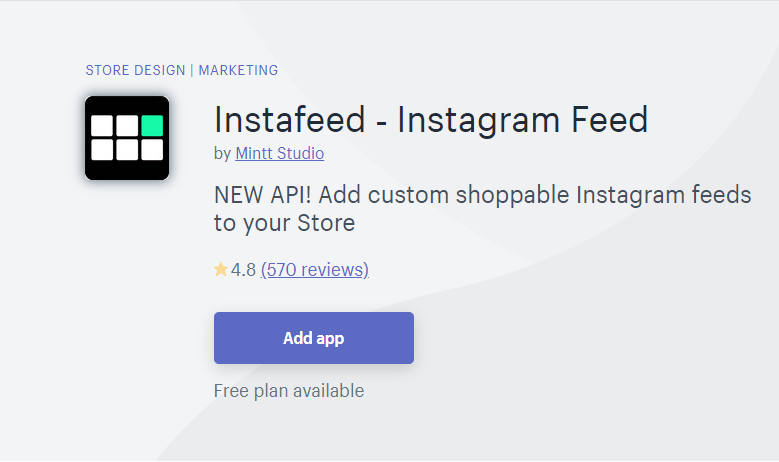 Highlights:
Insert your Instagram Feed on your home page, product pages and also on your blog posts with an easy setup.
Having multiple gallery layouts, you can use stunning templates to represent your Instagram Feed in a slideshow gallery mode.
Use the newly launched Facebook Login API to post your Feed on Instagram and stick to your customers.
With the help of the Facebook Shop channel by Shopify, you will be able to connect with billions of Facebook users worldwide.
This way, you are increasing the chances of selling your products as after posting product descriptions, there are billions of users who will be looking at your post.
The app has a fully integrated Facebook store, a mobile-friendly structure and has an easy installation process.
Pricing: Free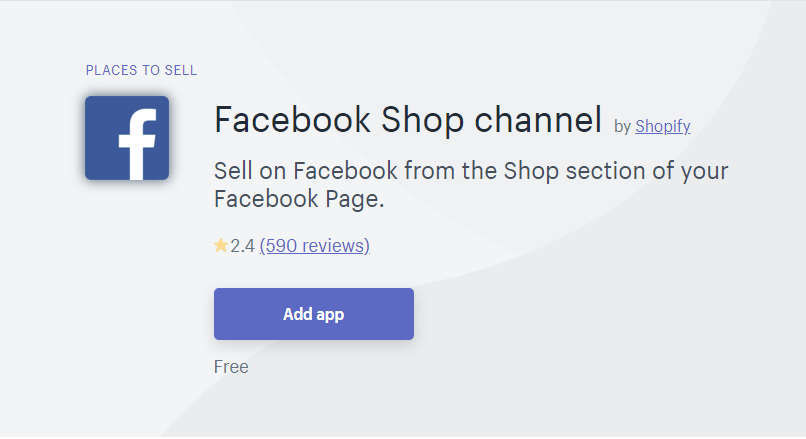 Highlights:
Boost your timeline posts and target your customers by age, location, and interest.
Expand your community by posting relevant product posts with appropriate content for engaging your followers and boosting your conversions.
This app will help you in running giveaways and introducing promotions with the help of Facebook tabs that will increase engagement.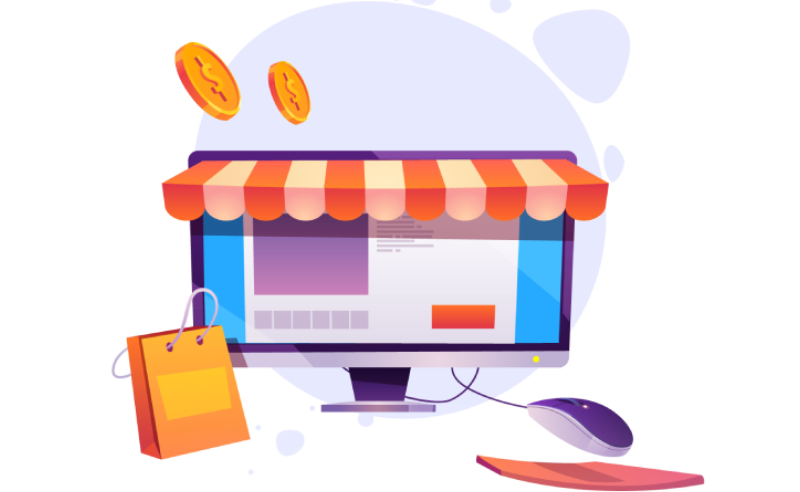 One-stop solution for all your Shopify requirements!
Set up your Shopify store or migrate to one with Zestard's Shopify Development services.
Facebook & Instagram Auto Post does all your social media posting on behalf of you.
With the Facebook and Instagram Auto Post app, you can do auto-posting in a matter of a few mins. So that you can focus on other important things in your online business.
You just have to enable it and your products will get posted on the Facebook, Pinterest and Twitter account automatically.
You can perform automatic scheduling of your posts on different social media platforms and make your social media management much easier.
Pricing: Free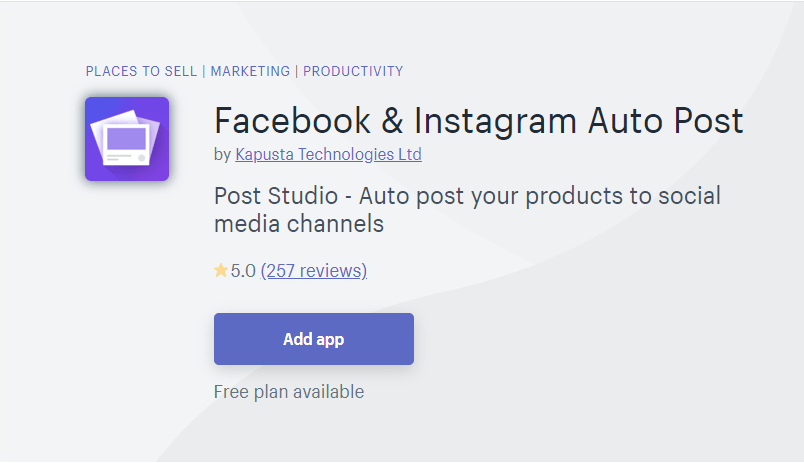 Highlights:
The app has a one-click installation process and easy integration with Shopify.
It has multiple tweet templates that make it unique and helps in attracting user attention quickly.
The app consists of custom templates for creating your own content and promoting it on social media platforms.
Kudobuzz app has the potential to send your emails automatically for requesting product reviews.
You can connect all your social accounts and can represent your existing testimonials and reviews from all those platforms.
You can have full access to your customizable widgets for displaying your reviews.
Also, you can display all the reviews of your products and the reviews that you got from social media platforms too.
It also helps in improving the search rankings and gives a sales boost.
Pricing: Free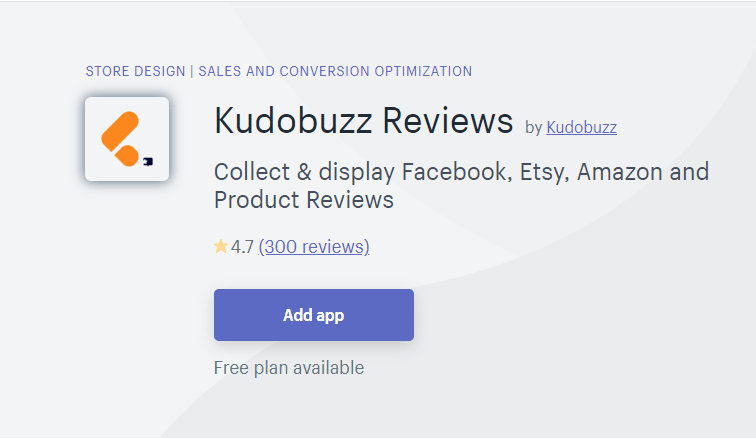 Highlights:
With the help of product reviews, you can convert your site visitors into buyers and develop a trust in your business.
Kudobuzz can help in improving your SEO efforts and increase the chances of getting more and more organic traffic to your e-store.
Boost your marketing skills by convincing your customers with the help of social reviews that your product is worthy of buying.
Oxi Social Login app is considered as the all-in-one social login app for your Shopify store. The app has a very simple and quick login and registration process.
With the help of the Oxi Social Login app, customers can log in using their current social media accounts.
This app helps in making the login and registration process easy for your customers.
Also, it increases the chances of user conversion as the app is offering the easiest and fastest login process.
Pricing: $1.99/month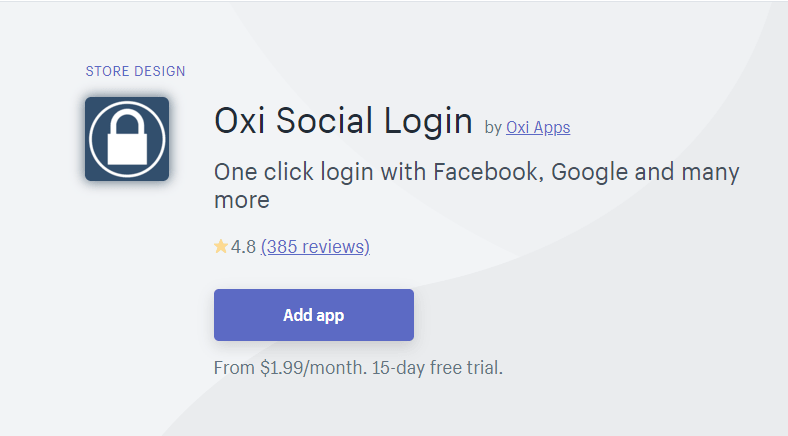 Highlights:
Oxi Social login app has an all-in-one structure that allows customers to login or registers a new account on your Shopify store.
It is highly simple to utilize and highly stable that customizes and displays login buttons with the help of embedded code.
It has an up-to-date structure with API changes for any of your social networks for ensuring a flawless connection for your customers to connect with any social media network.
9. Auto Post to Instagram, Fb, Tw
Auto Post to Instagram, Fb, Tw by Posting.ly posts Products on Social media channels on a regular basis for the products that you want to share on social media and even schedule them accordingly.
The app also works with Facebook, Twitter, Instagram, and even LinkedIn. The app imports products with relevant pictures and descriptions.
Just create definite "Posting Rules" to specify the actions of the app to post products on your social media channels.
It also automatically detects new products on the Shopify Store.
Pricing: $9/month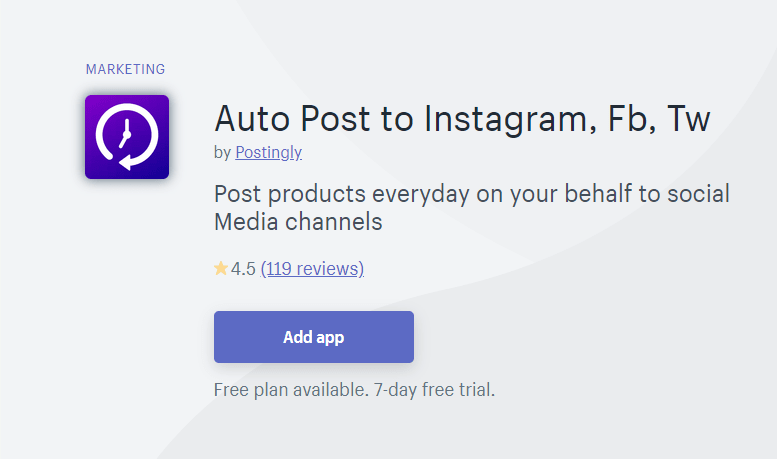 Highlights:
Offering full consistency in sharing your products on social media on behalf of you.
Extremely easy to set up as it requires 10 minutes at most for auto-posting updates after deciding the products you want to share.
The moment you upload your products to the store, it will quickly share them on all of your social media channels.
Twitter Auto Posting app has the ability to post new brand products as per your convenience. You can set a time range and assign it to auto-post on your Twitter account.
You can post each product with different content and make it look authentic.
When you are including your Twitter profile, you are actually increasing the chances of online presence and that indicates that you care for your customers.
With the Twitter Auto Posting app, you can add different keywords in the message templates that will get posted with your products and that will ultimately give you more SEO presence on the search engine results page.
Pricing: $9.95/month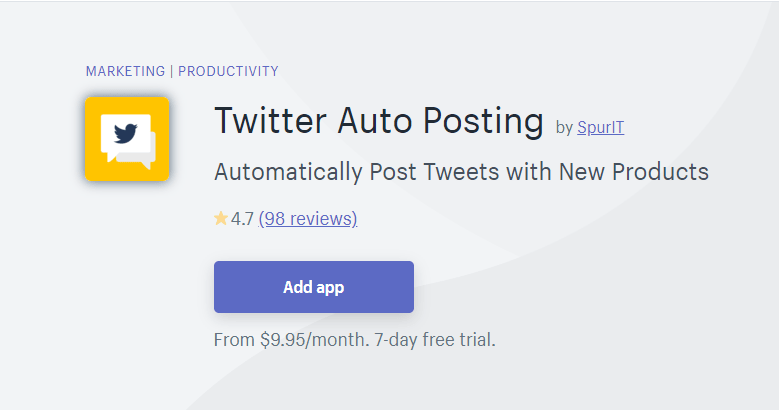 Highlights:
The app has the ability to save your time on SMM by posting new products on your Twitter account.
The app can effectively post new products on your Twitter account that saves your time.
The app is fully customized and defines where and how you can post different products on your account.
The app has the ability to boost customer loyalty and increase the online presence of your company for growing sales.
Above-described were the 10 most popular Shopify Apps for Social Media Marketing. You can use these apps to increase the online visibility of your business across all social media platforms.
Each app has its own specialty and features. With the help of these Shopify apps, you can increase social traffic at your website and it can help new business owners who are still struggling to make an entry in the e-commerce world.
More Shopify Apps for Your Online Store