Social media is playing a huge role in marketing activities along with SEO, branding strategies, and online lead conversion.
Each of the social media channels is crucial in marketing products on e-commerce sites like Shopify. A seamless social media strategy will go a long way in diverse marketing approaches and sales channel support.
Shopify has a huge number of apps, which assist in social media marketing and saves time and effort in the process in many ways.
We have curated the Top 10 Best Social Media Apps for Shopify: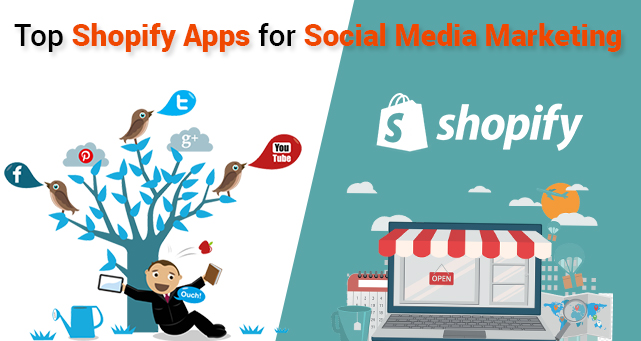 1. Outfy
Pricing: 2.5 cents/ share
Outfy presents a fantastic way to boost the social reach of products, drive traffic & overall sales. The app helps product promotion 10+ social networks under a single canopy. One can schedule the posts for every day, month and year. It is a powerful, robust, and effective tool to automate social media marketing for your Shopify-based store.
Pricing: Free
Social Sharing Buttons developed by Zotabox connects multiple social accounts including Facebook, Twitter, Instagram, and many other sites. The Shopify app comes in multiple styles, sizes, and colours. These mobile-friendly buttons are part free and part premium. Social buttons, contact forms, popup, Facebook Live Chat, Promo Bar and Slide Box features are a free while after a 14-day free trial; the premium buttons include easy popup pro, email capture bar, countdown timer bar, testimonials, easy banner and store locator.
3. Shoppable Instagram Galleries
Pricing: Free
Shoppable Instagram allows shoppers to make purchases through Add to Cart option directly from Instagram. One can even embed shoppable Instagram galleries on different sites and includes multiple Instagram options for Shopify-based sites. Every small store owner would love its simplicity and ease of use along with enterprise-level attributes.
One can create galleries with hashtag and curate images with tags through the dashboard. Your best performing Instagram images derive best user attention with a Homepage carousel, Product gallery, tags, layouts and user-generated content too.
4. Auto Post by Posting.ly
Pricing: $9.00
Posting.ly posts Products on Social media channels on a regular basis for the products that you want to share on social media and even schedule it accordingly. The app also works with Facebook, Twitter, Instagram, and even LinkedIn. The app imports products with the relevant pictures and descriptions. Just create definite "Posting Rules" to specify the actions of the app to post products on your social media channels and accounts. It also automatically detects new products on the Shopify Store.
5. Facebook Product Feed
Pricing: Free
The Facebook Product Feed automatically syncs your e-store with the Catalog and even generates Facebook ads for the products. The app works with the new Shopify Facebook Pixel Setting too, through Facebook Business Manager.
One can just sync the Shopify Store with the Facebook Product Catalog using a systematic, dynamic feed to populate products. One can promote multiple products on Facebook, on all the devices too. Also one can use a unique creative for each product without the need to configure each and every ad.
Set up campaigns and reach people with the ads regardless the original touchpoint. Apply Google product categories and populate about 1000 products at a time in a single feed. The app also offers unlimited product promotions with feed pagination and auto-image resizing for the product images.
6. Twitter Feed
Pricing: Free
Twitter Feed displays all widgets individually or together with each other. The app provides custom design options including colours, backgrounds etc. to match with the store. This is a tool that helps in interaction with customers with promotional tweets for products, offers, etc. Adding a relevant Twitter Feed is beneficial to your business since it provides a clear channel of communication with users. The social channel includes the option to like, tweet, re-tweet, reply, etc. The Twitter feed app is used to notify customers, direct traffic to the website and even used to garner feedback.
7. Facebook Store – Easy Social Shop
Pricing: Free
Facebook Store is one easy social shop that extends reach customers on social networks. The app helps organizations to drive sales through Facebook. One can let shoppers share products and their details on diverse social media channels including Facebook, Twitter, and Pinterest.
The app allows Shopify users to convert their online store into a Facebook store and one can get selling their products on Facebook within 3 clicks. The store products will be updated on the Facebook store and one can customize as one wants it to be.
8. AddThis Sharing Tool
Pricing: Free
AddThis Sharing Tool is one efficient app that enables visitors to become marketers through their preferred social networks. One can measure activity on each of the sites in real time through the app and even aids in driving traffic and engagement to the storefront. One can share content to 300+ social network and bookmarking sites and is quite popular in among 12 million domains worldwide. The app also measures user engagement along with actions on social channels with an effective real-time analytics dashboard.
9. Bestsellers
Pricing: Free
Bestsellers automatically tweets driving product sales. One can customize tweets, messages, and posts and even schedule their posts on a specific time period and also set its recurrence. The app is easy to set up and is quick and reliable.
10. Instagram Feed
Pricing: $4.99/ month
Instagram Feed app showcases Instagram photos on the store and includes the auto-update system feature too. The app can show latest photos from your account on a real-time basis. The app helps Shopify users to connect to their audience with the store making Instagram shoppable. There is a slideshow gallery for the account, new templates, and is extremely customizable too.